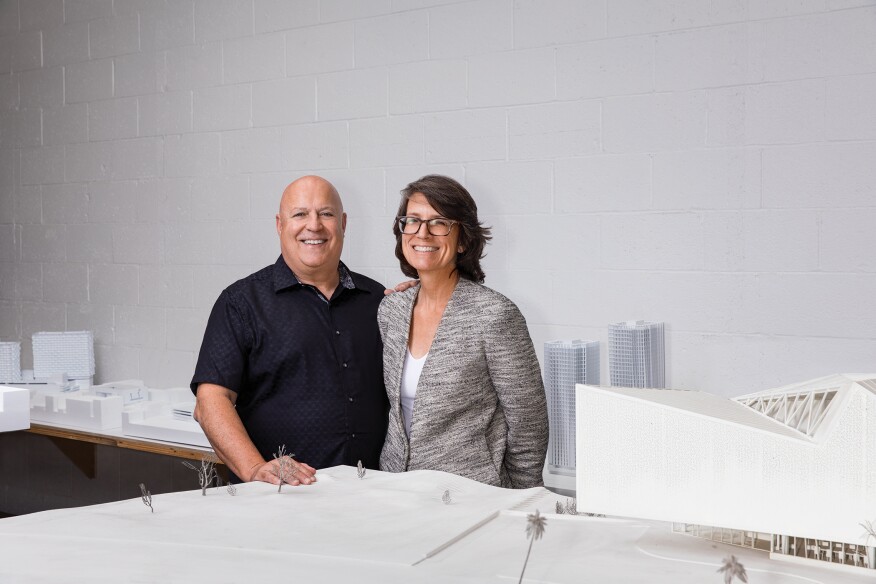 A combination of balmy weather, an open-minded culture, and never-ending traffic congestion have turned Los Angeles into fertile ground for architectural problem-solving. Thinking outside the typical residential box, Angela Brooks and Lawrence Scarpa have been using their creativity for the past 30 years to address two of today's most pressing issues: the housing shortage and climate change. Their innovative urban infill projects are helping to move LA's suburban-style neighborhoods toward higher density. "We operate as two parallel universes, where we have our traditional practice and also work on policy, so we can make the rules and take advantage of them," says Scarpa.
The strength of their designs make for powerful agents of change. Among Brooks + Scarpa's previous accolades are the 2010 American Institute of Architects' Firm Award and the 2014 Cooper Hewitt National Design Award for Architecture, which cited how the firm has gained "international acclaim for its success in marrying an innovative aesthetic with leadership in sustainable and socially progressive design, ingenious applications of building materials, and the incorporation of unique ideas about tactility and spatial experiences in design."
Brooks and Scarpa, who are personal as well as professional partners, both originally hail from Florida. They met at the University of Florida, where Brooks was an undergraduate studying design and Scarpa was working on a masters in architecture. Scarpa spent the first few years of his career working for Gene Leedy and then Paul Rudolph of the celebrated Sarasota School, a regionally specific take on modernism which emphasized indoor-outdoor flow and natural ventilation. They both moved out to LA in 1988, when Brooks entered the masters in architecture program at SCI-Arc. "I just wanted to help people and make cities better," says Brooks, who did her thesis on solving the problems of suburbia.
After graduation, she worked for several years at the nonprofit LA Community Design Center (now Abode Communities), an affordable housing developer. Meanwhile, Scarpa had joined the small office of LA architect Gywnne Pugh. Brooks would moonlight at Pugh + Scarpa during crunch times in the office, and formally joined the firm as a principal in 2000. The two bought out Pugh's share of the practice in 2010, forming Brooks + Scarpa.
Guided by Brooks' passion for and expertise in affordable housing, the firm pioneered energy-efficiency standards while also raising the bar for design excellence in this often-unglamorous building type. Completed nearly 20 years ago, the 44-unit Colorado Court in Santa Monica was the first multifamily project to be LEED certified. With a dramatic façade of solar panels, a micro-turbine, and a passive cooling design that made mechanical air-conditioning unnecessary, the complex was nearly net zero over a decade before the concept became mainstream. From 2000 to 2006, the architects also ran their own think tank, called Livable Places. They introduced the concept of what became LA's "small lot subdivision" ordinance, which encourages more-affordable infill housing by mom-and-pop developers; the ordinance passed in 2005 and a similar version has since been adopted by Oakland, Calif., as well.
Recently, Brooks + Scarpa wrapped up a multiyear project with the city of Fort Lauderdale to produce a guide for coastal development in the face of climate change and sea level rise. The "Salty Urbanism" manual should be available soon as a public document. The firm also won a $1 million grant from the city of LA to prototype a turnkey solution for constructing permanent supportive housing; working with modules from Southern California–based Plant Prefab, it is designing different configurations that can be built quickly by developers and city governments. "We're architects as city-makers," says Scarpa.