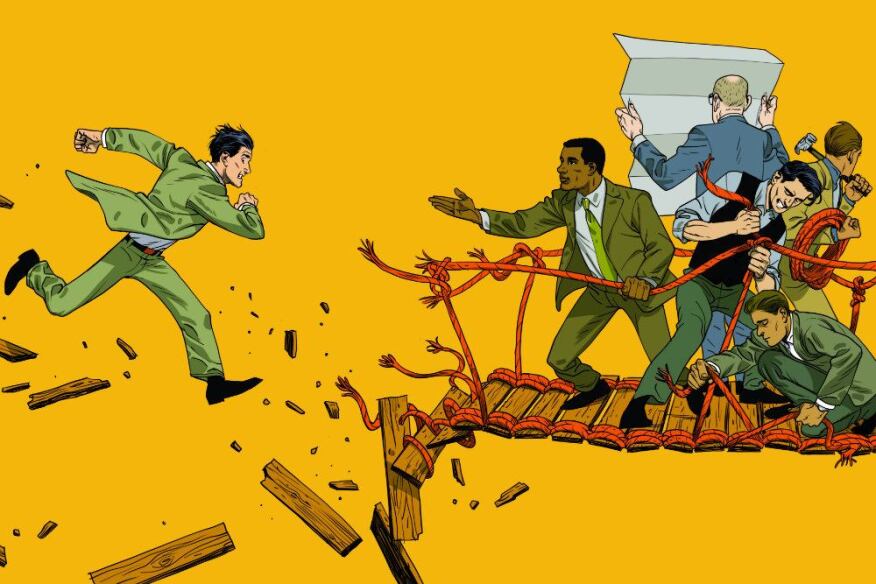 ILLUSTRATION: Asaf Hanuka
---
When you first hear there's a network of meticulously assembled groups of builders and remodelers from across the country who meet regularly to support one another in an atmosphere of fraternity and trust, visions of chairs arrayed in a circle, 12-step programs, and even "chicken soup for the builder" pamphlets might come to mind. Coming out of the housing crash of the late 2000s, this thinking wouldn't be too far-fetched.
Called 20 Clubs because of the cap at 20 members, the residential construction executives are carefully screened and selected to be non-competitive within geographic markets and product lines. And yes, there is that helping-hands-for-those-who-have-fallen-on-hard-times element.
But it would be a mistake to think that's all the 20 Clubs have to offer.
The 20 Clubs were created by the NAHB 20 years ago for a singular primary purpose: to help members build better businesses that make more money. According to the NAHB, that's precisely what the clubs do: Statistics compiled by the trade group show that members consistently double their net profit by their third year of membership in a 20 Club.
Yet, after two decades, there are slightly fewer than 400 members in the 26 20 Clubs that have been established across the country. The NAHB at the end of 2011 had 43,238 builder members, down from 69,182 before the housing crash. Fewer than 1 percent have joined 20 Clubs. Why so few, comparatively?
Both the NAHB and 20 Club members have a few theories. There is the issue of perceived cost, but at an average of $700 per year per member, the dues don't seem a big impediment. There also is the time away from business and the expense required to attend the two annual meetings of each club, one usually held at a conference center or resort and the other on site at or near a member's company. Members interviewed for this story estimate the annual cost of travel and lodging associated with the meetings at $5,000 to $7,000.
But the primary reason, according to Kimberly Bailey, who has been working with the 20 Clubs for 14 years and since 2007 has run them as executive director, networking programs for NAHB, is that they are largely unknown. "There are many times that I have conversations with potential members at the Builders' Show and they've never heard of the program, which just floors me every time," she says. As such, the association this year kicked off a marketing effort to increase awareness.
There is room—and good reason—for builders and remodelers to form and join 20 Clubs. "It's the best investment I've ever made," says Lawson Calhoun, owner of Calhoun Properties, an Atlanta-area high-end custom home builder that has turned to remodeling during the downturn. Calhoun, who joined 20 Club No. 1—dubbed "The Hammers"—when it was formed in 1994, offers this advice to his colleagues: "If there is a builder out there who wants to improve business ... then a 20 Club is a natural choice."
Here's how they work: Prospective members file an application with the 20 Club program at NAHB. Applications are screened and, if accepted, the builder or remodeler is placed in a club with members of relatively similar size and scope from regions outside their area of business (i.e., a production home builder will not be placed in a group with remodelers or smaller custom builders, but some mid-sized privates might). The result is a club with like-minded members from across the country who do not compete with one another.
Each member shares financials via a form produced and compiled by the NAHB, and the results are distributed to the other members of the club. Each spring, the club meets in the equivalent of a corporate annual meeting. Members then serve as a de-facto board of directors for each company, though their power is solely advisory. Each member business is fully vetted with the ultimate goal of improving the bottom line. Some clubs go further. "When a club gets formed, let's all compare our contracts," explains Steve Spanjer, president of Spanjer Homes, a custom home builder in Ft. Collins, Colo. (Club R3, The Doors). "It doesn't matter if you share your laundry."
A second meeting is held in the fall, usually for the purposes of planning, but it's often on site at a member's company, which is in turn evaluated by the group for potential deficiencies and good ideas that can be borrowed and brought back home.
In between meetings, the club members stay in touch, often emailing the group for advice or information that is not readily available in the local marketplace. They often become friends. Sometimes, they even save each other's businesses.
Shawn Nelson, president of New Spaces, a remodeler based in Burnsville, Minn. (Remodeler Club No. 3—different from R3 above—The Big Dogs), tells of a member who was taken ill and was unable to work for a stretch of several months (no names are used as members are sworn to confidentiality). Members of the Big Dogs, two or three at a time for as much as a week at a time, "essentially stepped in and ran his business until he recovered."
Spanjer has a similar story: "We had a member on the East Coast before the meltdown who was hit by management and financial issues. Several of our members, on their own dime, flew in and did sort of a crisis intervention."
The NAHB has identified 20 reasons why a builder or remodeler should consider forming or joining a 20 Club beyond the simple fact that most builders are builders, not accountants or marketers. We've narrowed that list down to seven reasons to sign up.
Profit Margins
"When I started in the club, if I made 5 percent at the end of the year, I thought that was pretty good," says Chris Nelson (no relation to Shawn Nelson), president of Nelson Construction in Simsbury, Conn., a single-family and multifamily developer doing $10 million to $20 million in annual revenue. "Then I started to see others making 15 percent to 20 percent. Of course, that was when times were good."
The aforementioned NAHB statistic on the improvement in profit during the first three years of membership notwithstanding, Nelson, who is the vice chairman of the 20 Club program at this writing, adds, "We have watched people double, triple, and even quadruple their margins."
The interplay goes beyond simple accounting and financial advice. "It's kind of like [having] a board of directors for your company," says Charles Ruma, president of Virginia Homes in Columbus, Ohio, with $15 million in annual revenue (Club No. 13, Builder Excellence). "During the downturn, the group was more vital to me than ever before." He says that because the club helped him restructure his company. "It's the No. 1 reason why I'm still in business today."
Best Practices
In construction, design, land acquisition, finance, accounting, human resources, marketing, and more, the ability to see how other similar businesses are doing things is one of the most salient benefits of the club, according to members. "It is a style of learning you can't get anywhere else," Ruma says. "You're talking about real issues and real solutions."
ILLUSTRATION: Asaf Hanuka
---
Chris Nelson agrees. "This has been the best program for educational systems of anything we've done. You always have resources to go to." And those resources extend beyond core club members as Shawn Nelson notes that in addition to the owners, "our staffs are able to collaborate."
Financial advice
While the club members interviewed for this article were reluctant to talk about finance—as in availability of capital—particularly for AD&C in the recent absence of bank loans, NAHB's Bailey says there have been instances where club members put money into other members' companies as so-called angel investors. As one of the builders notes, however, such dealings can prove troublesome. He recounts a particular incident in which a member squandered other club members' investments. That member, of course, is no longer in the club.
There also are areas of expertise at one company that may be short at another. Spanjer recalls a club member who was a banker before entering construction who not only advised other members on finance during the downturn but actually represented several of them in workout negotiations with banks.
Cost Control
A builder can't normally call another builder in the next town to ask how much he's paying his subcontractors or the lumber supplier—at least not if he wants a straight answer. Plus, there are federal antitrust laws that frown on that sort of thing. But a 20 Club member can ask his group, and even if there are regional differences in costs of labor and materials, the ability to see what others are paying ("comparing our contracts," as Spanjer puts it) helps.
Marketing strategies As most builders know, selling homes or renovation projects is no longer a matter of running traditional ads in newspapers, which in the past often was handled by sales. Social media and the Internet have largely supplanted the traditional conduits to the consumer. Now, marketing and sales involve first identifying the target customer, finding that customer, and then reaching that customer in the manner in which they wished to be reached. This is another area in which builders might be considered deficient.
Shawn Nelson's company used to operate with a combined marketing/sales and design function. The group convinced Nelson to let the design team design and the marketing and sales people sell. He split the functions and says, "We're stronger now than we were going into the recession."
Spanjer credits his club with educating him on SEO (search engine optimization), which essentially governs how your company and product show up on Internet search engines. The club brought in an SEO consultant to meet with the group. "If you're a guy here in Fort Collins, you never get exposure like that," he says.
The Network
Imagine if participation in 20 Clubs were such that, when the first builder sniffed the odoriferous concoction known colloquially as Chinese drywall, he emailed his discovery to members of his club—and the NAHB. Club members do just that, although none interviewed were affected by the defective drywall.
"Where do I find an ADA compliant shower where I don't have to reframe?" asks Shawn Nelson, illustrating the type of communication that routinely occurs. Calhoun recalls an alert that came from a member around Wilmington, N.C., whose local building code required installation of a vapor barrier on interior walls. The exterior of a home he was building was clad in EIFS. The result was moisture trapped in the walls—and mold. The alert warned members who had to deal with similar codes to steer clear of EIFS.
The Fraternity
For some members, the 20 Club has grown far beyond a business affiliation. "Had it not been for my 20 Club, I would probably be out of business or in some other industry right now," says Keith Allen, president of Keith Allen Custom Homes in Germantown, Tenn. "Some people like to say the club is a board of directors, but we think it's more like family. These guys are genuinely concerned about you, your business, your family, your life." Shawn Nelson concurs. "I've been to weddings, funerals—well, mostly weddings, thankfully."
Calhoun, days after he was interviewed, emailed the following: "Forgot to say that being a member of the Hammers has been a life-changing experience. We don't have many good ones in our lifetime."
For a behind-the-scenes look at what happens during a 20 Club meeting, visit go.hw.net/20-club.
Learn more about markets featured in this article: Columbus, OH.