No. 79: HHHunt Corp.
With housing starts up across the country, times are getting better for builders. Privately owned firms have options regarding how they might invest, or spend, profit.
For Glen Allen, Va.–based HHHunt Corp., however, the philosophy on profit is what it was 50 years ago when the company was founded: Reinvest 90 cents on the dollar.
When Harry H. Hunt III founded the company and started its first project in 1966, an 800-plus-unit student housing community on the campus of Virginia Tech, the company quickly ran into financial problems as one of the project's phases went over budget. Hunt was able to work out of the trouble and began plowing 90% of the profit back into the company. The strategy stuck.
Buck Hunt and Larry Wisdom - HHHunt Corp.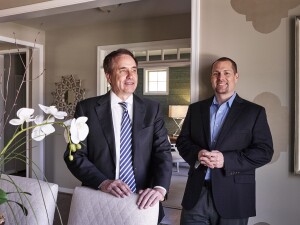 HHHunt Corp. is active in four major segments—student housing, senior living, land development, and single-family. HHHunt Homes, the single-family unit, was born out of necessity: In the early 1990s, explains Dan Schmitt, president and COO, a builder the company had hired walked off the job, so HHHunt had no choice but to complete the project in-house. Once the division got off the ground, it typically delivered 150 to 200 homes annually.
2015 was a big year for HHHunt Homes: It closed 495 houses—a 40% jump from 2014. The diversified portfolio and steady flow of capital—it owns 15 apartment communities, with five more under or soon-to-be-under construction, and 21 senior living facilities—help keep the company trending upward. "It just provides us with the ability to grow all of our divisions to a much greater extent than we could without that," Schmitt says of the 90% reinvestment policy.
The company doesn't need many financial partners, though, notes Buck Hunt, vice chairman and CEO, since it funds its own equity, but it does have lenders to provide debt financing. "It allows us to really run the company how we want to, not answer to anyone except ourselves," Hunt says. "It's like steering your own ship. We don't have to go to any board or any committee to ask permission to do a project. It's really on us."
Larry Wisdom, president of HHHunt Homes, says the reinvestment strategy has earned the company a solid reputation and led it to become the preferred builder in its marketplaces.
When the housing industry hit the skids, the multi­family side of the business kept HHHunt on a steady growth track. "We feel like that diversity of product has really served us well, and ... a big part of our business model is to keep that diversity going," Hunt says.
More Builder Profiles from the 2016 BUILDER 100: