Our 36-market demand index recently showed softening demand for new homes for the first time in 2016, largely due to ongoing price growth. In October, we saw demand for new homes recover, but pricing issues continue to be a top concern among Metrostudy regional directors. In 11 markets, regional directors reported an increase in buyer interest or traffic to sales centers in October, compared with zero markets a month prior.
While the average demand score across all 36 markets increased 2.96% month over month, commentary from our directors indicates that circumstances have changed very little for buyers looking to enter the market. Both new and resale home prices in major markets like Seattle, Denver, and Dallas-Fort Worth are still reaching all-time highs.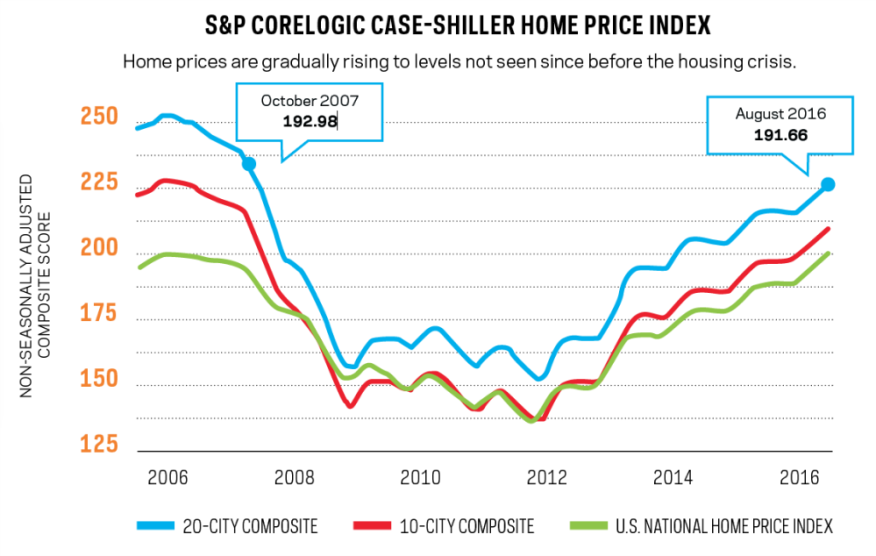 The most recent release of the S&P CoreLogic Case-Shiller Home Price Index showed continued price growth, with August 2016 levels approaching levels not seen since October 2007. As both existing and new-home prices increase, many buyers are being priced out of the market and forced to rent, despite their desire to buy.
Regional directors in a handful of markets—such as Northern California—report that finished vacant inventory is also reaching levels not seen since the recession. The problem is cyclical, as high construction costs have caused higher prices, but higher prices are now keeping buyers away. Conversely, in markets like Austin, Texas, and Reno, Nev., low levels of finished inventory (at affordable price points) are pushing buyers to the resale market, thus driving prices higher.
The economy is strengthening across the country, but positive employment reports are doing nothing to ease price growth, and affordability issues continue to impede potential buyers. According to regional director Paige Shipp, rapid price growth and a lack of proportional wage growth has created a price ceiling, which can now be seen in multiple markets across the country.