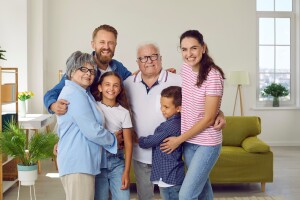 Prospective buyers facing challenging affordability conditions may turn to partners and extended family members as either co-buyers or roommates in order to attain homeownership, according to a recent Realtor.com and Censuswide survey.
Of surveyed individuals planning to buy a home within the next 12 months, 51% said they are potentially looking to their parents to help them prepare for buying a home. Nearly 30% of respondents said they have already moved in with their parents to help save money in preparation for buying a home; another 22% said they would consider moving in with their parents.
One-third of respondents are cohabiting with other family members to help save enough money to buy a home, including siblings, aunts and uncles, and cousins. A further quarter of those surveyed said they would consider moving in with other family members.
"The challenging market conditions this year are changing buyer behavior in significant ways, driving many more people to explore alternative living situations they may not have considered in the past," says Realtor.com chief economist Danielle Hale. "Mortgage rates hovering at or near 7% have eroded buyers' purchasing power at a time when the consistently low number of homes for sale has kept housing markets surprisingly competitive."
According to the survey, 83% of respondents would consider buying a home, as a primary residence, to live in with someone other than their spouse or partner. Respondents were most open to buying a home with their child (37%); a romantic partner they are not married or engaged to (31%); a sibling, cousin, or other family member from the same generation (27%); and their parents or in-laws (23%).
For those who would consider buying a home with someone other than a spouse, the top reasons cited were that pooled resources would afford them a better location (43%), a more updated home (41%), or a bigger home (38%). One-third of those who said they would buy a home with someone other than their spouse said it was because they're already living together and would prefer to buy and start building equity sooner. A further 29% said they would be unable to afford buying a home on their own.
Another consideration for prospective buyers is location: Recent return-to-office requirements and high child care costs may also be driving home shoppers to factor family proximity and support into purchasing plans. Twenty-eight percent of respondents who are planning to buy a home are doing so in part to be closer to their family.
Helping care for other children in the family is cited as a top reason for buying a home close to family, followed by needing affordable help caring for their own children. Four in 10 respondents said parents, siblings, extended family, or grandparents have already purchased a home near them.
The research in the survey was conducted by Censuswide with 2,291 respondents from across the United States.