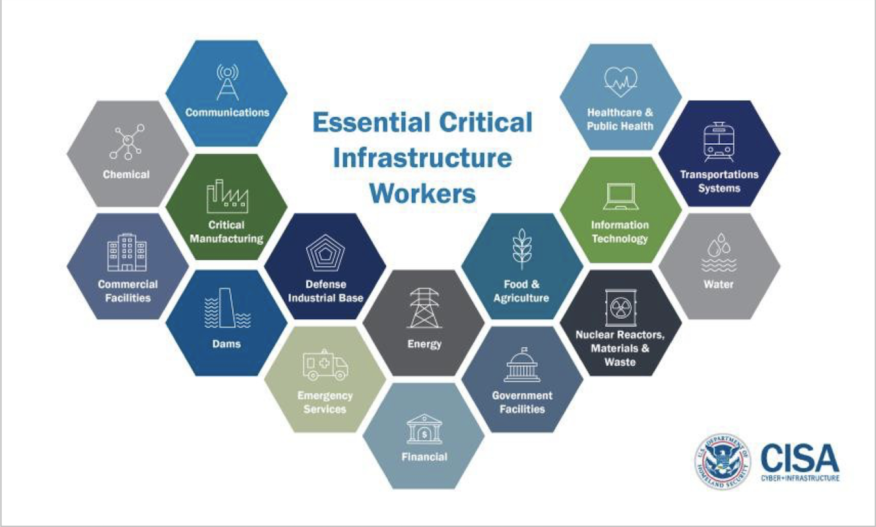 Two sections of an announcement Sunday from the Department of Homeland Security's Cybersecurity and Infrastructure Security Agency matter to residential construction firms and their orbit of vendors, partners, inspection officials, and distribution nodes.
One specifically addresses public works, saying that shelter in place and stay at home orders of local jurisdiction leaders should not apply to local officials involved in building "infrastructure," our societal fabric for assured access to vital resources.
It states:
A second passage lists "community- or government-based operations and essential functions," addressing the issue of not just operational continuation on construction sites, but local, state, and national support of those workflows via inspections, permitting, and other agency mile-markers in construction project work-streams. Namely:
The National Association of Home Builders cheered the Sunday announcement. The good news is that it illustrates the power of unity and alignment among all parts of the construction and development ecosystem. By speaking forcefully together, the industry community can and will continue to be effective as both an economic force to contend with, and a vital lifeline to a post-Covid future return to a semblance of normalcy.
"Americans depend on a functioning residential construction sector to provide safe, affordable housing for our citizens, and this need is especially acute during this pandemic," said NAHB Chairman Dean Mon. "Moreover, a healthy housing market is critical to maintain a sound economy. I commend DHS for heeding the urgent concerns of the housing community and taking this decisive action to assure the men and women of the industry will be able to stay on the job and serve the needs of the American people at this critical time."
On March 26, in an effort spearheaded by NAHB, 90 companies and organizations sent a joint letter to Acting Secretary of Homeland Security Jack Wolf urging him to designate the construction of single-family and multifamily housing as an Essential Infrastructure Business.
"As cities and states issue declarations and public health orders as a result of the crisis, it is essential that communities have access to our professionals to build and maintain essential services including: building, plumbing, residential property management, rental housing operators, roofing, electrical, HVAC systems, waste/wastewater treatment plants and power generations," the letter stated. "Home construction, including those industries listed above, should be designated as 'essential' because it is necessary to maintain safety, sanitation, and economic security."
This is a win.
But it's a win that comes with a cost, a host of caveats, and an opportunity to pump the breaks a bit at a time much of the economy has placed itself into sleep mode.
It's a chance to hit pause, tear apart and model digitally every sequence of every one of the concurrent workstreams you're engaged in. Look at every intersection, every hand-off, every huddle, and every node of the processes your projects entail.
Double, and triple-check them for risks, exposures, transmissability, droplets, aerosolization, protective gear, shields, deep cleans, alcohol wipes, spacing, hot water laundering, and myriad other cautionary measures you'd imagine currently going on in hospitals, testing facilities, residential rehab and nursing homes, etc.
Every person your folks come in contact with today may either be part of a 2.4-per-person Covid infection derivative, or not. Every unprotected, or not-socially-distanced, or less-than-obsessively-hygeinized work place is either a potential new cluster of infection that will eventually swamp all our hospitals' and heathcare givers' capability to deal with our case rate increases, or a business continuity service that accounts for a new, hard, harrowing reality.
This DHS "win" needs to prey on our consciences, our sense of accountability, our thorough acceptance that--in balancing two horrific threats, one on the health front and the other on the economic health front--we're choosing to go on fighting the fight on our construction sites, knowing that it may mean we're going to contribute to exposure risks to our partners, associates, workers, contractors, and fellow experts on the public agency and inspection side of the equation.
Yes, the DHS and its CISA team clarified, for the sake of economic life, health, and resilient access to vital services, its definition of "essential," and that's good news for an industry clamoring for inclusion in the interpretation.
At the same time, every waking day and every night as you take your rest, it's important to recognize what you mean by the word "essential," and how that applies to the thousands of men and women, and their families and household members, continuing their work in construction's cosmos.