Drain Game: If you build high-end homes, details matter. This is why the manufacturer offers the StyleDrain line of shower drains that blend form and function. Measuring 5 ¼ inches by 5 ¼ inches, the forged brass unit has a square design, so installing tile is easy, and it has no visible screws. It comes in 30 finishes. Cost: $259 to $336. California Faucets. 800-822-8855. www.calfaucets.com.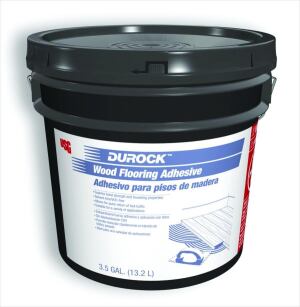 Stick It: The company, known for gypsum products, has a flooring division that recently introduced this environmentally friendly floor adhesive. Ideal for bonding wood flooring, tile, and stone to all types of subfloor and vertical surfaces, the product contains no volatile organic compounds and can be used in confined areas. It's sold in 3 ½-gallon pails. Cost: $83. USG. 800-874-4968. www.usg.com.
Low Profile: From a design perspective, a typical smoke detector is an eyesore. Silhouette bucks the trend with a sleek profile that buyers will likely tolerate and perhaps even celebrate. The alarm is hard-wired but has a sealed lithium battery back-up that will last the life of the alarm. It uses ionization sensor technology and has an end-of-life warning. Cost: $110 to $113. Kidde. 800-880-6788. www.kidde.com.
Board Stiff: The manufacturer of PureWood decking says it is a true alternative to composites and regular treated lumber. Used for years in Europe, the product features a ­Stellac thermally modified wood process that uses heat and steam to help wood protect itself. The process changes sugars into a natural substance that cannot be digested by insects or eaten by fungus and mold. Non-corrosive and nontoxic, the Southern yellow pine boards measure 5 inches wide. Cost: about $6 per square foot. Bay Tree Technologies USA. 888-575-4180. www .purewoodproducts.com.
Pear Drop: Dark cabinets in the kitchen are hot, but they're equally popular for storage in other rooms. For that reason, the manufacturer has added a new Chocolate Pear finish to its Classica line of closets. Designed to look like furniture, the system is offered with decorative fronts, full-extension drawer glides, and a variety of accessories and hardware options. Cost: $5,067 as shown, but prices vary. Schulte Strong Home Storage. 513-489-9300. www.schultestorage.com.
Lift Up: Polywood shutters are literally and figuratively cool. They block out the sun, as you would expect, but radio-frequency motorization technology and a remote control now allow users to operate the shutters from any room in the house. The motor is installed in the base of the shutter and uses four AA batteries to adjust the louvers simultaneously. Made from solid engineered-wood substitute, the shutters will not chip, crack, warp, or split, the company says. Cost: $180 up-charge per panel. Sunburst Shutters. 877-786-2877. www.sunburstshutters.com.
Terra Firma: The Cantera sink is made from a single block of stone, but it glows with warm and relaxing tones when lit from underneath. Available for drop-in, undermount, or above-counter installations, each handmade basin is available in white onyx, honey onyx, green onyx, or crema marfil. Cost: $1,195 to $1,395. Terra Acqua. 805-899-8888. www.terracqua.net.
Turn Around: With personal electronic devices ruling our daily lives, it helps to have the flexibility to accommodate multiple large plugs. The rotating Duplex Outlet offers that option. It allows a homeowner to connect a large plug and turn the socket to make space for another large plug. The outlets come in white, ivory, and black. Cost: $9.99. 360 Electrical. 801-364-4900. www.360electrical.com.
More about 360 Electrical
More about California Faucets
More about Terra Acqua
Find products, contact information and articles about
Terra Acqua