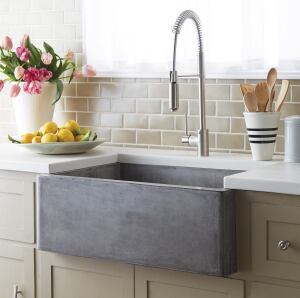 From hand-hammered copper tubs to unique bath furniture, Native Trails is known for its statement kitchen and bath fixtures. A new product line brings its artisan touch to a new medium: concrete. The NativeStone sink collection is made from a modified concrete reinforced with jute fibers to improve its strength, decrease the weight, and keep it an eco-friendly material.
"Native stone came about for two reasons," says Native Trails president Tim Blair. "We had long been seeking another material that would jibe with our company ethos. It had to be sustainable, support artisans, and have a positive social impact. And, of course, it had to be really unique and beautiful."
To that end, Blair says the company worked to capitalize on a growing trend in concrete in residential use but found traditional concrete too prone to cracking and staining. In developing NativeStone, Blair says the addition of jute fiber allows the material to weigh about 40% less than traditional concrete while retaining its strength. The product line's Morro vessel sink (right) weighs approximately 28 pounds, while the line's Farmhouse models (below) weigh about 99 pounds.
Installation and Care
Installers should consider the weight of the sinks, especially when using undermount techniques. Most NativeStone sinks can be undermounted or surface mounted. The company recommends that surface-mounted sinks be held in place with silicone, while undermount sinks need to be supported with bracing and secured to the underside of the counter to avoid leaks. Native Trails also reminds customers that the dimensions of the sinks may vary by up to 1/4 inch because they're hand-made. As such, wait to cut installation holes until you have the sink in hand to confirm measurements.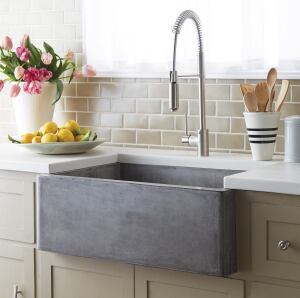 Once installed, users will appreciate NativeStone's protective nano-technology sealer, which forms a molecular bond with the concrete. Blair says the sealing process was researched and tested for more than a year to determine the right formulation to render NativeStone resistant to scratching and cracking, and "impervious to staining." A simple soap and water mixture is sufficient to clean the surface, and the nanosealant is designed to last 10 years or more without resealing. NativeStone sinks are available in a ash, slate, and pearl finishes to make a dramatic impact in any kitchen, bar, or bath, and especially those that call for a focal piece for the design. "The organic beauty of the material is the focal point," Blair says. "Simple, functional design and worry-free maintenance renders each piece exceedingly practical to boot."
More about Native Trails
Find products, contact information and articles about
Native Trails