High End At Any Price
In a region known for tough controls on building, green has fashioned ecology-minded developments of upscale attached homes for empty-nesters.
The 1969 Daytona-Yellow Camaro parked in the three-car garage of a spec home in Charlottesville, Va.'s Old Ballard Farm subdivision is builder Mike Gaffney's lucky charm. Every time he finishes a home, he parks the sports car in the garage until the place sells.
It must be working. In a sluggish housing market, Gaffney Homes closed on 58 homes last year, 13 more than the year before. The privately held company hung onto a 13 percent market share, and its sales revenue spiked by about 18 percent, to $24 million, in a market that, like most, is saturated with housing inventory.
In fact, Gaffney Homes, which builds semi-custom and production homes, town-homes, and condominiums in Albemarle County, has more than tripled both its number of closings and sales revenue since 2003, making it the fastest-growing home builder in central Virginia.
Along the way, Gaffney, 52, grew his small staff to 30 employees and transformed himself from a builder of custom homes to one who will build whatever will sell in Charlottesville—and he'll sell it at the price Virginians are willing to pay at the time.
The result is that the company, helmed by a one-time used-book salesman, builds homes that range from $300,000 to $2.3 million in a market where the average price is $461,000. Yet the builder's focus on quality and style comes through in even the most affordable homes. "It doesn't matter what the price point is," explains the firm's vice president and controller, Mike Ball. "We're still going to be considered the high-end builder at that price point."
THE GAFFNEY STAMP
Whether the home is a two-bedroom condominium or an 8,000-square-foot mansion with a pool, its roomy, wide-open interior bears a sleek Gaffney stamp. Gaffney Homes mixes granite countertops with stainless steel appliances and satiny wood floors in kitchens; squeezes in nearly as many bathrooms as bedrooms; and sprinkles in architectural surprises, such as pillars that separate the foyer from a formal living or dining room. The builder's favorite among the 275 homes he has built since stumbling into the business after renovating his own first home 20 years ago: "The one I'm building," says Gaffney.
The homes fall into three categories: luxury, semi-custom single-family homes that are at least 3,000 square feet; single-family production homes that are smaller than 3,000 square feet; and multifamily homes, including condos and townhomes, which account for 63 percent of Gaffney Homes' construction activity and 42 percent of its revenue.
Last year, the firm ventured into downtown infill housing for the first time, breaking ground on 14 narrow, four-level homes on ultra-steep lots about a mile from the University of Virginia campus. "The land that's left in the city is very challenging," notes Gaffney, who is selling the homes for $529,000.
But until 2002, Gaffney Homes kept a narrow focus on 10 or so semi-custom and production homes a year, ranging in price from $400,000 to $1 million. The year before, Charlottesville's largest employer, the University of Virginia, declared a hiring freeze just before the terrorist attacks of Sept. 11. In response to the sinking local economy which resulted, the company diversified into townhouses and condominiums that sell in the $300,000 to $400,000 range. As the market began its recovery and Charlottesville's appetite for luxury returned, the firm answered with mansions that sell for around $2 million.
Now, says Ball, "You have the best of both worlds: a company with 20-year roots in the community—we're not going anywhere—but at the same time, it is growing. There's an established feel, but an entrepreneurial spirit. At Gaffney Homes, we're pretty passionate about being entrepreneurs."
THE ROAD TO REAL ESTATE
Gaffney caught that passion while he was majoring in math and actuarial sciences at Central Connecticut State University in the 1970s. He chose to work for the 26-year-old owner of a chain of used-book stores and dropped out of school to work at the boss's first retail store in Boston "to learn how to be an entrepreneur." That mentor's name: Leonard Riggio, who went on to found Barnes & Noble.
"What I got from him was a tremendous desire to do everything I could to help him be successful," says Gaffney. "He created that in all of us. I think I have re-created that in Gaffney Homes."
Riggio hired college kids, handed them responsibilities beyond their years, and turned them into managers. Gaffney has given some of his own firm's executives the opportunity to invest in his building projects, a perk that has, at times, reaped them more income in a year than their annual salaries.
"I create opportunities for long-term relationships," he says. "The key is to get the right people who are aligned with your goals."
Gaffney left New England in 1979 with an armful of clothes, a sleeping bag, and a $50 station wagon, and drove south. When he arrived in Virginia, he says, "I was an entrepreneur without a business." So he started a wholesale textbook business and embarked on a search for a cheap house to buy in the Blue Ridge Mountains. He found an A-frame he could afford—but it was empty inside, just studs and a shell. He moved in and hired an out-of-work builder to help him finish it. He spent the next two summers working on residential construction crews. In 1987, he sold his mountain home, rented an old farmhouse, and started building his first spec house. It sold eight months later; the next one sold before it was finished. "I went from part-time builder to full-time builder" with that sale, recalls Gaffney.
For the next five years, Gaffney built one custom home at a time. By 1992, he was up to eight houses a year. When he started building townhouses in 2002, he became a production builder and whittled his building costs down to $65 per square foot.
MARKET RESPONSE
Soon after, the demand for luxury town-homes exploded in Charlottesville. Gaffney responded by adding elaborate embellishments such as see-through fireplaces, curved banisters, and built-in TV cabinets, standards that allowed him to raise prices.
"When it's a buyer's market, price is really important, so the design of the house will have lots of options [instead of luxurious standards]," notes Gaffney. "When the market's great, the challenge is: How do you wow the next buyer? In a seller's market, we make the options standard and add them into the price."
The seller's market of the early 2000s, of course, left Charlottesville and most other markets with an excess of inventory—and a return to a buyer's market. So Gaffney has dusted off his 2002 plan for affordable townhomes; on the drawing board are homes that will sell for less than $200,000. He also alerted Realtors that he would slash prices on standing inventory to move the homes.
Still, says Ball, Gaffney-built homes will retain their sleek look and quality assembly. "We looked at what we put into the house that we like but that the customers don't think is valuable," he says. In single-family homes, for instance, buyers won't miss the entryway pillars if they don't see them in the model. Kenmore appliances will replace high-end GE Profile models in some units. Wraparound front porches will disappear. And on some models, garages will become optional. "We've taken a hard look at our product and re-engineered it down to lower price points where we see the demand," says Ball.
In the process, the company will scale back home prices by $20,000 to $40,000, bringing some single-family homes into the $300,000s, and some townhomes even lower.
WASTE WATCHERS
The firm also has figured out how to save money by cutting waste and unnecessary spending, notes Ed Zarzyski, Gaffney Homes' vice president of construction. Builders are instructed to squeeze every drop of caulk from a tube rather than tossing one that's still a quarter full. Purchase orders from the field now need Zarzyski's approval, so crews are making fewer spur-of-the-moment purchases and spending less time running to the store. "We used to get stacks of invoices for trips, gas, man-hours," says Zarzyski, who estimates field staff is making half as many miscellaneous runs as a year ago.
Even the builder's trade partners have noticed a change for the better. "They seem to be more organized than most builders, which eliminates trips," says John Lloyd of John Lloyd Electrical in Charlottesville. "And they don't call the subs out until they're ready for them. Other builders will call them out, and they're not ready. That's the traditional way."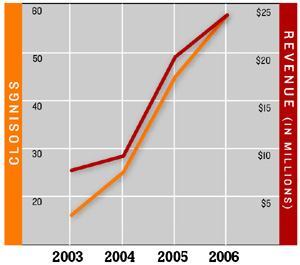 The company has changed its ways, but "we're not trying to change the feelings that people get when they walk into a Gaffney home," notes Zarzyski, who says the firm won't skimp on concrete foundations or trim. "Those are things some of the customers [wouldn't] see," he says. "Those are things the customer would feel."
That's important to Gaffney, too, who describes his product saying, "It feels like home."
Dave Phillips, CEO of the Charlottesville Area Association of Realtors, describes the homes as "unique in a way that's subtle, yet impressive."
"There are a fair amount of builders who are building in that upper end of the price range," notes Phillips. "Mike has done a good job of distinguishing himself by the quality of his construction. And the number of bathrooms-per-bedrooms ratio—well, he understands folks like me who have three daughters."

BEYOND CHARLOTTESVILLE
Within five years, Gaffney's customers may feel at home outside of Charlottesville as well. Gaffney, who expects to graduate from the University of Virginia's Darden School of Business with an MBA in 2008, has plans for "rapid expansion" of his company. In fact, he estimates the firm will close on 101 homes and collect $45.6 million in sales revenue by 2008. First stops could be the nearby Virginia cities of Waynesboro and Lynchburg, and Gaffney will likely add mixed-use—residential combined with street-level retail or office space—to his diverse product mix so he can build in Charlottesville's downtown.
Charlottesville Mayor David Brown says Gaffney will be welcome there. As a former president of the area Chamber of Commerce, chair of two city water and sewer committees, and leader of a $16 million renovation of Charlottesville's historic Paramount Theater, Gaffney "is an incredible asset to our downtown," notes the mayor. "And he builds high-quality homes. People always feel like they can recommend him."