It's that time of year again when economists and other experts start crystal balling where they think the beleaguered U.S. economy and its housing industry could be headed in the next two years.
Those projections, as often as not, are based on historical factors, such as household formation. So Builder scoured the stories it has published in its magazine and online this year to identify trends we believe might spill into 2012 and influence how builders adjust to compete profitably.
---
The sudden rush of overseas builders and developers entering the U.S. housing market in 2011 could continue next year, especially if economic conditions don't stabilize. Recent arrivals have included Japan's ubiquitous Sekisui House, which forged strategic alliances with Newland Real Estate Group in California and Miller & Smith in Virginia. Australia's G.J. Gardner Homes, which already operates franchises in California, Colorado, and Indiana, had its expansionary eye on Texas, Massachusetts, and Tennessee. Sanyo Homes in Japan broke ground in Portland, Ore., on its first steel-framed earthquake-resistant house in the U.S. And Sumitomo Forestry is investing $100 million in America's Pacific Northwest over the next few years, and is using a subsidiary, Australia-based Henley Properties, to buy land in that region for development and new-home construction. Who will be the next invader? Maybe the furniture retailer Ikea, which through its property development arm recently began buying land in and around London on which it intends to build 10,000 houses.
Could 2012 be the year when modular construction makes its presence felt in the housing sector? More contractors and developers looking for ways to rein in construction costs seem willing to at least give modular a second look. And several of the industry's leading module manufacturers believe their time has come, including Massachusetts-based Blu Homes, which expects to have its second factory—a 250,000-square-foot facility in northern California—operational by the end of this year. Excel Homes hopefully introduced what it calls its "national" series of house designs. The startup Zeta Communities last June began supplying a 22-unit net-zero-energy community in Stockton, Calif., and forecasted it would produce modules for between 100 and 150 homes over the proceeding 12 months. Virginia-based Nationwide Homes—which started its 35,000th house last summer—is targeting urban infill projects for growth. And Champion Home Builders is pursuing multifamily opportunities in western states with USModular as its sales and project management partner.
8. RENTAL REBIRTH
Rentals are emerging as a panacea of sorts for what ails America's housing sector. In August the Obama administration reportedly began seeking investors that are willing to convert and manage as rental properties 92,000 foreclosed housing units now owned by Fannie Mae, Freddie Mac, and FHA. Lennar, the industry's third-largest builder, indicated that it was open to getting involved in the government's rental program. And one of the industry's fastest-growing companies is Michigan-based Marketplace Homes, whose service for preferred builders is to offer their home buyers a guaranteed monthly lease payment on their existing home for up to six years, regardless of whether it's rented. Marketplace expects to be in 36 markets by year's end. All of this activity must seem ironic to LGI Homes, the Houston-based builder that is enjoying explosive sales growth converting renters to owners with low-cost houses.
7. STARTING UP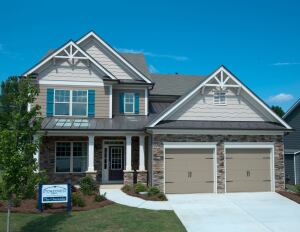 While the wave of startup builders receded this year, new companies will keep forming as long as there are entrepreneurs who think they have a better mousetrap. It also helps to have a pedigree, like FrontDoor Communities in Atlanta, whose two principles had been executives with John Wieland Homes and Neighborhoods and with Reynolds Signature Communities. Front Door is doing fee work for banks and developers, redevelopment projects, and home building in the Southeast on up to 60 lots. Another Atlanta-area startup, Stonecrest Homes, which focuses on infill projects, has been helped by the fact that one of its co-owners already operated an established active-adult building company that's among the market's 10 largest builders. Stonecrest outsources most of its non-construction functions, and lets technology drive the rest.
America's housing industry continues to be an arena for second acts. Irvine, Calif.-based Fieldstone Group of Companies took a two-year hiatus to clean up its balance sheet and land problems before it resumed building homes and developing land in 2011. Hearthside Homes spent 16 months in Chapter 11 before emerging with new private-equity financing that allowed Hearthside to buy land for the first time in six years and to start a new 356-unit community, Brightwater in Huntington Beach, Calif. (The emergence was short lived, because Hearthside's financial backer pulled the plug in early November, firing Hearthside's staff and shutting it down.) Name changes remain popular for old builders reinventing themselves: Americap Development Partners now goes by True Life Communities. The ownership of New Mexico's Artistic Homes passed from father to son and, in the process, the company was renamed Palo Duro Homes. The ultimate second act, though, has to be Indiana builder Paul Estridge, who lost his construction bank financing and was forced to file for bankruptcy protection to protect personal assets that guaranteed $50 million in business debt. Estridge found salvation in David Weekley Homes, which acquired his company and named Estridge president of its Indianapolis division, "I couldn't be happier," says Estridge. "Our cultures are so well aligned, and I can see myself retiring here."
Learn more about markets featured in this article: Los Angeles, CA, Indianapolis, IN.
More about Excel Homes
Find products, contact information and articles about
Excel Homes
More about Ikea
Find products, contact information and articles about
Ikea