In urban and suburban enclaves across the U.S., developers are fostering culture at a micro level in the neighborhoods people call home. These are hyper-local places in which all the pleasures typically provided on a single-family plot are now enjoyed outside the home, in designed communities offering every imaginable opportunity for decompression. The local theater replaces the big-screen TV, the home gym makes its way to the fitness center or foot trail, and the backyard climbing wall moves to the playground. It's the flip side of privatizing the public realm.
If social connectivity is good for the human spirit, it's also good business for builders. Contemporary buyers pay roughly 20 percent more to live in amenity-rich new-home developments, says Melina Duggal, senior principal of real estate consultancy RCLCO in Washington, D.C. That means they're often discriminating, educated house-hunters. They want luxury and lifestyle, she says. "They're not giving up granite countertops, but they're willing to buy slightly smaller to be close to a town center. The lots are narrower, so they're also trading their own backyard for pocket parks and usable community space."
Home design in these neighborhoods is approached differently than in conventional subdivisions. Floor plans can be calibrated in direct relation to what is available beyond the back door. "Before anything goes into housing design, we take inventory of what amenities are provided in the development," says William Ramsey, associate principal at Irvine, Calif.–based KTGY. In a well-planned community, there's an optimal balance between lot size and the quality of common spaces, he adds. If you plan for too many people without the amenities that make living there enjoyable, the development often fails.
Home footprints can be compact, but they must provide maximum privacy. "Design gets more critical the closer you bring people together," says Donald Powers, founding partner of Union Studio in Providence, R.I. "You have to understand the nuance of how people's sense of personal space and privacy interacts with their desire to be part of a community." Even substantial homes the firm designs in high-end planned communities are about 25 percent smaller than their counterparts in conventional developments, he says.
The projects that follow are kindred expressions of a common conviction: that the soul of a subdivision comes alive in stellar public spaces. They parse what's important when designing homes in socially engineered developments, whether urban, suburban, or rural.
Cart Culture
Concord Riverwalk
Concord, Mass.
Builder/Developer: NOW Communities LLC, Concord | Architect: Union Studio Architecture & Community Design, Providence, R.I. | Sales Price: $600,000 to $700,000 | House Size: 1,340 to 1,760 square feet
Outside the Box This intimate suburban infill neighborhood of 13 homes on 3.7 acres champions the local and accessible. Its bright spots are the location—within a walkable half-mile of downtown West Concord and public transit—communal garden plots, a foot trail looping along the Nauset River, and a common gathering place with a fireplace and screened porch. Each cottage gets a covered and a surface parking spot at the community entrance.
Inside the Box Orientation is everything. Arranged in two neat rows that step down a southern slope, each net-zero-possible house has an opaque public side and a sunny private side. Open plans, front porches, and private courtyards just big enough for a café table provide elbow room. The philosophy here was that lush gravel pedestrian lanes trump driveways, and buyers agreed. "It was obvious from walking the site that if we were to bring a road to every unit, you would lose any chance of creating the unique, small-scaled open space we did here," says architect Donald Powers, founder of Union Studio. "Real estate surveys ask, absent any other factor in the mix, whether people prefer attached or detached garages. If you could have light on four sides of your house and a little patio, the question gets more meaningful: What are they getting for that perceived inconvenience?" The developer provided lightweight carts for toting packages from the car court to the house.
Eco-Smart
Solaris Collection at Daybreak
South Jordan, Utah
Developer: Kennecott Land, South Jordan | Builder: Garbett Homes, South Jordan | Architect: KTGY, Irvine, Calif. | Sales Price: Mid $200,000s to mid $300,000s | House Size: 2,600 to 3,200 square feet | Lot Size: 45 feet by 90 feet Outside the Box The Solaris Collection includes more than 100 homes in a larger 4,125-acre community built around a 67-acre lake. Residents have access to swimming pools, 30 miles of walking and biking trails, community gardens, tennis courts, sports fields, parks, restaurants, shopping, offices, and two stops on the Utah Transit Authority's TRAX Mid-Jordan light rail line.
Inside the Box The 35-foot-wide, three-story homes have only 5-foot side yards, but their large window systems, glass sliders, patios, and balconies supply ample daylight and outdoor access, increasing livability without bumping up size. "We put the money in the public spaces rather than the bedrooms," says architect William Ramsey, associate principal at KTGY, which designed the houses. The floor plan includes a crucial mudroom/drop-off area and a single-wall kitchen with a polished island, adding drama while eliminating costly corner cabinets.
Low energy bills (HERS scores are 30 to 40) draw eco-conscious buyers. "They're looking for a home that is well designed, comfortable, smart, and saves them money," says Garbett Homes CEO Bryson Garbett. "I don't think they sacrifice anything to live here, except some lawn."
Metrostudy Says
Daybreak has held steady throughout the recession and maintained product quality. Its values have held up quite well compared to the Salt Lake City County market. New-home prices at Daybreak appreciated 33 percent from the third quarter of 2012 to the second quarter of 2014, compared with a 12.5 percent uptick for new-home prices in the larger county.
Rails to Trails
Platt Park North
Denver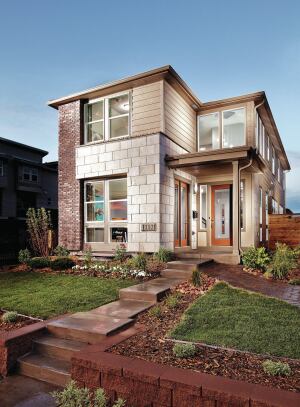 Builder/Developer: Tri Pointe Homes, Irvine, Calif. | Architect: Woodley Architectural Group, Littleton, Colo. | Sales Price: $600,000 to $700,000 | House Size: 2,500 square feet | Lot Size: 27 1/2 feet by 119 feet Outside the Box Located a quarter-mile from two light rail stops, these 29 infill homes are a quick 10-minute hop from downtown Denver, and a short walk from the 161-acre Washington Park. Close by is Old South Pearl Street, home to diverse shops, restaurants, and a popular farmers' market.
Inside the Box With 6 feet between houses, the 21 1/2–foot-wide units live like detached townhomes. They hug the lot line on one side and are open on the other to a courtyard staged with a bar, barbecue, seating, and fire pit. Buyers get state-of-the-art kitchens, high ceilings, large closets, and two-car garages. Two other areas of focus are the master suite, with luxury finishes and an optional sitting area, and the entry, with a 12-foot-by-12-foot foyer and a stairwell volume. "The homes look narrow in front but feel large when you walk in," says Matt Osborn, president of the Colorado division of Tri Pointe Homes. The units can expand to 3,000 square feet with finished basements.
Sweet Spot
Imperial Sugar Land
Sugar Land, Texas
Developer: Johnson Development LLC, Houston | Builder/Designer: Darling Homes, Houston | Sales Price: $500,000 to $700,000 | House Size: 2,600 to 3,800 square feet | Lot Size: Average 65 feet by 130 feet Outside the Box Buyers move here for the sense of history and preserved natural environment—716 acres with 45 percent open space—so they are not interested in having large yards, says Amy Rino, president of Darling Homes' Houston Division. Among the amenities are restaurants, lakes, Skeeters minor league ballpark, walking trails, and Oyster Creek. The Fort Bend Children's Discovery Center will open in 2016, and restoration of the site's sugar mill building is in the works. An added bonus: the location connects easily to the freeway and downtown Houston.
Inside the Box Plans for the patio homes pay special attention to the master suite and entertaining areas. "The focus is on finishes, livability, and entertaining rather than room count, and there is no wasted space," Rino says. Designs revolve around spacious kitchen/family room/dining combos and large windows at the rear of the house, and front and back porches and patios with optional fireplaces. Other upgrades include a sunroom connecting the living area and master suite, an additional half story, and a third garage bay for a fun car or hobby.
Learn more about markets featured in this article: Salt Lake City, UT, Los Angeles, CA, Houston, TX, Denver, CO.