View All 29 Photos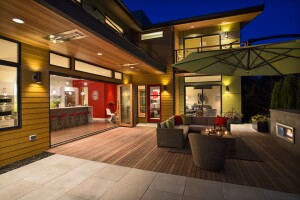 The Evoke brand, which has recently been shuttered, included a range of house styles.
Play slideshow
During the recession, officials at Seattle-based Quadrant Homes realized that business as usual—selling starter homes based on a per-square-foot value proposition—was no longer viable. The housing downturn and ensuing credit crunch had devastated its traditional customer base.
As the pool of qualified first-time buyers dried up, the TRI Pointe-owned company turned its focus on the region's remaining buyers: move-up and luxury. Working with an industrial designer and marketing specialists, the Quadrant team developed a new brand, Evoke, to tap into this group. They stocked the homes with premium amenities such as 9-foot ceilings, oversized windows, outdoor living spaces, and plentiful custom options to woo this more-sophisticated clientele.
The brand was a hit with affluent buyers looking to trade up from their starter homes; some spent up to $300,000 in upgrades on dwellings that ranged from $786,000 to $990,000 and were located in the tech-centric neighborhoods of metro Seattle.
With all but one of the 29 Evoke models now sold, company officials recently made the bold decision to shutter the brand and fold its best ideas back into Quadrant. "Sunsetting Evoke while it was still very successful was a difficult decision but we knew we could take that idea and extrapolate it to our much larger brand," says Quadrant president Ken Krivanec.
The revamped Quadrant line builds on the most popular design features of the Evoke brand such as open metal handrails, minimalist fireplaces, and spa-like master baths with soaker tubs. It does not include Evoke's unlimited range of design choices, which limited the firm's ability to streamline the construction process and drove up costs. Instead, a Flex Option program allows customers to personalize floorplans early in the selection process, Krivanec says. The approach keeps home prices as low as the $430s, a sweet spot for many move-up buyers.
View All 14 Photos
One of Quadrant Homes' newest communities offers modern styling and a great location.
Play slideshow
"This is what was going to be best alignment of the company going forward, to have all resources moving in the same direction at the same time," says Krivanec. "The research tells us that this market in years to come will be strong, and will appreciate a premium builder."
One of Quadrant's newest communities, Filbert Glen in Seattle's Northside neighborhood, is an example of the company's renewed focus on superior design, top locations, and personalized choices.
Designed by architect Michael Woodley, the "Northwest Modern" dwellings feature soaring ceilings, sky bridges with metal railings, covered patios, and rustic stone exteriors. Prices begin at $560,000 with plans from 2,200 to 3,300 square feet.
The 16 home sites began selling in March and are nearly sold out, a sign that the company's move away from semi-custom products is paying off. "We are building homes much more efficiently now, not doing one-offs, but at the same time truly letting the buyer determine what's best for them," says Krivanec.