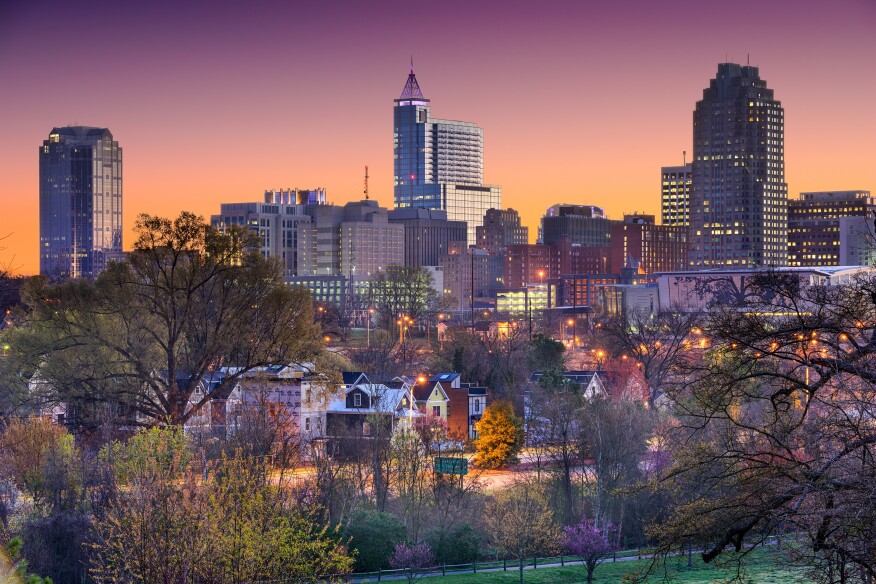 In Raleigh, North Carolina, all three main new-home price tiers continue to see sales rates above 2021 and 2019 levels, as the market has outperformed expectations this year.
Relative to 2019, Raleigh's move-up sales rate is performing better than entry-level, but its high-end sales rate is even stronger compared with pre-pandemic. In addition to a strong labor market, flush with high-income jobs, strength in Raleigh's move-up and high-end segments stems from years of robust in-migration of millennials and baby boomers.
For the second year in a row, Raleigh ranks second on Zonda's latest Baby Chaser Index for 2022 and has ranked in the top 5 since 2018.
Strengths
Apple's new campus is in the works, but Fujifilm's new manufacturing plant in Holly Springs has been a more immediate driver for demand. Other big job announcements include ProPharma moving its headquarters to Raleigh.
Weaknesses
Construction and design regulations make it difficult to build affordable townhomes. Growing pains from strong population growth is causing an increase in traffic congestion. One of the toughest commutes is the Interstate 40 corridor in and out of fast-growing Johnston County.
Sales
New-home sales in the Raleigh area increased .2% year over year to an annualized rate of 8,817 units in July. Existing-home closings for the 12-month period ending in June posted a year-over-year decline of 32.3% to an annualized rate of 21,764 units.
Prices
The average list price for a new detached home in the area decreased 5.3% from 2022 to $476,407 in August, while the average list price for a new attached home decreased 9.8% over the same period to $375,001. Home prices over $550,000 experienced the most closing activity over the past year. The new-home affordability ratio for a detached home reached 32.2% in June.
Economy
Total nonfarm employment increased 3.3% from the same period last year to 728,600 payrolls in July, with approximately 3,300 more jobs compared with the previous month. The local unemployment rate remained flat at 2.9% in July compared with 2.9% the previous month. July's jobless rate is lower than it was this time last year when it stood at 3.1%. Zonda forecasts the region's unemployment rate will finish the year at 3.1%.
Community
The population for the metro area is approximately 1,536,900 people and is projected to increase by 2.2% this year. There are approximately 601,440 households in the region, which is up 2.5% year over year. Forecasts show that current household formation is expected to increase by an annual growth rate of 7.2% by 2028. Incomes increased from the previous year to $91,850.