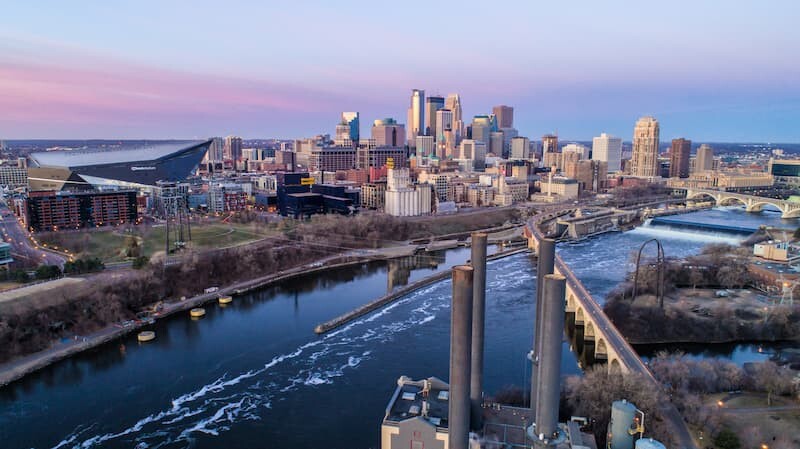 Minneapolis has drawn a lot of attention recently for keeping a lid on inflation by taming the cost of housing.
Some factors cited for the metro area's success were eliminating single-family zoning in 2018, zoning changes around major transit corridors, and eliminating parking minimums. As a result, there has been a construction boom along corridors such as Marshall Avenue, Lake Street, Nicollet, and Broadway.
Eliminating a lot of hurdles saved developers time and money to get projects underway instead of battling NIMBYs over height and density variances.
Strengths
Minneapolis' annual inflation rate of 1.8% in July was below the Federal Reserve's target of 2%, making it the first major metropolitan area to do so. The primary factor was limiting the cost of housing through the increased construction of apartments and condos.
Weaknesses
Even as housing demand wanes in Minneapolis, building permits are well above pre-pandemic levels amid a multifamily construction boom. However, most permits are for apartments, and condominium developments have been few.
Supply
Quarterly housing starts decreased 28.1% from a year ago, while the number of available vacant developed lots sits at 14,859, up 26.2% over the same quarter last year. Regarding supply/demand balance, the market area is 2.07% oversupplied.
Sales
New-home sales in the area decreased 3% year over year to an annualized rate of 5,824 units in August. Existing-home closings for the year ending in July posted a year-over-year decline of 33.8% to an annualized rate of 47,582 units.
Prices
The average list price for a new detached home in the region increased 10.4% from 2022 to $556,758 in August, while the average list price for a new attached home decreased 6.6% over the same period to $385,234. Over the past year, homes priced under $350,000 experienced the most closing activity. The new home affordability ratio for a detached house reached 26.8% in July.
Economy
Total nonfarm employment in the statistical area increased 1.6% from last year to 1,979,200 payrolls in July. There were approximately 1,000 more jobs in July compared with the previous month. The local unemployment rate remained flat at 2.7% in July compared with 2.7% in June. July's jobless rate is higher than it was this time last year when it stood at 2.4%. Zonda forecasts the region's unemployment rate will finish the year at 3%.
Community
The current population of the metropolitan area is approximately 3,749,230 people and is projected to increase by 0.8% in 2023. There are approximately 1,471,480 households in the region, which is up 0.8% year over year. Forecasts show that household formation is expected to increase by an annual growth rate of 2.7% for 2028. Incomes rose by 4.3% from the previous year to $92,197.
Did you know you can access free housing data with Zonda's Market Snapshots? Reports include new-home supply and valuation, resale listings, jobs, market forecasts, and more. Get your complimentary market snapshot for your local CBSA today.