The pandemic changed where and how we live and work unlike any time in history. Some of the changes will be temporary once the vaccine is fully distributed, while others are more likely to be permanent. One of the more monumental shifts during 2020, the normalization of work-from-home, is expected to remain at least somewhat permanent, and that has far-reaching implications, especially for housing and the economy.
The redistribution of people across the country impacts local economies in many ways, including through tax revenue, influencing where companies choose to operate and the relative strength of the housing market. While 2020 was the year for secondary and tertiary markets, continued growth requires proper infrastructure to ensure momentum isn't hampered. As such, we've created a list of 10 markets to watch in 2021 in terms of housing and economic growth with an emphasis on existing infrastructure and connectivity.
Our list was created using a variety of quantitative factors looking at airport enplanements (passenger boardings), the number of interstate highway systems, affordability, the labor market, current and year-to-date home sales, and lot inventory, as well as qualitative input from our national and local experts. Our top markets to watch in 2021 are Salt Lake City; Nashville, Tennessee; Raleigh, North Carolina; Sacramento and Riverside/San Bernardino, California; Florida's East and West coasts; San Antonio; Indianapolis; and Columbus, Ohio.
Our focus for this list is medium-sized metros. Our list does not include any city with an airport that had 15 million or more enplanements in 2019. The larger airports correspond with economies that already have scale. We'd be remiss, however, not to mention the strength in the bigger markets. For example, Atlanta, Austin, Dallas, Denver, and Phoenix were among the strongest nationally pre-pandemic, and the COVID-19 fallout only exaggerated that trend. Despite being geographically distant, all five share many commonalities that add up to success: good weather, more affordable homes, good job diversity, and positive net migration. We expect these markets to be among the most in-demand and successful throughout 2021.
Below are our 10 medium-sized markets to watch during 2021, sorted by air travel. Many of these markets already did well in 2020, but we see them as ones that still have a lot of potential and expect to see additional momentum throughout this year.
Greater Salt Lake City
Salt Lake City has become one of the most attractive markets in the entire country. Relative affordability and the outdoor lifestyle are two driving forces. For example, 49% of households can afford the median-priced new home, with good bang for the buck; the average price per square foot in Salt Lake City is $238 for actively selling new-home communities, 7% below the national average. Additionally, the local economy is diversified with expanded employment in the tech sector on top of the existing health care jobs and those through The Church of Jesus Christ of Latter-day Saints.
Other Reasons We Like Salt Lake City:
Low crime rate
Good schools
Infrastructure:
I-15 connects Southern California and Las Vegas to Salt Lake City before continuing to Canada
I-80 links Salt Lake City to San Francisco and all the way to Chicago
12.8 million enplanements, up 5% YOY from 2018 to 2019
$4 billion airport expansion is underway
What Our Experts Say:
The housing market in Salt Lake City continues to grow for many factors, one of the biggest being affordability. Local home prices are very affordable when compared with other larger markets across the nation, and this is important given the migration trends. Some builders are reporting that upward of 40% to 60% of their buyers over the past couple years have come from out of state, and currently just over 30% of our home transactions are cash. —Eric Allen, Zonda regional director for Utah and Idaho
Limiting Factors:
Locals note the market has become very expensive relative to itself
Relatively harsh winters
Honorable Mention:
We like the Mountain Region as a whole, especially Boise, Idaho. Boise, however, did not make our list given the relative size of the airport. It is likely the airport will expand to match the increasing population, but with just 2 million enplanements in 2019, Boise's smaller airport and less robust interstate highway system suggest there's more work on the infrastructure front for Idaho's Treasure Valley to keep pace with some other growing markets.
Nashville
Nashville's days of being a hidden gem are behind it. Nashville landed 10th on a list of markets that had the most positive net migration from 2018 to 2019, and the trend continued throughout 2020. Nashville not only boasts a great lifestyle with a good climate, but the market offers relative affordability. For example, the National Association of Realtors' analyzed post office data and found the largest inflow of new residents to Nashville came from New York. Those moving from higher cost of living markets are pleasantly surprised by how far the same dollar amount, or less, can go in the Music City.
Other Reasons We Like Nashville:
Music, food, and sports
Local economy rebounding faster than the national average
Infrastructure:
Central location connecting to the Midwest, Northeast, and Southeast through 17 interstate highways in Tennessee
8.9 million enplanements, up 11% YOY from 2018 to 2019
What Our Experts Say:
Nashville combines a unique blend of being a centrally located, economically diversified, and business-oriented city with a huge music industry presence that is minutes from scenic horse farms and country settings. This, coupled with a relatively low cost of living aided by no state income tax, makes Nashville an attractive destination for businesses and employees to relocate and operate. —Phillip Rassel, Zonda regional director for Nashville
Limiting Factors:
Topography issues for new-home building
One of the tightest land markets in the country, according to the Zonda New Home Lot Supply Index, with little end in sight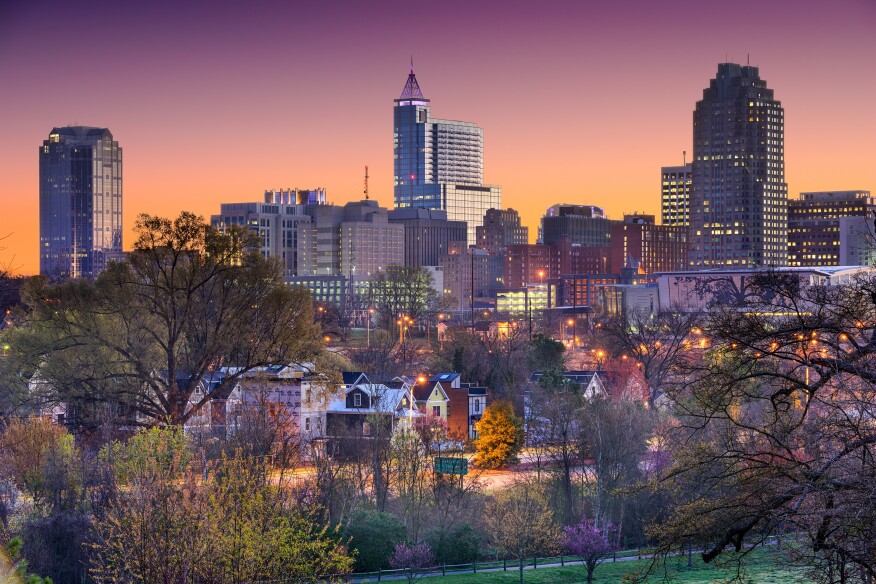 Raleigh
In-migration is not a new thing for Raleigh, North Carolina's state capital. In fact, the market has fallen in the top five for the most positive net migration over the past five years. Raleigh also lands in the top five of the Zonda Baby Chaser Index, markets where baby boomers are following their grandchildren. Raleigh's lifestyle, affordability, and temperate climate appeals to individuals of all generations and from different parts of the country. Housing affordability in Raleigh remains better than many other top markets, where 63% of households can afford the median-priced new home, well above the national figure of 57%. Geographically, Raleigh is a perfect "halfback market" for those who left the Midwest or the Northeast for Florida but decided to move again for proximity to the North, culture, or weather.
Other Reasons We Like Raleigh:
Diversified economy with colleges, tech, health care, and life sciences
Location close enough to the mountains and the beach
Infrastructure:
Connected from the Northeast all the way to Florida via I-95
I-40 connects Raleigh to other Southeast markets, including Wilmington, Greensboro, Knoxville, and Nashville, with I-85 allowing for easy access to Charlotte and Atlanta
6.8 million enplanements, up 11% YOY from 2018 to 2019
What Our Experts Say:
Raleigh's economy was strong heading into the pandemic, and it helps that economic growth among companies in the life science fields, in particular, has been strong all year locally. Top biotech and pharma groups like Eli Lilly, Pfizer, and Beam Therapeutics have made recent multimillion-dollar commitments to build and expand research development and manufacturing facilities in the region.
Demographics are also strong. Raleigh has had strong Gen X and millennial in-migration for years chasing the smart job base in the Research Triangle region, and now many of their baby boomer parents are retiring and choosing to follow them—and the grandchildren—here as well. It's a trifecta. —Amanda Hoyle, Zonda regional director for the Carolinas
Limiting Factors:
Lot supply is extremely limited; Raleigh has the sixth tightest lot market in the country according to the Zonda New Home Lot Supply Index
Potential for severe weather, including hurricanes
Sacramento
Sacramento's housing market was transformed in a matter of months in 2020 as it became apparent that the work-from-home flexibility was likely here to stay throughout the pandemic and even into the vaccine economy. Sacramento's geographic location creates a perfect combination for those that want to stay close to the energy and knowledge sharing of the Bay Area but are also looking for more space. Zonda data shows that the new entry-level product in Sacramento averages a price per square foot of $246, 35% lower than neighboring San Francisco.
Other Reasons We Like Sacramento:
Temperate climate
Proximity to getaways, including Napa Valley, Lake Tahoe, and Yosemite National Park
Infrastructure:
I-5 runs north and south along the West Coast, connecting Sacramento to Seattle and San Diego
I-80 connects Sacramento to Salt Lake City before running through to Chicago
6.5 million enplanements, up 9% YOY from 2018 to 2019
What Our Experts Say:
Sacramento is very affordable for Bay Area folks looking for a change, but also offers a little something for everyone. Midtown is cool with an eclectic mix of younger kids as well as young working professionals. Those looking to live in Midtown can find a variety of housing options, including apartments, condos, and small lot detached homes. For more upscale living, East Sacramento has one of the highest prices per square foot in the city along with some open space, including McKinley Park. Housing in Natomas is reasonably priced while being close to downtown and the airport, and, for a pure affordability play, Elk Grove, south of downtown, is the place to look. —Steve Smiley, Zonda senior vice president of advisory for Northern California
Limiting Factors:
Sacramento is affordable by California standards, but expensive compared with other markets across the country
Heavy traffic if commuting to the Bay Area
While the economy is diversifying, there's still a heavy dependence on government jobs
Riverside/San Bernardino
The Riverside/San Bernardino's housing market was a big winner in 2020 with home sales up 43.4% year to date through November year over year. The strength was largely fueled by the lifestyle shifts due to COVID-19, including a lesser need on going into the office and a greater need for space. Those living in coastal California saw a unique opportunity to move inland as they weren't commuting every day anymore, which allowed them to retain a close proximity to the beaches and employment hubs, but gain more square footage at a lower price. For example, the price per square foot of new homes in Riverside/San Bernardino averages $260 compared with $560 in the Los Angeles/Orange County metro. Furthermore, 43% of households can afford the median-priced new home in the inland market compared with 19% for Los Angeles/Orange County.
Other Reasons We Like Riverside/San Bernardino:
Great weather almost year-round
Relatively more developable land than the coastal cities
Infrastructure:
Great connectivity to the coastal California cities and things to do via the US-91 and I-215
I-15 links to San Diego and Las Vegas before running all the way to Canada
Within a reasonable drive to the Southern California airports, including LAX (43 million enplanements), SNA (5.2 million), and ONT (2.7 million)
What Our Experts Say:
Riverside/San Bernardino is an "everything market," offering a smorgasbord of new-home options not typically available in nearby coastal markets. The market is perfectly matched with the demographic barbell of millennials and the 55+ cohort. Need a new home under $400,000? Check. Want a home in an amenitized master-planned community? Check. Looking for an age-restricted community? Check. In the market for a resort home (Coachella Valley)? Check. Housing demand generated by local job growth coupled with spillover demand from the coastal metros will keep Riverside/San Bernardino the heart of the Southern California new-home market for years to come. —Steve Carr, Zonda vice president of advisory for Southern California
Limiting Factors:
Expensive for those moving in from out of state or parts of the Central Valley
Heavy traffic
Relatively long commute for those employed in Orange, Los Angeles, or San Diego counties
Florida's West Coast
Florida's West Coast offers a casual and fun lifestyle close to the beach, which drove rapid in-migration to the region throughout 2020 that we expect to continue throughout 2021. For example, U-Haul named North Port the No. 1 city for in-migration in 2020, and the Zonda New Home Pending Sales Index shows sales in the metro grew 41% year to date year over year. New-home sales in Tampa also thrived in 2020, with the same index posting a 37% increase year over year and year to date through November. Tampa as a migration magnet is not new, but the composition is evolving. Historically, newcomers moved from the Midwest, but the market is increasingly seeing activity from those in the Northeast as well. New-home sales in Southwest Florida (Cape Coral, Fort Myers, and Naples) were less robust than North Port and Tampa but still posted a 27% annual increase.
Other Reasons We Like Florida's West Coast:
No income tax
Available land for development
Similar culture to the Midwest but with better weather
Infrastructure:
I-75 connects Florida to the Midwest
I-4 connects Tampa to the East Coast of Florida
Fort Myers Southwest International Airport: 5 million enplanements, up 10% from 2018 to 2019; Tampa International: 11 million enplanements, up 6% YOY; Sarasota/Bradenton International: 977,000 enplanements, up 43% YOY; Punta Gorda: 822,000 enplanements, up 4% YOY
Tampa Bay Port
What Our Experts Say:
Typically a vacation and retiree destination, Southwest Florida became the place to "quarantine" during the pandemic for those willing to make the drive or hop on a plane from the Midwest and Northeast. "Season" started early this year (late fall compared with January), and local Realtors reported an extreme shortage of seasonal rentals. Those planning to retire to the area moved up their timeline with a "why wait" mentality, and many working professionals from larger cities opted to stay in the area during the lockdown, if they could find a place to stay. As remote work remains a long-term trend and more baby boomers retire, the attention the region gained during the last 12 months bodes well for continued strong housing growth. —Kristine Smale, Zonda senior vice president of advisory for Florida
The West Coast of Florida has always benefited from both job-driven growth and retiree migratory growth along the I-75 corridor. This is now being supplanted by growth coming from the I-95 corridor as the pandemic drives migration to Florida. With snowbird season upon us and job recovery outpacing the state, the outlook for the West Coast of Florida remains strong both short term as well as long term. —Tony Polito, Zonda regional director for Central Florida/Tampa
Limiting Factors:
Humidity
Markets in Southwest Florida are lesser known than others in Florida
Southwest Florida has a reputation for being a retiree destination
Potential for severe weather, including hurricanes
San Antonio
Texas boomed in 2020 at a rapid pace as the work-from-home economy allowed many to relocate from higher-cost markets to the Lone Star State. San Antonio is most well known for the Alamo and River Walk, but is becoming increasingly attractive as Austin's affordability creeps up. San Antonio is the most affordable of the top markets in Texas—the median single-family new-home price in San Antonio is $272,000 compared with $312,000 in Austin, according to Zonda—and it fits nicely as a growth corridor to Austin a la Los Angeles to San Diego in California.
Other Reasons We Like San Antonio:
Temperate winters
No income tax
Infrastructure:
Easy connectivity to Austin, Dallas, and Houston
Easy transfer to Dallas/Fort Worth International Airport, the fourth largest airport in the country
5 million enplanements, up 4% YOY from 2018 to 2019
What Our Experts Say:
Ranked as one of the top five fastest-growing cities in 2019, San Antonio has so much to offer to natives and newcomers alike. There are a wide range of opportunities in the Alamo City as housing is still affordable and technology-focused jobs are growing in San Antonio at a higher rate than any other metro in Texas. San Antonio has many fun and cultural experiences to enjoy, from amusement parks, like Sea World and Six Flags, to outdoor venues and annual events such as the Riverwalk and Fiesta Texas. With beautiful year-round weather, this big city with small town charm is the reason people continue to make San Antonio home. —Jack Inselmann, Zonda regional director for San Antonio
Limiting Factors:
Doesn't have the name recognition of the bigger Texas counterparts
Indianapolis
Indianapolis' economy recovered quickly from the pandemic, both on a relative basis and overall. For example, nearly 80% of the jobs lost earlier this year have been recovered in Indianapolis compared with about 60% on the national level. As such, Indianapolis' housing market has been one of the top performing this year. The Zonda New Home Pending Sales Index shows contract sales are up 40% year to date through November year over year. The success has been driven partly by the stay-at-home economy driving some renters into homeownership, but also by value with the metro boasting a low average price per square foot of $160, compared favorably with $200 for Columbus and Cleveland.
Other Reasons We Like Indianapolis:
Sports: Indianapolis is an attractive hub with the Pacers, Colts, Fever, and the Indianapolis 500
Infrastructure:
Location ideal for road trips and air travel alike
Centrally located around other Midwest markets, including Louisville, Columbus, Cincinnati, St. Louis, and Chicago
4.8 million enplanements, up 1% YOY from 2018 to 2019
The airport was ranked the best North American airport in 2019 among similar medium-sized hubs for satisfaction, according to J.D. Power
What Our Experts Say:
Indianapolis is a steady-Eddie market that tends to be insulated from peaks and valleys in the U.S. economy, which makes it very attractive to employers, home buyers, and tourists alike. Indianapolis has outperformed the U.S. and all other major metros with respect to job recovery post COVID-19. Homes are relatively affordable and sought after by all buyer groups, from millennials to families and empty nesters. The downtown is easily commutable and fun, offering sports, shopping, recreation, and restaurants. —Danielle Leach, Zonda regional director for the Midwest
Limiting Factors:
Lesser known to those from outside the Midwest
Columbus
The lack of homes for sale in Columbus is the biggest thing holding back additional growth in the market. Redfin ranks Columbus' housing market as "very competitive," where homes are receiving multiple offers and selling for above list price. We expect Columbus to continue to be a strong market in 2021. Columbus is attractive because it pairs housing affordability and general low cost of living with a diversity of things to do and a varied labor market. Millennials, in particular, are drawn to Ohio's capital, and the market boasts a higher share of the cohort than the national average.
Other Reasons We Like Columbus:
Infrastructure:
Great connectivity to Cleveland, Pittsburgh, Indianapolis, Cincinnati, Louisville, and some of the major East Coast markets
4.2 million enplanements, up 5% YOY from 2018 to 2019
What Our Experts Say:
Columbus has recently surfaced as a cool Midwest city and is known for its great foodie scene. The market has experienced sizable growth due to job creation in the tech sector as well as positions in the creative realm. Columbus offers a great talent pool given it is home to The Ohio State University, a top-five U.S. university based on enrollment. Home buyers are attracted to Columbus for its relative affordability and overall four-season lifestyle. —Danielle Leach, Zonda regional director for the Midwest
Limiting Factors:
The weather is a hard sell for some living in a warmer climate
Florida's East Coast
Jacksonville and West Palm Beach fall within our criteria for markets to watch, and we are enthusiastic about both. In West Palm Beach, land supply is tight and affordability is low near the airport, but the airport is a great feeder for Port St. Lucie, a market 50 miles north. Port St. Lucie offers better affordability, and the land supply is enough where builders can meaningfully impact the housing supply. Thanks to the work-from-home economy, we've already seen Port St. Lucie gain in popularity this year. The National Association of Realtors' calculations of post office data found that the two top origination locations for newcomers in Port St. Lucie came from nearby Miami-Dade and West Palm Beach counties.
Other Reasons We Like Florida's East Coast:
No income tax
Coastal living
Infrastructure:
The I-95 connects the Northeast to Florida's East Coast
West Palm Beach Palm Beach International: 3.5 million enplanements, up 6% from 2018 to 2019; Jacksonville International: 3.5 million enplanements, up 11% from 2018 to 2019; Miami International: 21 million enplanements, up 2% from 2018 to 2019
What Our Experts Say:
Jacksonville's housing market is dependent on job growth, as opposed to in-migration from retirees and second homeowners. Jacksonville enjoys a diverse employment base that includes banking, health care, insurance, logistics and transportation, financial, telecommunications, and military/defense, and the forecast for job growth is bright. Along with a strong economy, population and household growth are expected to be three times that of the national average. We expect good things for Jacksonville's economy and housing market throughout 2021 and over the next several years. —David Cobb, Zonda regional director for South Florida and Jacksonville
Limiting Factors:
Potential for severe weather, including hurricanes
Tourists and accompanying traffic
Humidity
While suburbs and secondary markets are all the rage, don't expect cities to stay down forever. With the vaccine economy right around the corner, the reasons we lived in and loved cities will be renewed by late 2021. The lifestyle, culture, knowledge sharing with like-minded people, and corporate employment will once again attract many across generations. Some of the exodus to the suburbs will be permanent, and no doubt led by the millennial generation, but those operating in bigger cities like New York, San Francisco, Los Angeles, and Miami should expect renewed enthusiasm in the coming years.
Nik Scoolis, senior economic analyst at Zonda, co-authored this article.