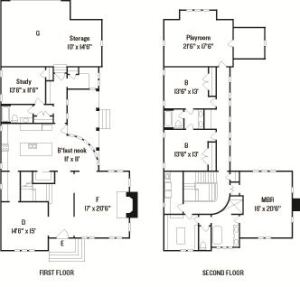 Peek inside the homes in venerable neighborhoods in and around Raleigh, N.C., and you'll likely encounter a preponderance of dark-glazed cabinetry, crown molding, tray ceilings, and ordered rooms with walls intersecting at 90-degree angles. Neoclassical homes are a longstanding tradition in this Southern town. The problem is, they aren't selling these days. Very little is. Which is precisely why builder Mark Kirby took the road less traveled in a spec residence that debuted last fall in the local HBA's Parade of Homes. Sitting on a stockpile of land that needed to be converted for cash flow, the president of Raleigh-based Dixon Kirby felt he had nothing to lose. So he and designer David Kenoyer started ­experimenting—a couple radius walls here, some exposed brick there—nothing insanely avant-garde, mind you, but just enough of a break from the status quo to turn some heads. The biggest conversation piece ended up being a triangular kitchen pantry hidden by a track-mounted sliding barn door.
"I usually don't work inside my own homes during the Parade because I don't want to hear the criticism, but this year we stayed in the house prepared to take our knocks," says Kirby, whose company typically builds between 12 and 20 houses each year. "Shockingly, all the comments came back positive."
First came kudos from the judges, two of whom awarded the 3,800-square-foot English revival cottage a perfect score (380 out of 380 points). But the real proof of its viability came from a buyer who snapped it up within three weeks of its completion—for the original asking price of $990,000.
"He had moved to town a year earlier, but hadn't found anything he considered ­exciting enough to buy," Kirby recalls. "Our basic conclusion going forward is that we can't build any more boring houses. We got seven reservations in a single day after we opened this funky house. If I convert just one of those, I'll be thrilled."
In a market dominated by big homes on big lots, Dixon Kirby has shifted its focus toward compact-lot projects inside the beltline (this spec home on a tenth of an acre is part of a small-scale redevelopment of an old apartment building site). "Buyers in this part of town have a choice between buying a remodeled home for over a million, or buying a 1,500-square-foot Craftsman that needs a lot of work and dumping half a million into it. What we and some other builders are trying to do is hit the middle ground between the two," Kirby says. "If anyone is buying, we'll be on their radar." Of course, converting bystanders to active buyers is the ultimate reward. And here, the builder's survival strategy amidst the slump has been almost counterintuitive: Instead of penny-pinching to make budget, Kirby is narrowing his profit margins and spending more on unique materials and finishes that stand out.
Traditional in scale and proportion, the Parade-winning spec home maintains the exterior appearance of an old farmhouse that's been added onto over time. Its stately brick and board-and-batten cladding maintain the rhythm of the streetscape, but inside the house there are some surprises. Bucking the local trend toward conservative finishes and what Kirby calls "builder beige," the team opted for cool gray walls and chrome plumbing and lighting fixtures. The hardwood floors are Australian cypress. "It's only a dollar more per square foot than oak, but it looks like we spent two," Kirby says. "It's a different wood with lots of knots and movement in the grain. We wanted a floor with a lot of personality."
Some might consider these risky moves in traditional territory, but desperate times call for decisive action.
"We were already positioned in land, so we had to do something," Kirby says. "Most of us can't just stop building. There are two kinds of death in this market: letting your money run out on dirt or putting up really good houses. These houses may run the money out faster, but at least there's a chance they might sell. And the silver lining is that this is an opportunity to get a voice out there for good design and less disposable housing."
"There are lots of people sitting on the sidelines right now for psychological reasons," he adds. "When the ­flowers start blooming next spring, I think some people who are scared right now will come back into the market."—J.S.
Learn more about markets featured in this article: Raleigh, NC.