The 22 markets profiled here provide a fascinating snapshot of an industry attempting to pick itself up off the ground.
Some witnessed big permit increases last year, even though their economic metrics are poor. It's as if builders there called the bottom and are preparing for an upturn.
Others are bracing for a double-dip. New foreclosure tremors, the outgrowth of the economic recession this time and not the housing bust, have shaken their metrics, raising questions about when they will recover.
Still others stand out for their continued, obstinate weakness. It's hard to mount much of a housing recovery when people are still abandoning a metro market, unemployment is rising, or incomes are dropping.
That said, economic conditions have improved in most of the markets profiled here. The markets were selected based on what they say about current housing conditions, rather than their relative health.
All the markets appear on our Builder Market Health Index, which scores the top 100 housing markets (based on building permits pulled). The index, computed by Hanley Wood Market Intelligence, weighs housing conditions based on the 2011 outlook for six key variables correlated most closely to strong home sales: unemployment rate, change in unemployment, home price appreciation, household growth, median income growth, and job growth.The 2011 forecasts come from Moody's Economy.com.
Let's take a digital road trip around the country and see how the housing industry's recovery is unfolding.
45. Atlanta-Sandy Springs-Marietta, GA
Market Health Indicator: 53.0
2011 Building Permit Forecast: 18,024
Percent Change in Building Permits: 135%
Eyes are focused on Atlanta because for years it has been one of the biggest housing markets in the country--THE biggest in some years. That's a testament to its large geographic footprint, its status as one of the major business centers of the South, and a business-friendly environment that encourages new-home construction.
Atlanta is only the seventh largest housing market today, but it's rising again on the strength of recent gains in employment and income, which had trended downward in 2009. Also, median housing prices here, which only peaked at $171,000 during 2006-2007, appear to have corrected, having fallen by 34 percent to $113,000 last year.
They may fall again slightly this year, thanks to rising foreclosures, which are more the result of the last economic recession than the housing bubble. Foreclosure activity rose 21% last year. But the negative pressure is unlikely to stanch a big upward rise in permit activity. Moody's expects permit levels to more than double this year and next.
Visit our Local Markets page for Atlanta to see more data and analysis.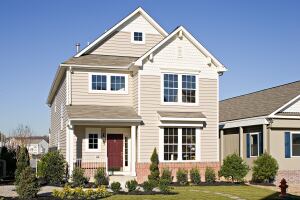 71. Baltimore-Towson, MD
Market Health Indicator: 42.4
2011 Building Permit Forecast: 9,718
Percent Change in Building Permits: 73%
Current housing fundamentals in Charm City aren't that great, but forward-looking builders don't seem to care. Even though growth in income and household formations are slow, Moody's expects building permit activity to pick up considerably this year.
Baltimore enjoys a strong base of government and military employers that have helped keep unemployment below the national average. The rate was only 7.84% in December 2010, and companies are hiring again. The big employers are Fort Meade, Johns Hopkins, and Medstar Health.
Baltimore definitelybenefits from the health of the Washington, D.C. economy. Many residents commute into the Nation's Capital for work, but housing in Baltimore is much more affordable than it is in Washington. Incomes have recovered to 2006 levels and are expected to grow 1.63% this year.
Visit our Local Markets page for Baltimore to see more data and analysis.
65. Chicago-Naperville-Joliet, IL-IN-WI
Market Health Indicator: 44.2
2011 Building Permit Forecast: 22,039
Percent Change in Building Permits: 210%
It's been a long time coming, but the Chicago market appears to be on the upswing, despite continued weakness in housing fundamentals. Or at least builders think it's ready to ride back up, because they have dramatically increased the pace of permit activity. Moody's is calling for a very large increase in permit pulling this year.
With a population of more than 9.6 million people, Chicagoused to be one of the biggest housing markets in the country. In 2005, builders here pulled 54,000 permits. Last year, they took down about 11,400, making the Windy City only the 23rd largest housing market.
After declining three of the last four years, incomes are rising again in Chicago; they are expected to increase a robust 3% this year. Moody's is also projecting improved job formation for this metro area that has labored under above-average unemployment and slow household formation. Though household formations are rising, more people leave Chicago than move there each year.
Even so, home prices seem to have stabilized. After peaking at $274,000 in 2006, they stood at $190,000 as 2010 ended. Moody's is calling for another 3% decline this year before prices start to rise again in 2012. The problem is that foreclosures rose another 16% last year, according to RealtyTrac. One in 27 households received a foreclosure notice.
Visit our Local Markets page for Chicago to see more data and analysis.
100. Cleveland-Elyria-Mentor, OH
Market Health Indicator: 11.2
2011 Building Permit Forecast: 2,611
Percent Change in Building Permits: 29%
Cleveland's chief problem is that people continue to leave town. The exodus translates into a decline of 23,000 households since 2004, which has taken the steam out of the new home market. The situation is bad enough to make Cleveland the last-place finisher on our list.
Even so, the news coming from the shores of Lake Erie isn't all bad. Moody's is calling for a break-out year in permits as builders, figuring the market has nowhere to go but up, lay the groundwork for recovery.In 2004, the recent high-water mark, builders pulled only 7,400 permits in Cleveland, a metro area of more than 2 million people.
Surprisingly, median home prices rose 5% last year, and they are only 15% below 2008 levels. But Moody's is calling for a double dip--an 8% drop, even though foreclosures appear to have stabilized. The metro area may have added 10,000 jobs last year, but it has netted a loss of 80,000 since 2007. The hope for the future is in the metro area's health care, bio-tech, and high-tech businesses.
Visit our Local Markets page for Cleveland to see more data and analysis.
61. Columbus, OH
Market Health Indicator: 46.5
2011 Building Permit Forecast: 6,026
Percent Change in Building Permits: 45%
Unlike its big brother to the north, Columbus continues to add population, at a slow but steady rate--a modest 1% increase in households is expected this year in this metro area of 1.8 million. Household incomes should also continue an upward climb that began last year.
Columbus--whose big employers include Ohio State University (22,000 jobs), JP Morgan Chase (15,800 jobs), and Nationwide (11,373 jobs)--benefits from a below-average unemployment rate that stood at 8.86% in December. The region is projected to add jobs this year after three years of decline.
Improving economic conditions should be enough to jump-start permit activity; Moody's is calling for a 45% increase. Columbus was the 27th largest housing market last year with nearly 4,500 total permits, about 60% of them multifamily. It produced around 13,000 permits in 2004.
Visit our Local Markets page for Columbus to see more data and analysis.
Learn more about markets featured in this article:
Atlanta, GA
,
Baltimore, MD
,
Chicago, IL
,
Cleveland, OH
,
Columbus, OH
,
Denver, CO
,
Detroit, MI
,
Fayetteville, NC
,
Las Vegas, NV
,
Los Angeles, CA
,
Miami, FL
,
Mobile, AL
,
New Orleans, LA
,
New York, NY
,
Oklahoma City, OK
,
Orlando, FL
,
Phoenix, AZ
,
Portland, OR
,
Salt Lake City, UT
,
San Diego, CA
,
San Francisco, CA
,
Seattle, WA
.