WITH ITS QUIET symmetry and subdued palette, this wooded retreat appears the epitome of simplicity.
If only the construction process had been so. In fact, this second home, perched on the steep banks of the Severn River, went by several different names as it was being built. "When the foundation went in, we used so much concrete, we named it Fort Knox," recalls architect Donald Lococo. "We actually went so deep into the ground there was an OSHA concern. Spiral piers were necessary, and by the time we back cut the hole, we ended up going all the way across the road that feeds the driveway."
Later on, the project assumed the moniker "Swiss Watch" as its bottom-up sequence reached a meticulous, nail-biting finale. "The design specified a mere 1/8-inch clearance between the windows and the [framing] on the top floor," says Lococo. "That level of tolerance had to be tamed from the bottom up." Trusses from South Carolina and sandwiched insulation panels were craned in, and the home's top tier was assembled en masse.
Even the roof detailing warranted special care, given the house's position mid-slope. Because visitors would be looking down on its crown from the road, standard chimney flashing just wouldn't do. Instead, the metal roof was installed first with a vertical "sleeve" that ran about a foot up the chimney stack. The exposed sleeve was then covered with stucco for a cleaner finish. Extensive scaffolding was required to avoid walking on (and denting) the roof.
But the story ends well in a residence that is as functional as it is beautiful. A deliberate departure from the owners' more stately, French Norman primary residence in Washington, this whimsical, four-story tree house is built for multigenerational use, complete with an elevator, an office, a lower-level kitchenette (convenient for feeding grandchildren at all hours), a play room, and even sliding pocket baby/dog gates.
The 930-square-foot communal space on the main level opens to a screened porch with pop-in Plexiglass panels that make it usable year round. A ribbon of glass extends 270 degrees around this realm, and kitchen cabinets are left open to preserve site lines to the outdoors. HVAC mechanicals snake behind the refrigerator and through other crannies so as not to block the view. "It took a lot of time and elbows," says Lococo. "We took the long way around the block and used a lot of tricks to make it look effortless."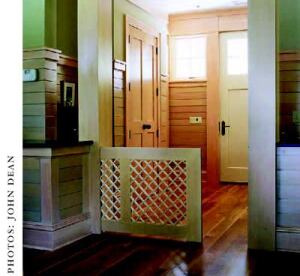 Category: Custom one-of-a-kind, 3,500 square feet or more; Entrant/Architect: Donald Lococo Architects, Washington; Builder: Winchester Construction Co., Millersville, Md.
NATURAL SELECTION For the interiors, architect Lococo envisioned the modest pine aesthetic that pervades Mid-Atlantic waterfront cottages. But achieving a consistent tone in wood products from several different manufacturers—including truss, window, flooring, and cabinet companies—wasn't easy. "Pine comes in many different colors with hues ranging from red to pink to gold," says Lococo. "We ended up glazing all the raw wood to create a uniform look, which meant dialing the stain colors up and down to even things out. To get rid of red, we'd use a complementary glaze with green in it. This required a lot of trial and error." Kitchen cabinetry was painted a neutral cream for a tone-on-tone effect.