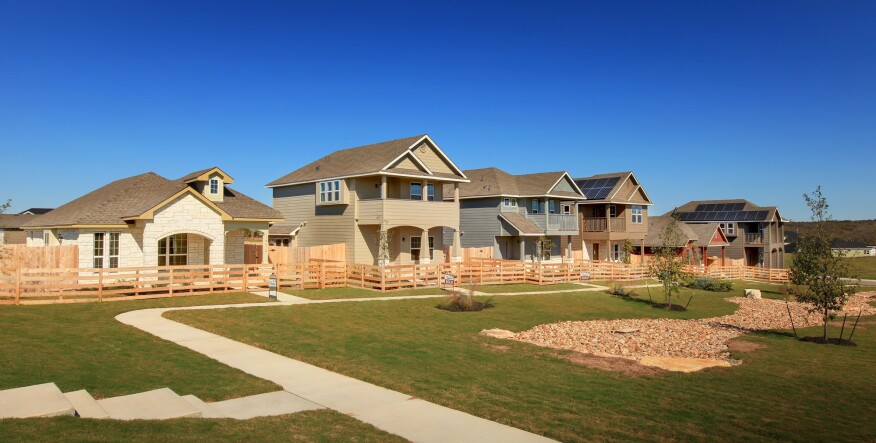 When homeowners at Whisper Valley, a $2 billion master-planned community in Austin, Texas, get their first utility bills, the numbers are often shocking.
The typical U.S. household spends more than $2,000 a year on total energy bills, with the largest share going toward heating and cooling expenses, according to Energy Star. But for Whisper Valley residents, it's not unusual to see utility bills in the single digits.
Homes there start in the low $200,000s, but include solar and geothermal features as well as smart home products that are usually exclusive to premium-priced homes. Whisper Valley is currently in its first phase, which includes 237 home sites. When the 2,065-acre development is complete in about 10 years, it will include 7,500 single-family homes and apartments that are zero-energy capable, making Whisper Valley the largest zero-energy ready community in the country.
Tulsa, Okla.-based Francis Solar installs Canadian Solar modules and Fronius inverters on each home. A combination of cellulose, fiberglass, and spray foam insulation will help bring heating and cooling costs as low as possible.
Boston-based developer Taurus Investment Holdings was able to make leading green technologies accessible to the entry-level buyer by creating a subsidiary company, EcoSmart Solution LLC, which offers a comprehensive package of products from partner companies Bosch, Tesla, Google Fiber, and more.
Whisper Valley's central sustainable feature is its thermal energy supply system, which connects to Bosch geothermal heat pumps in each home. The developers installed the community-wide "geogrid" during the infrastructure planning phase of the development, saving money on transportation and equipment costs by drilling all the holes at once. Vertical bore holes at each site are interconnected to the broader system by horizontal piping.
"What we've done in concert with EcoSmart is to bring [geothermal technology] into mass production," says Douglas Gilliland, president of Taurus of Texas. "By combining this technology with traditional land development, we brought the costs down significantly. And by doing that, we're able to bring this technology to first-time home buyers."
Installing this system on a house-by-house basis wouldn't be financially feasible, according to EcoSmart CEO Axel Lerche.
"I compare it with a water line. If we were to ask every homeowner if they would like to be connected to the city water or would like to have their own well...the water distribution systems would get financially completely out of proportion," he said.
Lerche estimates that by consolidating the geothermal supply instead of creating independent home systems, Whisper Valley developers can reduce installation costs by 40 percent and heating and cooling loads by 20 percent. Homeowners can enjoy heating and cooling that is 65 percent more efficient, according to the developers, and take advantage of a federal renewable energy tax credit that was recently extended through 2021.
Under the residential renewable energy tax credit, also known as the investment tax credit (ITC), taxpayers can receive a 30 percent rebate for geothermal heat pumps installed through 2019. The rebate drops to 26 percent for systems installed in 2020 and 22 percent through 2021. As long as the heat pump meets federal Energy Star requirements, the costs of on-site labor as well as piping and wiring that connect the system to the house qualify as expenses. On top of this federal incentive, taxpayers also can take advantage of state renewable energy tax credits where available. The maximum ITC rebate is about $10,000 per house, Gilliland says, though this varies by the size of the house.
The Whisper Valley system uses geothermal loop piping from Rehau and Bosch Thermotechnology geothermal heat pumps. EcoSmart partner Geo-enterprises, based in Catoosa, Oklahoma, oversees the design and installation of the system, ensuring builders can seamlessly connect to the geo-grid like they would to a water line. Every home includes Bosch appliances, Nest smart home products, and Google Fiber high-speed internet, and every lot is pre-wired for a Tesla electric vehicle charging station.
Whisper Valley builders Pacesetter Homes and AVI Homes have bought into the EcoSmart program, which includes the geothermal system. EcoSmart creates a smart product package for each floor plan, purchases the appropriate type and quantity of products from the vendor, and delivers them to the builder directly.
EcoSmart's purchasing power cuts costs for builders without altering their floor plans or production process, Gilliland says. The company also provides installation support for builders who want to offer a high-performance product but are wary of trying out new technologies. Gilliland says interest in the program is growing, especially among budget-conscious builders who are looking for cost-effective ways to meet progressive building codes in Austin and other cities.
"What really distinguishes us is that we have created a business model that allows volume production builders to easily 'tap into' our geothermal loop field without disturbing their precise production approach to building affordable homes," he says.
The cost of the geothermal system is folded into the EcoSmart package, which costs between $20,000 and $35,000 for home buyers, depending on house size. Buyers can purchase the technology features up front or finance the package into their mortgage. Of course, they can also amortize the investment over the life of their mortgage, spreading out the costs while reaping the benefits.