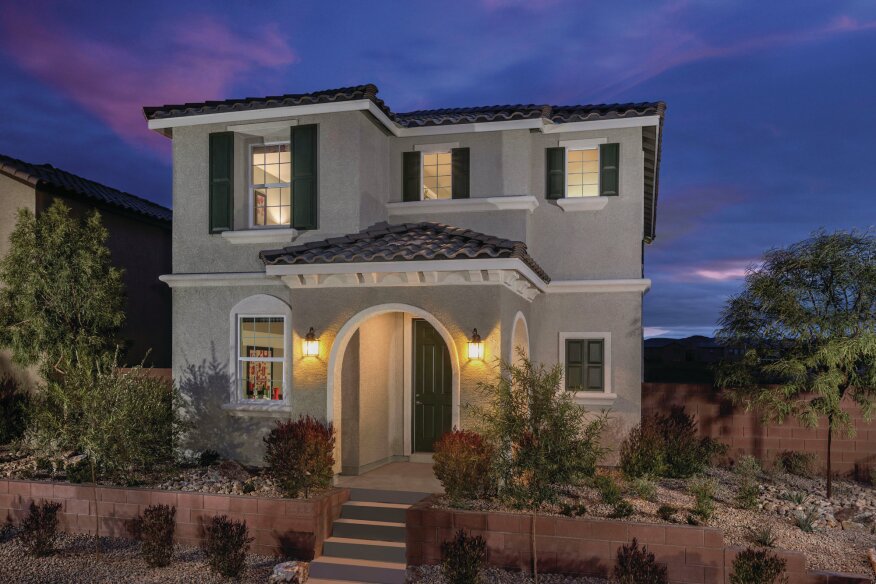 Given the popularity of indoor/outdoor living and the power of well-placed plantings to sell houses, environmentally smart landscaping will be de rigueur in the coming years. (See related story here.)
The role of landscape professionals in creating these yards and communities will be crucial, says builder Tyler Jones of Las Vegas-based Blue Heron. "Landscape designers have become more important in every sense of the word," he says.
Here are four tips from builders on how to work with landscape professionals for the best results.
--Find designers and installers that can execute your vision. In addition to relying on referrals, Blue Heron looks for design firms that win awards, which indicates a company striving to do high-quality work, he says.
KB Home chooses consultants that specialize in selecting drought-tolerant plants, "so that when the water company comes out for inspection, we don't have issues and they have the irrigation clocks set right," says Rob McGibney, KB division president for Las Vegas. "We figured out who was good and stuck with them."
--Bring consultants in early. Landscape architects can help builders imagine how a patio or side yard might integrate with a kitchen or family room and what the outdoor space could be. Jones consults with landscape architects at the sketch stage, when his firm is figuring out what materials will do the best job of blurring the interior and exterior.
Utah builder Jake Joines brings in landscape architects when he's creating the house plan and its sidewalk, patios, and driveway. "They can help you incorporate specific plantings into your design, suggest where to put larger plants to make the outdoors comfortable and intimate, and influence where you put planters," he says. "Then we regroup toward the end of the job to find those plants."
--Let your pro fine-tune the design. Landscape professionals can help builders understand what a composition might look like when the house is ready to be sold. "A lot of our builders are selling homes in December and January," says landscaping professional Andy Baron. "We look at seasonability to determine what will be blooming when the homes come on the market."
--Seek out local nurseries that offer high-performance plants. Arizona builder Austin Trautman is a fan of Dig It in downtown Phoenix, run by "plant geeks" who are continually developing native plant cultivars that need little water and offer many varieties of color and growth habit.