While many home buyers don't fit into the traditional mold of a nuclear family, some do. And they're bound to love the abundant storage and open spaces inside these new home designs. Actually, wouldn't everyone?
Also noteworthy: this week, thousands of house designs are marked down on Builder House Plans, with an additional 5% off if you use code SPRINGFLING at checkout (or call 1-877-222-1762).
Open Layout with Excellent Photography
This elegant plan features generous bedrooms, open gathering areas, and tons of handy storage. For example, check out the master suite's big walk-in closet, which opens to both a safe room and the laundry room. In the kitchen, a large pantry holds a family-size load of groceries. And each secondary bedroom also boasts a walk-in closet, with linen storage in the nearby hallway. Don't miss the spacious workshop in the garage, too! See more images, information, and the floor plans.
This eye-catching home fits everything on one easy-to-get-around level, with a big bonus space available for expansion upstairs. Owners can step out to the big patio from their private master suite, where the bathroom features two sinks, a separate tub, and a big shower. A versatile office sits near the front. In the great room, French doors out to the patio create smooth indoor-outdoor flow. See more images, information, and the floor plans.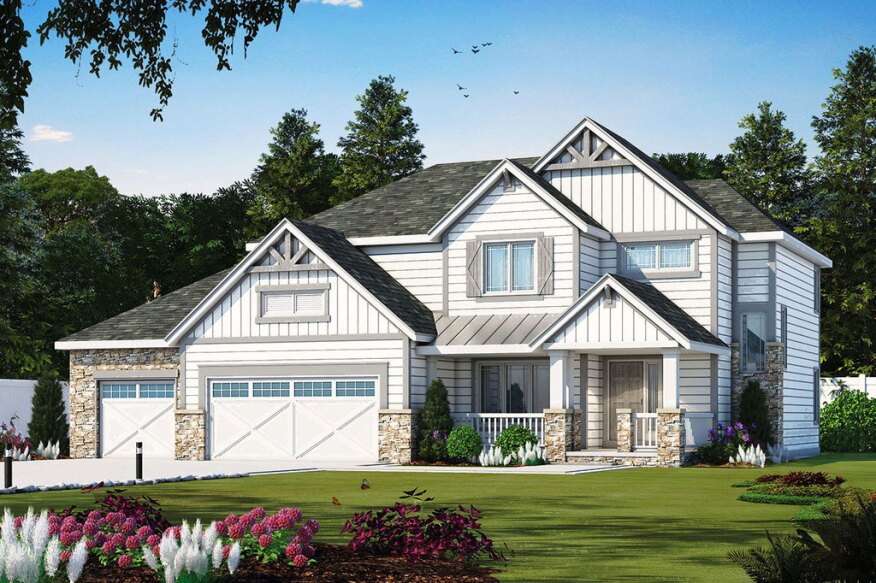 This brand-new design gives busy families what they need: storage, open areas for relaxing together, and more storage. The great room shows off a cozy fireplace and total openness to the dining room and island kitchen. Walk-in closets throughout the home keep everyone organized. See more images, information, and the floor plans.
For families who want more space and have a sloping lot, the optional basement adds tons of space. Down here, a bar creates a fun tavern-like vibe, with wine storage and game zones too. On the main level, the kitchen features a huge island that opens to the casual dining area and also overlooks the living room. The master suite opens out to a big back porch. See more images, information, and the floor plans.