Homestead Remodeling of Lansdale, Pa., has doubled its volume to more than $2 million since being named to the Big50 almost 10 years ago, in 1994.
Along with that jump, the company's employee roster has also doubled, to 14. But owners Bob Barber and Neil Minnucci find they do what they do best -- three-quarters of it single-line work -- by having the leeway to complete jobs with either employees or a group of loyal subcontractors.
Minnucci feels having both options gives him the opportunity to schedule a job as soon as possible. His margins, assuming there's no slippage on an employee-completed job, come out about the same. And if his hourly employees beat his subs' piece rates, he comes out ahead.
Minnucci says what aids the system is having an office manager/scheduler, Doug Rutt, who balances the needs of service calls and jobs. Minnucci says Rutt is in tune with crews' workloads and knows where and when he can pull someone from a job to service another or get a new job started.
Because of his talented staff, the job types where he has flexibility to choose subs or in-house crews include masonry, excavation, window replacement, roofing, siding, and even minor plumbing work.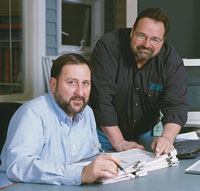 "If I tell a customer I can't do his roof for two months because the sub is backed up, you know what you're going to hear: Click," Minnucci says. "There's not a customer in my area who's going to take 'wait' for an answer. We live in an instant gratification society. People go to McDonald's not because they like the food but because they want it now.
"Subs control cost but destroy scheduling, because you comply to their schedule," he adds. "Employees give maximum scheduling [flexibility], but often, because of unknown site conditions, can take longer with a job." Working with what knowns he has, Minnucci comes up with fewer unknowns.