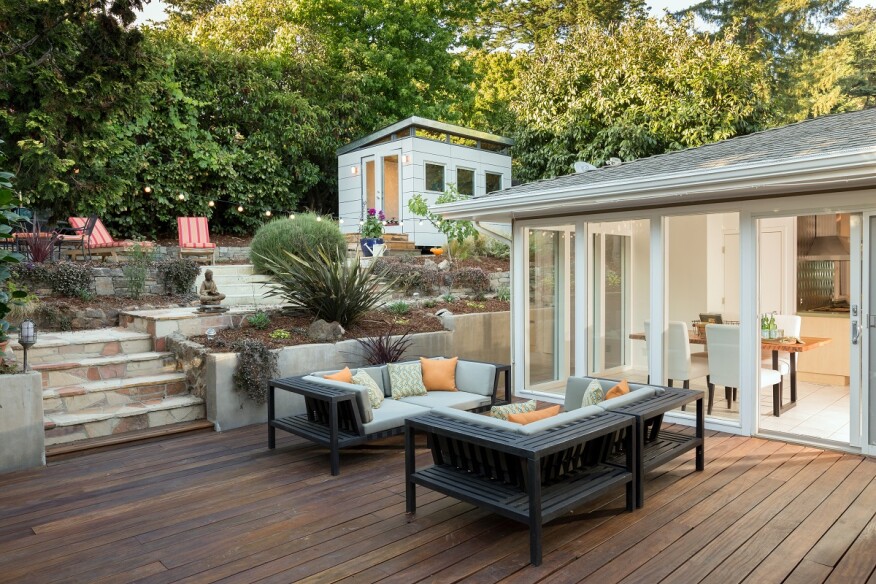 For the past several years, outdoor living upgrades have been getting more attention as homeowners seek to expand their living space beyond the walls of the home. Average new-home size has shrunk in the past few years, but the expansion of outdoor living space has more than filled the gap left by the shrinking home.
This shift of focus to outdoor living mostly reflects a lifestyle change, and with it a change in preferences in materials purchases—both the amount of materials and the types. Now, with social distancing norms keeping many people away from public spaces and large crowds, consumers are again focusing on how to improve their at-home living experience and expand the space in which they do it.
Home Innovation's 2020 Consumer Practices Survey covers more than 30 categories of home remodeling activities. For example, our outdoor structures report tracks materials purchased for decks, patios, walkways, porches, docks, and piers. Among materials chosen for patios, walkways, and porches, clay brick pavers and tiles made the biggest gains, primarily against concrete pavers. Average deck size remained the same in 2019—about 300 square feet on average—and, despite being down 7 percentage points from the previous year, treated lumber is still the most popular decking surface material (45%). Picking up treated lumber's lost share on decks were redwood and cedar—naturally rot-resistant woods—gaining from 19% to 25% year over year. Composite & PVC shares rose modestly, gaining 1 percentage point to about 20%.
In our deck and porch railings report, redwood and cedar made major gains against treated woods and took some of the steam out of the recent market growth in composites and metal systems. This likely reflects a popularity among consumers of railing systems that are factory-made and assembled on-site over completely site-built railing from materials purchased locally. Upscale glass panel and steel cable railing systems remained at about 3.5% combined.
The fences and landscape walls report shows that the number of homes spending on fences in 2019 grew by 9% over 2018—indicating privacy is gaining popularity in outdoor living design. The most popular type reported was a privacy fence with treated wood boards on one side (33%), followed by a privacy fence with wood boards alternating on both sides (20%). Wood fences (all types) represent about 65% of the market, gaining ground in 2019 and taking share from polymer and metal.
The other outdoor structures report covers pergolas, arbors, benches, planters, privacy screens, and trellises. Overall, redwood and tropical hardwoods saw the greatest gains for these outdoor structures, while treated lumber showed the biggest drop. The growth in these categories reflects an increased share of factory-made, site-assembled products from domestic and overseas manufacturers.
This is just a glimpse of the findings from Home Innovation's 2020 remodeling survey. Building product manufacturers have used this survey data for over 20 years to determine market demand and identify trends like these in the building materials market. Often, the Consumer Practices Reports are paired with Builder Practices Reports to let manufacturers understand a true and complete picture of what's happening throughout the residential construction market. The trends seen in the Consumer Practices Reports can also be valuable to new-home builders, revealing choices homeowners are making to change or improve their existing homes, which may translate to features they'd be looking for in their next new home purchase, as well.
Visit HomeInnovation.com/DataReports for more details on the annual material and product purchase reports.