The American Institute of Architects (AIA) has released the second quarter results of their Home Design Trends Survey, which highlights the prominence of emerging home features throughout the second quarter of 2015. The AIA's most recent report found products and systems that simplify home management and double as energy-saving solutions are steadily growing in popularity.
Energy management systems, electrical car docking stations, security systems, central audio systems, and air purifiers all peaked this quarter. Automation is becoming a standard and desired functionality within homes, as more and more systems that ease the regulation of temperature, lighting, home audio, and energy usage hit the market.
"With the tremendous interest in well-designed outdoor living spaces, it's a pretty strong indication that the days when houses were viewed as a way to flip for a big profit are long gone," said AIA Chief Economist, Kermit Baker, PhD, Hon. AIA. "Signifying a renewed interested in practicality and use, demand for mud rooms and dedicated guest rooms are also quite high."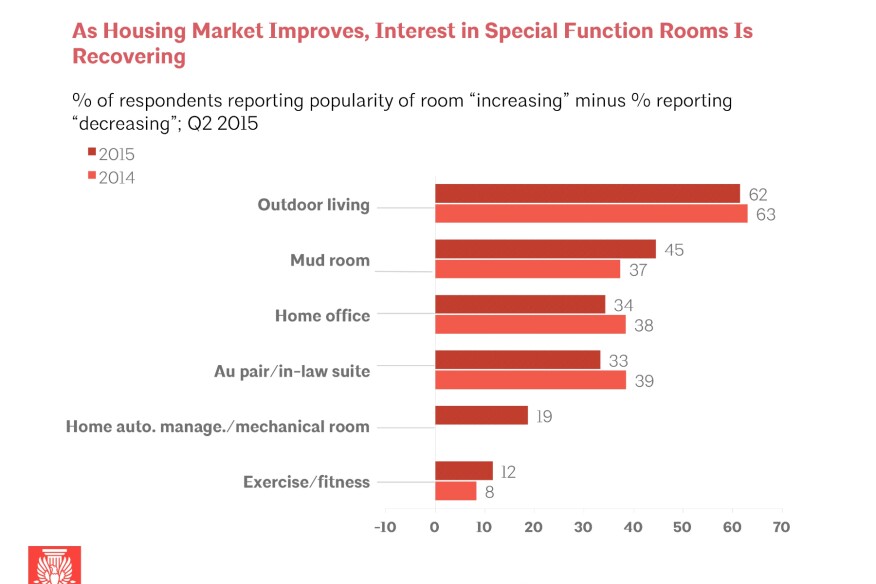 Rooms designed to accommodate special functions or amenities, such as outdoor spaces, first-floor master bedrooms, mud rooms, and fitness rooms are also on the rise. Outdoor rooms that expand out from interior dining, living, and entertaining spaces continue to reign as the most popular feature of the year. Energy efficiency trickles down to product selection as well, with LED lighting and smart thermostats leading the list of the most demanded products.
Generally, for residential architects and builders, business conditions remain on solid footing.
AIA Home Design Survey Index for Q2 2015 (any score above 50 is positive)
Billings: 61

Inquiries for new projects: 66

Design Contracts: 58.3

Regional averages: Midwest (59.2), South (60.7), West (62.9) Northeast (61.0)
"Conditions remain very positive, but as we might expect at this stage of the cycle, growth is beginning to slow a bit," said Baker. "Backlogs are still trending up, and are close to being back to where they were before the downturn. While the individual sectors aren't accelerating in terms of growth, they are all positive."
View the AIA's Home Design Trends Survey interactive infographic, here.