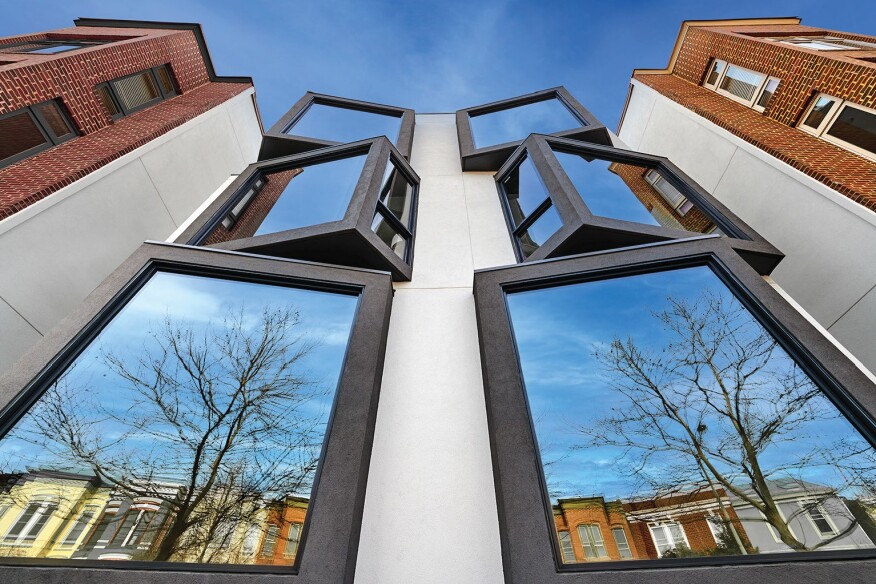 Nestled in a young, developing neighborhood of Washington, D.C., the four two-story units of Story Board are boldly framed through glass bays climbing the building's façade. Sculptural and picturesque, the windows provide uninterrupted views of the capital city from inside and lend the appearance of one unified building from the street.
Designed by KUBE Architecture, the application reads, "While the façade is crisp and minimal, shou sugi ban charred-wood siding brings warmth and texture to the entry alleys." The contrasting charred-wood siding also ties to the black frames of the windows, inside and out, and the stairway railings. Entry to the units is through private alleys on each side, which allows residents to go into their homes through the center of the unit instead of the front living rooms. The alleys also serve as egress for interior bedrooms and are walled with glass to let light in.
Built and developed by Warmington Oppenheim Development, solar panels, LED lighting, sustainable materials, tankless hot-water heaters, and high-efficiency mechanical units were utilized. The two lower units are 1,815 square feet each, and the two upper units are 1,880 square feet each with additional 560-square-foot rooftop decks. Lower-level units have patios set slightly below grade, and parking for the building is in the rear.
Each contemporary home has three bedrooms, two baths, a powder room, two living areas, and a spacious kitchen, along with easy access to restaurants and shops.