Last week, veteran carpenter Patrick Johnson teamed up with two other construction laborers of varying experience, Barry McKenna and Benny White, and, in three days, they erected a fully-framed, 3,200 sq. ft. house enclosure in Stonefield Home's Mission Village in Los Banos, about 80 miles east of San Jose, in California's Eastern Valley.
That's right, three workers, three days, and this is what they assembled, with fully integrated pre-designed, engineered, and constructed systems trucked to the site in Los Banos from Entekra's just-up-and-running plant 65 miles to the north in a town called Ripon, Calif.
Entekra, engaged on the project by Modesto, Calif.-based UC Construction, is in a piloting phase of skill-sets its strategic leaders believe will be a $250 million enterprise within five years time. Importantly, the trajectory of this start-up could lever some fundamental changes in home construction, design, and engineering workflows that have barely progressed in a century.
An era that will reality-check whether advanced technology-enabled home building systems already used widely in other parts of the world will work profitably and gain a foothold in the United States has begun.
There are skeptics. Nine out of 10 single-family homes built in the United States are site-built, stick-built structures that engage 35 different trades in a process that hasn't changed in decades. They do it that way because they believe that's the way to do it, because that's the way it has always been done.
In that context, a construction cycle time, from slab to completion, for a 2,500 to 3,000 square foot home, is practically miraculous if it comes in at between 50 and 60 days.
Based on Entekra management's experience, using Entekra's Fully Integrated Off Site Solutions program will allow the structural shell of a house to be assembled and made weather-tight (i.e., frame assembled, windows and external doors installed, building wrap applied, roof sheeted) in four to five days on average, as compared to three to four weeks on average for traditional stick-built construction. In addition, Entekra believes that its approach improves the overall workflow. allowing other trades to commence work earlier and simultaneously on both the interior and exterior of the building and could accelerate the overall construction timeline by up to 33%.
Here's the tale of the tape on the Los Banos home Entekra erected last week according to Entekra ceo, founder, and principal Gerard McCaughey, who's been through all of this before in Europe, starting almost three decades ago.
A focus of much of the understandable skepticism is, of course, "the dirt." Each home site is different, which means that in some ways, each home is different, even if it's designed the same.
To begin to understand what Entekra is and does, it helps to understand that it's more about engineering than it is prefabricating panels in a factory.
For the Los Banos site, the challenge begins with the slab. Working with Merced-based, Central Valley Concrete & Trucking, the Entekra team laid the base for a precise structure on top of it. Here's Gerry McCaughey's explanation of the site preparation challenge.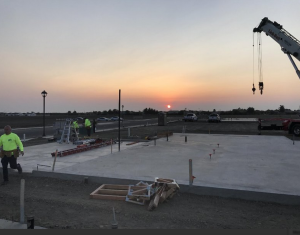 "In terms of the concrete slab we had a lot of experience working with concrete companies to guide them on what our requirements are and how precise they need to be both on dimensions and diagonals. Our catch-phrase is the difference between getting right and getting it wrong is an additional 10 minutes. It's basically measure twice, cut once philosophy. However California has the added complication of all the hold downs which causes issues for the concrete guys and for us, so we worked with engineers to figure out alternative details to minimize hold downs in slab which allowed concrete guys to get a more level base and helped speed up erection on site for us. It basically required a team effort and a commitment to finding solutions and it worked."
Skeptics are out there, but curiousity and interest among site build enterprises is growing fast, looking at the opportunity.
Margaret Whelan of Whelan Advisory LLC, who has been working with Entekra on raising growth capital, sees the market opportunity as follows:
Targeting the U.S. new-build residential market, one of the largest housing markets and the largest wood-frame construction market in the world, which according to the U.S. Census Bureau represents a market opportunity in excess of $285 billion in 2015 and projected by Freedonia to grow to $437 billion by 2022 (6% CAGR). In addition, will selectively address attractive market opportunities in the non-residential sector, such as healthcare, education and other markets, which represent an additional market opportunity of more than $50 billion annually.
According to Freedonia, approximately 88% of all U.S. housing is stick-built on-site. This construction method is highly inefficient and faces growing challenges.
Construction labor is in short supply, as skilled laborers are retiring and younger workers are not interested in construction jobs. The labor issue, combined with rising costs, underscores the need for more efficient and innovative methods to meet demand.
Industry is dominated by contractors not technologically advanced nor able to invest in technology and automation.
What a fascinating time to be in the home building business!