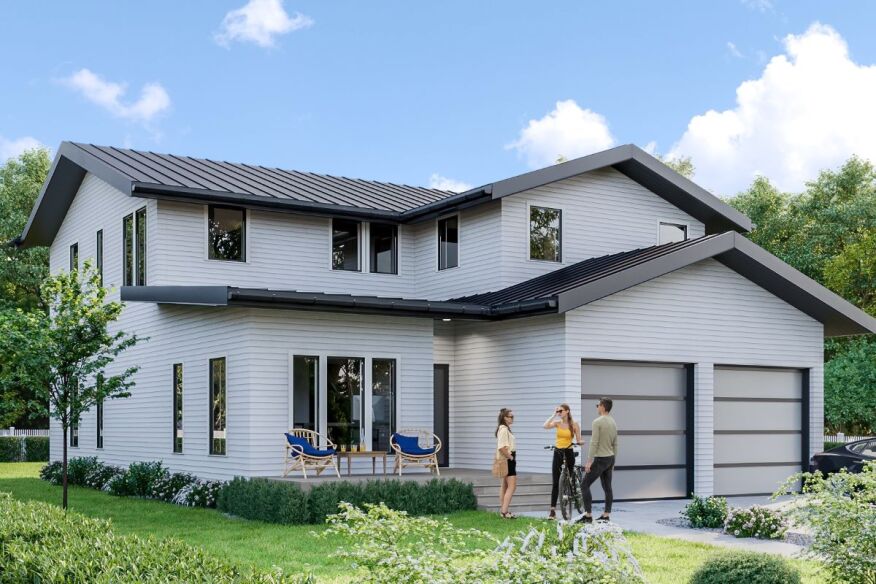 Tech-enabled home building startup Aro Homes has announced its launch with $21 million in funding. Incubated by Innovations Endeavors with Western Technology Investment and Stanford University, Aro Homes will design and build carbon-negative, precision-engineered homes faster and more cost-effectively than traditional homes. The sustainable homes will aim to save more than 11 tons of CO2 annually per build, the company states.
"The way we live has changed, but our homes—and the way we build them—haven't kept up. Challenges across the housing market continue to mount, and we are driven to meet this crisis with the urgency it requires. Residential housing contributes 23% of global carbon emissions, and we believe it's past time we apply technology and design to make homes more sustainable and livable," says Carl Gish, Aro Homes co-CEO.
"Aro Homes has partnered with world-renowned architects to design homes that generate more energy than they use and are extremely resource-efficient, using half the water of a comparable home. We are thrilled to announce our launch and set a new standard for housing that is as good for people as it is for the planet."
To address the lack of innovation seen in residential home building, Aro Homes will take the building process down from 18 months to 90 days using machine learning to identify optimal properties. Regarding design, machine learning also informed Aro's plans as its algorithms ingested scores of property data to assess local zoning requirements plus sustainability and livability goals.
"We bring a fully integrated, productized approach to single family infill construction and development; so we can redevelop properties more than four times faster while delivering objectively better, carbon-negative homes with less wasted labor and materials," the early-stage company says.
Beginning in the San Francisco Bay Area, the four-bedroom, roughly 3,000-square-foot homes are designed with National Renewable Energy Laboratories (NREL) modeling that establishes everything from the R value of windows to the insulation type. The weather-proofed exteriors are expected to last over 70 years including the roofs and cladding. Built to take on natural disasters, the homes also come equipped with a high fire rating and automatic sprinklers.
High-velocity HVAC systems, Span electrical panels, low-voltage lighting, and the solar and battery systems have been chosen to achieve the highest green certifications including LEED Platinum, passive house, and Living Building Challenge. With energy efficiency and sustainability in mind, the systems should equate to 50% less energy use and 6,000 gallons of water saved per year.
"Though housing has needed to be revolutionized for some time, few companies have met the challenge with the ambition and clarity of vision as the Aro team. Aro has unlocked a huge advantage by using a multidisciplinary approach and reimagining how homes are designed and built; they are raising the bar for what we should expect from a sustainability and design perspective. We're thrilled to partner with them on this journey," says Scott Brady, managing partner at Innovation Endeavors.