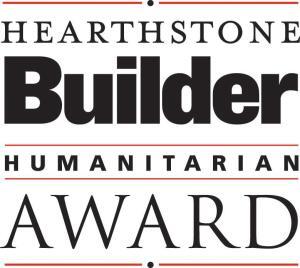 The editors at BUILDER and our partners at Hearthstone invite you to nominate a candidate for a coveted annual honor, the 22nd annual Hearthstone BUILDER Humanitarian Award.
Each year, the Hearthstone BUILDER Humanitarian Award honors a home builder who demonstrates a lifetime commitment to public service. Recent honorees include Great Southern Homes' Michael Nieri, Pulte's Built to Honor program, Hayden Homes' Hayden Watson, and Oakwood Homes' Pat Hamill.
Nominees must be for-profit, single-family builders or lot developers. They may be individuals or companies, employees, or owners. Builders may nominate themselves or be nominated by other builders, charities, nonprofit organizations, or government organizations they have helped. Special recognition will be given to employees of building firms, in addition to owners.
A cash award will be donated to the winning builder's nonprofit charity or community service organization. The winner and their charity will receive national coverage in BUILDER magazine, our newsletters, and on our website.
To enter your nominee, simply click here for a writable PDF entry form, and email it to BUILDER assistant editor Symone Strong at [email protected] Deadline for nominations is Friday, Jan. 22, 2021 Monday, Feb. 1, 2021.
More about Hearthstone
Find products, contact information and articles about
Hearthstone