Why mess with a good thing? Well, in the case of these new versions of bestselling plans, a few subtle changes simply offer buyers more choices. Flip the floorplan? Sure. Make it a bit smaller? Yep. Bigger bedroom for the master suite? Done.
Simply a reversed version of a popular cottage, this plan presents a beautiful blend of classic country style with a modern, relaxed layout. A wraparound porch adds intense curb appeal and lots of space for outdoor living. Inside, the foyer presents a clear view back through the great room to the rear deck. A breakfast bar invites family and friends to sit and chat. The spacious master suite is easy to reach on this level, with the nearby guest suite flexible enough to serve as a nursery or office instead. Upstairs, two more family bedrooms share a full bathroom. A bonus room gives space to expand over the garage. See more images, information, and the floor plan.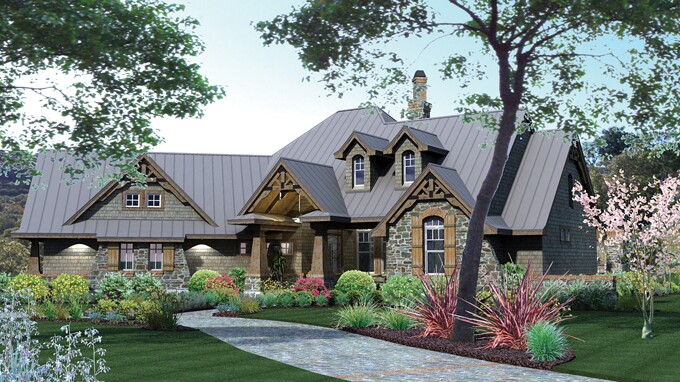 This 2,106-square-foot design differs in just a few ways from a perennially popular Craftsman design, with changes to the exterior (like the addition of a couple of dormers) and the master suite (where the sitting area has been merged with the bedroom). The core of the layout remains the same, with an angled kitchen island, excellent indoor/outdoor flow, and a two-sided fireplace between the dining and great rooms. See more images, information, and the floor plan.
This scaled-down version of a favorite luxury design presents a more streamlined layout, especially by eliminating the keeping room. A built-in banquette adds extra appeal to the breakfast nook, which flows into the large island kitchen. The master suite still boats a large shower, walk-in closet, and private porch. Upstairs, two of the three bedrooms now share a bathroom, which may be perfectly fine for a family trying to keep costs under control. The photos show the original design. See more images, information, and the floor plan.
The newest in a popular collection of Craftsman designs like this one, the layout here gives more importance to the kitchen by opening it up and adding an island. In the great room, the simple change of moving the fireplace to a side wall clears up the back for a better view outside. The master suite now opens directly to the rear porch. See more images, information, and the floor plan.