Nearly everywhere you look, you see evidence of a huge design trend to black.
In the home you'll find black mixers, flatware, refrigerators, front doors, bathtubs, and faucets. Home exteriors are also getting a noir makeover. Recent articles in the The New York Times and Curbed feature homeowners who took the plunge and painted their homes … black. Pinterest saves for black houses is up 774 percent since early 2014. Sherwin-Williams reports Tricorn Black is now the 12th most popular paint color, up from 33rd in 2017.
Experts' Perspective
Why the surge? Recently the question was put to two interior design authorities, Mary Douglas Drysdale and Barbara Bradlee.
Drysdale is the principal of Drysdale Design Associates, an award-winning full-service interior design firm. "All black is very dramatic," says Drysdale. "Black has entered the mainstream. Black can be effectively used in a modern space as well as a transitional or even traditional space."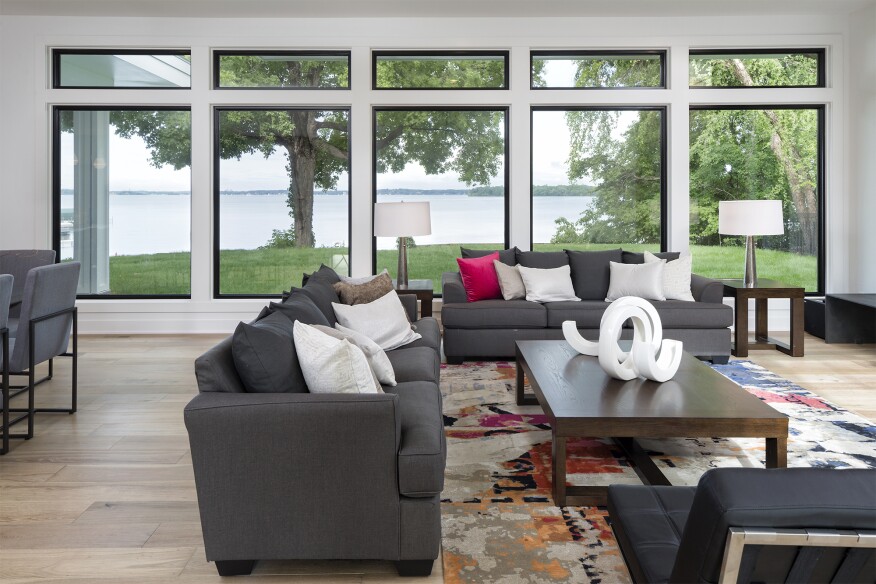 Bradlee is a noted interior designer, project manager, and principal at Bradlee Design. She likes the effects of black due to its intensity. She adds that "…a black interior finish to a window application punctuates the view and adds depth and dimension to the room."
Elegant and Effective
The effect of black in window design is especially appealing as an interior design element to both experts. "An all-black window with matte black hardware makes a confident statement. Black draws your eye and says, 'This window is a design element' and should be noticed. It can stand alone, letting the view take center stage," observes Bradlee. Drysdale agrees. "The use of black finish in architectural glazing is very dramatic and relatively new in residential. The effect is both elegant and effective," she observes.
Both women give Marvin® Windows and Doors high marks for the way the manufacturer has incorporated Designer Black and matte black in their window interior finishes and hardware. In fact, this month the company raises that design bar even higher by extending black interior finish and hardware options across their entire Integrity® from Marvin brand as well.
One Source, Many Options
Marvin's product manager, Jenny Carlson, says the company's all-in approach should delight architects, interior designers, builders, and homeowners. "Our customers often specify both Marvin and Integrity products within the same project to achieve a desired look. This is a great time to introduce Designer Black to our Integrity Wood-Ultrex® product line. Today customers can order black interiors and hardware across both brands." Carlson says the company goes to great lengths in the finish application, helping ensure durability and good looks. "It's a multi-step process," reports Carlson. "We start with a bare wood sanding, then apply a water-based black primer. We lightly sand again and then apply a water-based, low-gloss black topcoat that helps improve profile coverage, minimize handling defects, and is easily repairable.
For pro builders, architects, and interior designers looking to differentiate their homes with stylish black effects, there's never been a better time to put the growing enthusiasm for the "noir look" to work. To learn about all the ways to enhance the home with black interior window finishes and hardware, visit www.marvin.com/interiorfinishes.