The NAHB International Builders' Show (IBS) kicked off yesterday, bringing together industry professionals and over 1,500 manufacturers and suppliers from around the world. Our editorial staff combed through the displays for stand-out materials, appliances, hardwares, and more. Here are their top picks from day one:
Schlage Custom Hardware
Schlage's new Custom Hardware system allows homeowners and builders to customize the look, style, and locking mechanism of any given door in minutes without changing the inner core of the hardware. The Schlage Custom Hardware collection includes dozens of knobs, handles and trims in a wide variety of styles and finishes, including aged bronze, bright chrome, and matte black. Each knob, handle and trim is fastened to the core hardware with a hidden screw, which allows the user to easily change out one component or another. Hundreds of combinations are possible. A wide variety of locking styles are also available, including deadbolts, bed-bath locks and non-turning handles. Matching deadbolts, handlesets, and electronics are available. schlage.com
Trex Signature Railing
Minimalist and modern, Trex's new Signature Rod Rail brings sleek commercial design to the backyard. The line offers the view-optimizing aspects of cable railing, but with the strength of aluminum for a chic outdoor living look to rival any upscale hotel or urban rooftop. While Trex Signature Rod Rail is intended for residential applications, its commercially inspired design was facilitated by the company's recent acquisition of SC Railing, the country's leading manufacturer and supplier of custom architectural railings. With access to expanded engineering expertise and capabilities, Trex was able to quickly deliver the industrial style, durability and low-maintenance qualities sought by today's builders and homeowners. Rod Rail spans long lengths for panoramic sightlines from decks, patios, balconies, and front steps. It is available in three color combinations – black/platinum, bronze/platinum and black/black. Trex.com
Rough and Ready
Boral's Versetta Stone veneer line now comes in a carved block style. Available in "Harbor" (pictured) and "Midnight" tones, the Carved Block line "combines larger stones with a rugged texture to mimic split face block, broadening the range of styles to meet the trends of contemporary and commercial design," the company says. As with the rest of the Versetta line, these veneers are mortarless, cement-based and installed on walls with mechanical fasteners. That means carpenters or contractors can put up the wall without any need to call in a mason. Versettastone.com
Reinvented Load Center
Leviton's new load center and circuit breakers focus on ease of installation, enhanced safety, and a more intuitive interface for the homeowner. The Leviton Load Center's plug-in system allows contractors to wire the system, stopping at rough-in, and inserting circuit breakers later to complete installation. Its design enables users to switch out branch circuit breakers with no rewiring required. Reset lockout technology to both GFCI and AFCI/GFCI circuit breakers exceeds UL standards. On the front end, circuit breakers are housed behind an optional clear door, which while aesthetically pleasing, has more functionality than just looks; circuit breaker LEDs communicate trip condition and type of fault. leviton.com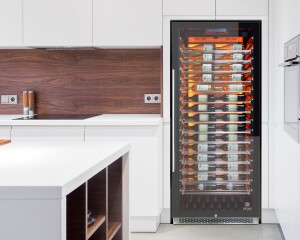 Vinotemp Wine Cooler
Vinotemp is launched a new series of wine coolers at the Kitchen and Bath Industry Show, co-locating with the NAHB International Builders' Show. The Vinotemp Private Reserve Series offers a new level of functionality and style for storage of up to 25 cases of wine. The series include patent-pending interior lighting with three different LED options: Soft White, Amber, and Vinotemp BioBlu. Designed for either built-in or freestanding use, the cooler dampens vibrations and cradles bottles so that labels are front-facing. Users can customize storage or serving temperatures between 41°F and 64°F. The Vinotemp Private Reserve is engineered for low noise and low energy consumption. vinotemp.com
The Whole Kit 'n' Kiboodle
Until now, people who wanted to get a deck rail from Feeney—beyond just getting the cable—had to place a special order with their local distributor. Now Feeney is offering DesignRail kits that enable pros or robust DIYers to put together their own deck rail. The rail and post kits are made of aluminum and come in 36- and 42-inch high sets. Customers would configure the shape and length of the deck they want and then buy all the kits needed, from corner posts to newel posts to stairs, The units come predrilled with all necessary attachment hardware. feeneyinc.com
A Screwless Door Frame
Trimlite's Solution Series door frames and doorlites, seven years in the works, are now on display at IBS 2018. The one-piece, screwless door frame system reduces installation time with no frame plugs necessary. Its low-profile appearance directs the eye to doorlites, instead, while its clean lines integrate with modern, craftsman, or mid-century architectural styles. Trimlite's Solution Series frame features a 3/16" Shaker style profile and a compression seal to protect from water infiltration. ABS plastic frames are available in white or tan vertical wood patterns and can be paired with 11 energy-efficient glass style options. trimlite.com.
Mohawk Revwood Plus
Mohawk's new Revwood Plus flooring is a 100% waterproof laminate flooring with a wood look that the company describes as somewhere between hardwood and vinyl. The durable flooring is stain-, scratch-, and dent-resistant, pet- and kid-friendly, and waterproof. The flooring also features a pet warranty. Spills, accidents and tracked-in stain-makers are kept on the surface for quick, easy cleanup thanks to Uniclic MultiFit technology, the industry's leading glueless locking system, which also allows easy installation as the planks are floating.
Making Fire and Water Mix
Hearth Products Controls' Water Feature Insert Series combines fire and water effects into a single outdoor feature. The feature's core basin is made from durable polyurethane, with a choice of a copper or concrete bowl. The basin comes fully-assembled and ready to install in any outdoor space, and may be can be covered in stone, veneer, stucco, or any other kind of enclosure, including Hearth Product Controls' 74" aluminum enclosure. Buyers may choose between a round bowl with 360 degree water flow or a four-scupper bowl with separate water flows. The fixture's gas-operated fire ring is completely submerged in the surrounding water, with a patent-pending burner design that serves to protect the controls from the water flow. The system includes wall switches for fire, water, and LED light control. hpcfire.com
Aspyre to This
James Hardie is appealing to custom builders and architects with its newly launched Aspyre Collection. The collection combines its Artisan siding with the Reveal panel system to create exterior looks that tend toward modern but can be much more traditional. The Artisan siding comes in six profiles and is 5/8-inch thick so that it "casts deep, gorgeous shadow lines," the company says. The products will be available late this year. aspyredesign.com
Jobsite Post-It Notes
Post-It has announced its new Extreme Notes. Made with Dura-Hold paper and adhesive, these notes are designed to withstand the toughest jobsite conditions. The company says Extreme Notes will stick to rough surfaces, such as brick, and will stick to a surface through cold and heat. The notes are a 3"x3" and will be available in March. post-it.com
Thermally Modified Decking
Thermory has introduced two thermally-modified exterior wood products at IBS 2018: Herringbone decking (pictured) and Drift decking and cladding. Thermory's Herringbone ash decking comes in six-piece, pre-assembled sections with an interlocking plastic undercarriage. It can be easily installed on traditional, 16" on-center joist systems for a stylish backyard or patio upgrade. Drift spruce decking and cladding offers the look and texture of reclaimed barnwood, but with long-lasting quality. Both products have a Class 1 durability rating, Thermory says, resisting rot for 25 years or more. thermoryusa.com.
Jacuzzi Luxury Bath
Jacuzzi Luxury Baths is expanding its Solid Surface Collection from three bathtub designs to seven with coordinating vessel sinks. The new tubs and sinks are sculpted from Jacuzzi's Luxecast composite material, which contains minerals derived from natural stone. With sharp lines, thin walls, and high style, the expanded line includes traditional, transitional, and contemporary designs. Tubs range from 56" to 71" and come in non-porous gloss or matte white finishes that resist both bacteria and stains. According to the company, insulating properties of Luxecast may also help keep bathwater warm. Jacuzzi.com
Industrial-Style Compact Surface
In collaboration with architect and designer Daniel Germani, Cosentino has introduced three new colors to its Dekton Industrial Collection. Suitable for countertops, flooring, stairs, and exterior facades or cladding, Dekton by Cosentino aims to capture the organic texture of weather-worn stone and metals. Orix mimics eroded cement in greys, blues, and greens, while Nilium blends minimal silver and white hues. Trilium gives the appearance of oxidized stainless steel while Radium offers an acid-washed look. Smooth to the touch, the materials resist scratches, stains, UV rays, and temperature shock, the company says. cosentino.com.