The latest roofing and siding products from manufacturers feature a blend of aesthetic appeal, ease of installation, and durability. While promoting curb appeal, the products are designed to make homes safer, more efficient, and better protected from the elements.
Novik
Novik introduced the black-tone Onyx option to its NovikStone Dry Stack Stone and Premium Hand-Cut lines of stone siding. According to Novik, the Dry Stack Stone offers the detail of precision-laid dry stack stone, ideal for achieving the look of traditional masonry. The Premium Hand-Cup mimics hand-chiseled, contoured stone. NovikStone's siding is impervious to moisture; resistant to warping, expansion, contraction, and cracking; and installed without any mortar or adhesives, according to the manufacturer. The siding is suited for foundation covers, knee wall cladding, and accent walls. novik.com
Kebony
Grad for Kebony, a Kebony and Grad Concept USA collaboration, is a rainscreen system developed for the building envelope and interior accent walls. The Grad Mini Rial clips are factory-placed in position, allowing installers to fasten the rails onto the sheathing or vapor barrier and snap the boards into place. The rails, which can be installed vertically or horizontally, create an air gap, removing the need to install furring strips ahead of time. us.kebony.com
Atlas Roofing
TruRidge PRO 25, HighPoint AL 50 Slant Back, and HighPoint GL 50 Slant Back are designed to improve energy efficiency and reduce attic heat and moisture for roof pitcthes. The TruRidge PRO 25 provides the rigidity of a sectional ridge vent with the flexibility of a lightweight roll for easy installation. HighPoint AL 50 and GL 50 vents are designed to extend roof and shingle life with a weathertight base and throat made from aluminum and galvanized steel, respectively. atlasroofing.com
Qora Cladding
Qora Cut LedgeStone TightStack exterior cladding from Qora Cladding uses a foam core, a fiberglass-reinforced compound, and stone to mimic the aesthetic of stacked stone. The lightweight system is available in 48-by-18-inch tall panels and offered in three color patterns—Lexington, Gunstock, and Charcoal—to complement vinyl, wood, or fiber cement siding exteriors. The cladding does not burn and will not rot, buckle, or delaminate over time, according to the manufacturer. qoracladding.com
BRAVA Roof Tile
BRAVA synthetic roof tiles are made with up to 95% post-consumer recycled rubber and plastics removed from the waste stream. The composite tiles are an alternative to traditional Spanish clay tile, natural slate, and cedar shake roofing, according to the manufacturer. The synthetic cedar shake tiles combine the rustic split textures of cedar with the benefits and longevity of a composite roofing material. bravarooftile.com
Georgia-Pacific
The ForceField Weather Barrier System from Georgia-Pacific is approved for sloped roof application uses. The system is an integrated weather-resistive barrier sheathing system for sloped roofs and walls that helps reduce weather-related challenges and helps dry structures faster compared to traditional systems, according to Georgia-Pacific. The system is available in 4-foot-by-8-foot, 4-foot-by-9-foot, and 4-foot-by-10-foot panel sizes. The ForceField Weather Barrier System offers greater than 90% drainage efficiency, according to the manufacturer. buildgp.com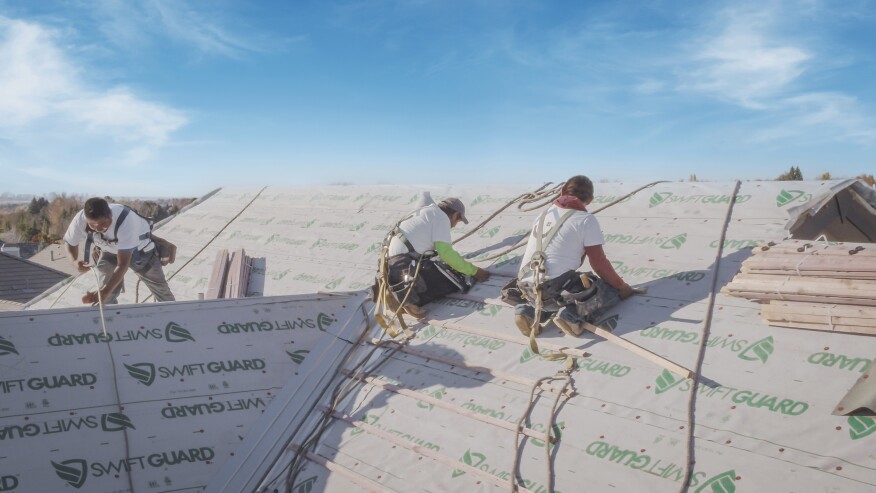 Westlake Royal Building Products
SwiftGuard is a synthetic roofing underlayment for steel, tile, shingle, and shake roofing ideal for use in steep slope installations. The manufacturer says the product is easily installed and leverages a patented nail gasketing technology to provide weather protection. The technology, with SwiftGuard's UV and thermal stability, allows it to be exposed to the elements for up to 180 days without degradation. The product is available in 10-square rolls. westlakeroyalbuildingproducts.com
Duration Millwork
Duration Millwork's Simulated Shake Siding is made from solid fly ash and comes in 48-inch panels. The lightweight panels butt together tightly to create a seamless shadow line. The products can be blind nailed during installation. According to the manufacturer, the shake siding won't rot, decay, or be affected by insects, and the product requires no back or edge sealing. The shake siding can be painted any color without priming, can withstand high heat, and is offered in three sizes: 1/2-by-8-inch, 5/8-by-8-inch, and 5/8-by-10-inch panels. durationmillwork.com
More about Atlas Roofing Corp.
More about Kebony
Find products, contact information and articles about
Kebony