Systems throughout the home continue to evolve, mostly thanks to technology. New heat pump models operate more efficiently while costing less, and floors can be warmed with the touch of a button via mobile app. Sensor advances give homeowners peace of mind and protect homes from water damage and VOCs, while kitchen storage options offer users maximum flexibility, and light switches can control lights or play music via voice command.
Trane
Trane recently unveiled its RunTru HVAC unit, which is designed to deliver the same heating and cooling performance at a lower price. The system includes a full line of ducted split and packaged units, including up to 14 SEER air conditioners, heat pumps, furnaces, coils, and air handlers. Easy installation is part of the package, along with a full array of cooling capacities on the A4AC side. The A4HP4 Heat Pump is designed to keep homes in milder climates comfortable throughout the year, and all of the units are made in the U.S. runtruhvac.com
Emerson
The Warm Tiles system from Emerson brings floor heating control directly to the homeowner's phones with an app for Android, iOS, tablet, or PC. The system can track power consumption with an energy log that graphically displays data from the past 24 hours, seven days, or 12 months, and also calculates the exact cost of electricity for any of those time frames. An open window function prevents energy from being wasted by detecting a rapid drop in temperature and shutting off heating for 30 minutes. emerson.com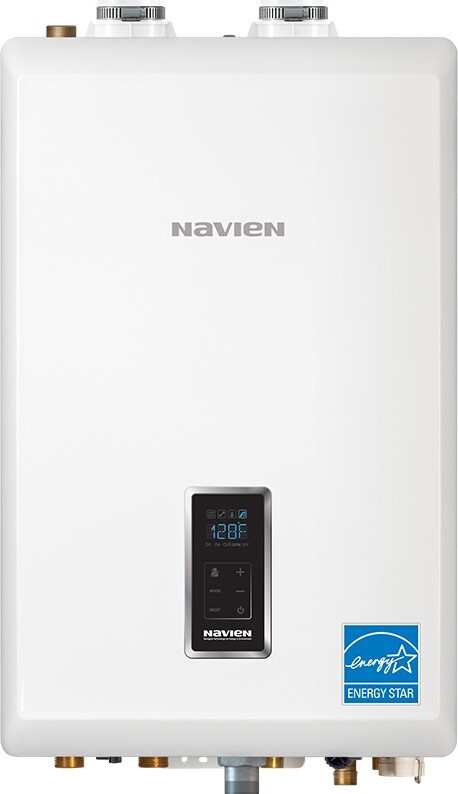 Navien
Navien has been busy tweaking its combi-boiler designs, as well as its condensing and non-condensing tankless water heaters. The new non-condensing NPN series includes a heat exchanger and burner made from stainless steel and equipped with the NaviTech system, designed to reduce NOx levels. The upgraded NPE-2 features a turndown ratio to 15:1, an improved multi-line control panel, and a 2-inch PVC venting length, also available on the newer combi-boilers. The high-output NCB-H combi-boilers now feature a more dynamic BTU lineup, plus added models and built-in controls for up to three zones. navieninc.com
Airthings
Airthings has made a new addition to its Healthy Building Solution platform and product line with the HBS Wave Mini smart air quality monitor. The Wave Mini picks up where the company's radon detectors and air quality monitors left off by monitoring total volatile organic compounds, air temperature, and humidity. The Healthy Building Solution has wireless multi-sensors which can be mounted in any closed or open environment. The monitor provides air quality data in real time to improve quality of life for residents and owner-operators. airthings.com
Genie
The Genie Wall Mount Pro Series eliminates the rail that has been central to garage openers of the past. The system mounts on the exterior wall and works by turning the door's spring bar or tube. The Wall Mount Pro connects to a mobile app that's compatible with Amazon Alexa, Google Home Assistant, and Yonomi. The rail-less system is quieter than conventional center tracked systems, has fewer moving parts, and includes a built–in safety system. It is powered by a 24V DC motor powerful enough to lift heavy residential sectional garage doors up to 14 feet high, with a high lift of up to 84 inches. geniecompany.com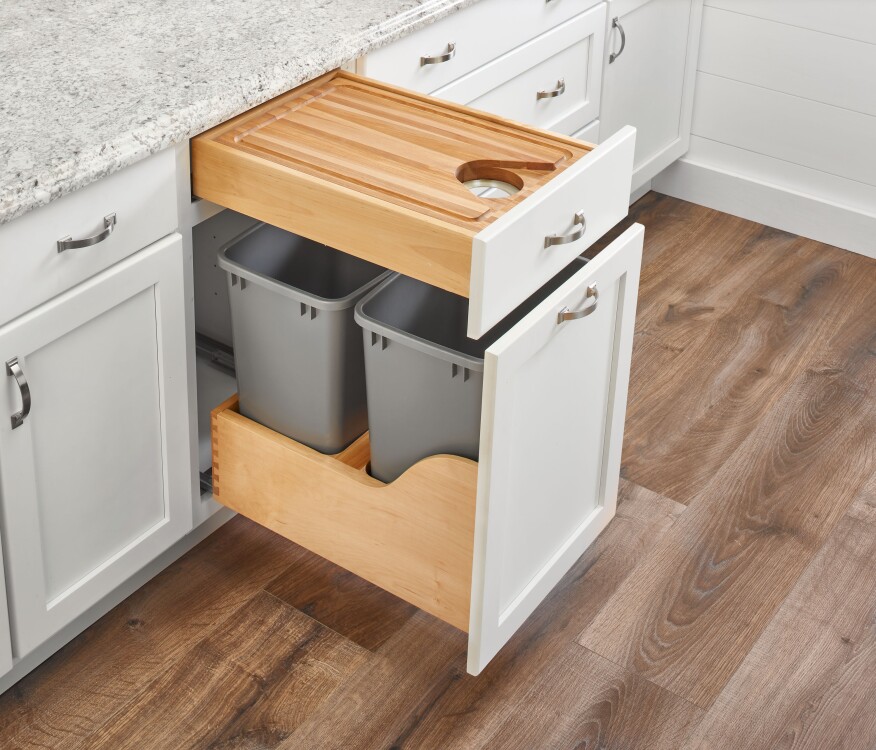 Rev A Shelf
Rev A Shelf's 2020 spring collection focuses on tiered solutions for drawers, cabinets, and cutting boards. The Two Tier Cookware Organizer stores deeper cookware on the lower level, with space for shallower items on top. The system is available in 18-inch and 24-inch base configurations, with pegboard bottoms for flexibility. The 4WCCB collection includes a cutting board that pulls out and has a hole in it for dispensing waste right into a trash can, while the 4WTCDD series is all about a tiered, deep drawer system designed for 30-inch and 36-inch base cabinet drawers. All of the manufacturer's tiered storage systems come standard with soft close hardware. rev-a-shelf.com
Leviton
Leviton's Decora Smart Voice Dimmer gives homeowners a way to adjust their home's lighting via voice command while also accessing all that Amazon's Alexa has to offer. Listening to the news, checking the weather, playing music, and controlling other smart home devices is now as close as the nearest internet-enabled light switch. The device will also work from Google Assistant, IFTTT, and the My Leviton app to create custom lighting scenes or schedules. The switch needs only a Wi-Fi connection and a neutral wire to make it all happen. leviton.com
Grohe
Grohe has gotten into the water system sensing game with Sense, a free-standing, Wi-Fi-­enabled sensor that can be placed in basements, under sinks, and any other problem areas. If more protection is needed, Sense can be matched up with the company's Sense Guard system, which uses multiple sensors to track water pressure and measure consumption. It will automatically turn off the water supply if a leak is detected. The system works through the GROHE Sense App, which is compatible with iOS or Android mobile devices. grohe.us
American Standard
American Standard has recently rolled out the SpaLet system of personal hygiene options for the bath, which includes the Advanced Clean 100 SpaLet Bidet Toilet and a family of Advanced Clean SpaLet Bidet Seats. The customizable features include nozzle position, water temperature, seat temperature, and spray strength. Each SpaLet product is equipped with self-cleaning dual nozzles that direct water to both the front and rear areas. The extra convenience is ideal for seniors, anyone with mobility issues, or during pre- and post-partum situations. americanstandard-us.com
Bosch Thermotechnology
Bosch recently introduced a line of inverter ducted, air source heat pumps that arrange all of the components into a single cabinet. The systems are available for residential or light commercial applications. The two-stage motor provides dehumidification and runs quiet, and the fully modulating inverter drive matches the heating or cooling load for enhanced efficiency. The inverter compressor operates from 25% to 110% capacity, with modulation in 1% increments. Its two-way design allows for both horizontal and down flow installations, and it is compatible with most standard 24 VAC heat pump thermostats. The system meets Energy Star requirements and complies with the Department of Energy's consumer central air conditioner and heat pump direct final rule that will take effect in 2023. bosch-climate.us
More about American Standard
More about Grohe
Find products, contact information and articles about
Grohe
More about Leviton Mfg. Co.