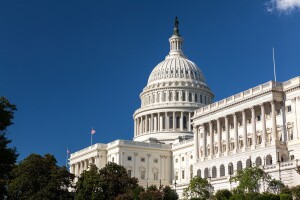 Congress took another step this week toward passing the first rewrite of the Dodd-Frank reform law as the Senate voted 67 to 31 to ease bank rules, Reuters staffer Pete Schroeder reports.
The bill, Schroeder explains, would ease tight restrictions on small banks and community lenders, and includes provisions beneficial to all but the largest U.S. banks.
The bill would raise the threshold at which banks are considered systemically risky and subject to stricter oversight to $250 billion from $50 billion. It also exempts banks with less than $10 billion in assets from rules banning proprietary trading, as well as exempts smaller banks from several other post-crisis rules.
The legislation now heads to the House of Representatives where Republicans in the majority say they want to add more provisions to ease financial regulations, Schroeder notes. Those changes have some of the bill's backers worried that late alterations could upend the deal struck in the Senate between Republicans and Democrats.
The White House said in a statement that President Donald Trump would sign the bill into law if approved by the House.
Read More