The sizzling summer heat is pushing people throughout the U.S. to find cooling water retreats—whether natural or human-made. For master plan developers and home builders, the addition of a water amenity to existing and new communities can create a "vacation at home" setting for residents to boost sales and community morale.
While resort-style pools, lazy rivers, and waterslides have been staples in warmer-climate communities for quite some time, the pandemic highlighted the importance of these close-to-home amenities. Inland community residents can still live "waterfront" with the addition of lagoons and other water features.
Freehold Communities' Shearwater master plan in St. Augustine, Florida, boasts a zero-entry pool, Florida's longest lazy river, a multi-lane lap pool, and a three-story waterslide tower. Florida division president Mike McCollum says the thoughtful addition of these resort-style amenities foster connectivity and convenience for all homeowners.
He shares, "Residents love the variety of water-centered amenity options offered in Shearwater, especially living in Florida. Not only does it encourage a sense of adventure, but it offers a resort-styled Florida lifestyle. These added features are also great for clubs or activities in the community. Specifically, Shearwater is home to the Shearwater Sharks, a community swim team that utilizes the multi-lane lap pool for practice and competitions."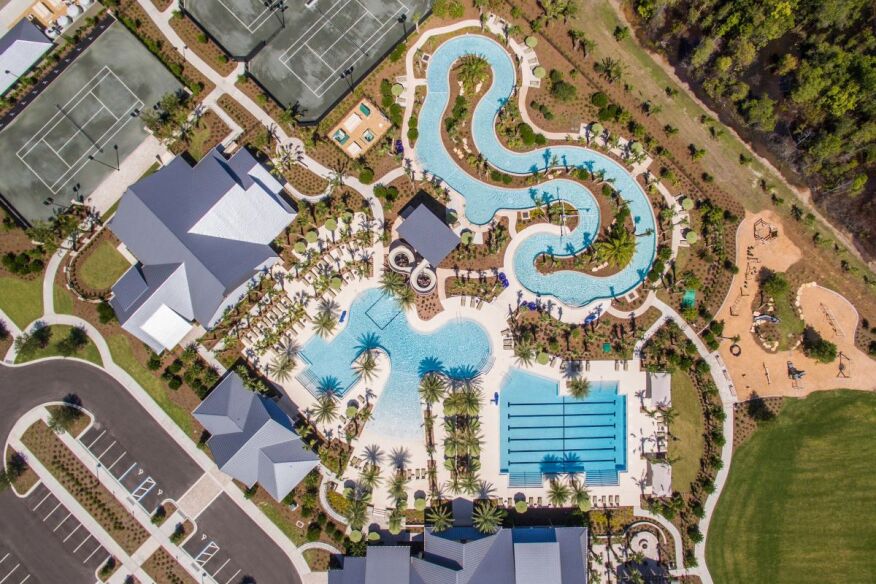 Supersizing Water Amenities with Lagoons
Also in the Sunshine State, Metro Development Group recently completed a 15-acre lagoon in Pasco County. Touted as the largest human-made lagoon in the country, Mirada is the third lagoon opened by Metro Development Group and MetroLagoons. The Mirada community, which began sales in 2020, will include 4,500 homes when complete from builders including Lennar, D.R. Horton, Biscayne, LGI Homes, Maronda Homes, and Homes by WestBay.
"So many out-of-state shoppers coming to Florida envision the beach lifestyle, but living on the coast is expensive and may also present challenges around parking, crowds of tourists, etc," Vaike O'Grady, vice president of marketing and communications at Metro Development Group, shares. "Lagoon-style water amenities bring the beach inland to create coastal communities without the coastal prices."
In addition to creating year-round activities and an opportunity to connect with neighbors, O'Grady shares that the lagoons are a key driver of growth in their communities. Additional lagoons are in the works for up to eight current and planned developments throughout Florida, O'Grady notes.
Uri Man, CEO of The Lagoon Development Co.—which develops Land Tejas' lagoons among other projects—agrees that the lagoons bring growth, additional profit, and success for home builders in master-planned communities.
Drawing Traffic and Home Buyers
Man, who previously led Crystal Lagoons US Corp prior to joining Land Tejas and ultimately launching his current company with Al Brende, says he has seen firsthand the benefits of lagoons in master plans. Coining it "the lagoon effect," he shares that the 2-acre lagoon at Land Tejas' Balmoral community in Humble, Texas, helped builders sell 740 homes in one year.
"Our builders say that their models get 10 times more traffic inside of a community where there is a lagoon versus a community without one," Man explains. "People are curious, so you get more people who are looking to buy, which means there's a better conversion rate, allowing builders to sell more homes more quickly."
Creating Endless Activities
While establishing the essence of resort-style living, the lagoons are also an opportunity for extra community amenities. Mirada Lagoon incorporates an event space; food trucks; kayak and paddleboard rentals; an inflatable floating water obstacle course; a swim-up bar; and beach areas with complimentary seating, plus various activities like yoga, live music, and movie and trivia nights.
"Response to lagoons in established communities has been overwhelmingly positive. Residents enjoy the convenience and accessibility of recreational water activities and the sense of community they provide. These amenities attract people of all ages and serve as popular gathering spaces for social events," O'Grady says.
Looking to the west, Land Tejas' second lagoon project is in the 2,300-acre Lago Mar master plan in Texas City. The 12-acre lagoon is centered in a 100-acre entertainment district with a clubhouse including conference rooms and a resident fitness center; multiple beaches; a children's beach with water features; an infinity-edge pool overlooking the lagoon; a floating obstacle course; water sports from kayaking to sailing; and a two-story swim-up bar on an island.
Driving Additional Revenue
Water sport rentals, bar sales, and other fee-based experience upgrades can offset the expenses of maintaining a lagoon. However, Land Tejas and MetroLagoons have also found success in allowing the public in. Both companies offer passes to their lagoons, their amenities, and other ticketed live events.
"Instead of telling people how much money it's going to cost to operate, I always talk about how much money the lagoon generates if it is open to the public," says Man. Offering an idea of what a lagoon could cost upfront, Man shares a range of $30 million to $35 million for a smaller lagoon with all the features around it—a bar, beaches, a clubhouse.
In 2020, Land Tejas opened a portion of Lago Mar's lagoon to the public. "It not only became a great example of how to operate safely during COVID but served as a beta test for what could happen if the lagoons were open to the public," Man reflects. "We had over 40,000 visitors in a matter of weeks."
The trial run's success birthed LagoonFest Texas, a lagoon experience where the public can buy passes to the lagoon five days a week and rent various experiences from floating cabanas to party pavilions. To preserve the community's privacy, portions of the lagoon have remained resident-only.
Maintaining Quality and Safety
To manage millions of gallons of water and thousands of feet of shorelines, MetroLagoons enlists a dedicated team who ensures clean and safe water quality. "Regular testing, filtration systems, and debris removal are carried out daily to maintain water clarity. The maintenance team also conducts inspections, repairs, and monitors the lagoon's infrastructure," O'Grady says.
Land Tejas hires dedicated third-party contractors for water quality, lagoon maintenance, and membership, safety, and access management.
For the water amenities at Shearwater, McCollum says, "An on-site management team monitors and supports the cleanliness of the aquatic facilities, deck, and chemical levels on a daily basis." Lifeguards are on duty seasonally while the lazy river and water slide amenities are open.
Regarding safety, O'Grady adds, "While we do have dedicated guards stationed at all water activities, the open swimming areas of the lagoon are swim-at-your-own-risk. Life jackets are available in designated areas throughout the park."
With both Land Tejas and Metro are located in areas of unpredictable and often tropical weather, O'Grady and Man highlight the importance of weather safety as well. Land Tejas retains a meteorologist who communicates potential threats and risks daily, while MetroLagoons strictly adheres to weather-related safety protocols to keep residents and guests safe. "We're very involved in weather discussions on a daily basis," states Man.
In the event of a hurricane or severe storm, MetroLagoons secures infrastructure, establishes emergency response plans, and keeps in communication with residents, visitors, and team members. While the lagoons are built to catch water, Man says the machine rooms at Lago Mar and Balmoral are elevated to withstand potential flooding.
Prompting Further Development
Upholding a higher quality of life for both residents and their communities, a lagoon amenity can also benefit the larger communities in which it is located. "On a wider scale, the lagoon communities contribute to the area's vitality and economic growth, bringing visitors and jobs to the area," O'Grady says.
Using Lago Mar as an example, Man points out that the lagoons can spur growth not normally seen in the suburbs. "These lagoons allow for bettering the potential development opportunities in a shorter period of time," he says. "In addition to a profitable restaurant, you wouldn't normally see a hotel being built in the middle of a master plan or mid- and high-rise apartments, but we're getting those. We're creating the waterfront and bringing the beach experience to these communities."
Land Tejas has three more lagoon communities coming onto the market within the next two years, all near Houston. Man passionately shares that the lagoons have a positive impact on the communities where residences are being sold while also benefiting the home builders.
For developers and builders looking to dip their toes in the water, O'Grady concludes, "Make sure to have the right team in place. Engage with partners who can provide valuable insights and expertise throughout the project, as their knowledge will help set the foundation for a successful community amenity."