While initially there were questions about what kind of impact the COVID-19 pandemic would have on the housing market, those quickly faded as the importance of home took center stage in many Americans' lives. Office shutdowns led to a sudden shift to remote work for a large part of the workforce, and, by now, many have permanently put the idea of a five-day commute behind them. In some cases, removing the need to be in the office full time led to home buyers opting to move to new locations altogether, or to be more open to moving farther out from the urban core.
Master-planned communities provide an attractive option to a variety of buyer groups. In fact, Zonda data shows that in many states across the country, neighborhoods within a planned community generally sell at a faster rate than other neighborhoods. What makes these locations so attractive to prospective buyers? Zonda Advisory principal Mollie Carmichael and senior vice president Kristine Smale recently shared insights on a few of the top "make me move" trends within planned communities—along with examples of places executing them well—most of which are interconnected on some level and all of which don't seem as though they'll be going away any time soon.
Community Engagement

Following periods of quarantine and social distancing as a result of the pandemic, the idea of engaging with others likely felt a bit strange albeit desired. At our core we are social creatures, however, and many planned communities speak to this fact via their offerings—particularly those in outdoor areas—to those living within the development.
In Phoenix—the No. 1 market across the country for migration, according to Zonda—the Alamar community, located 19 miles southwest of downtown, is an ideal spot for transplants to settle given its focus on fostering human connections among its residents.
"It's a rapidly growing area," Smale says of Phoenix. "Having that community engagement right off the bat when so many new people are moving to the area—that's what people want when they relocate."
Frequent events such as farmers markets, pet adoption days, and Friday concerts bring neighbors together—often outdoors within Alamar's 40-acre regional park or three 2- to 4-acre community parks—along with larger "signature" events held throughout the year like festivals and holiday celebrations.
For those looking to connect with other like-minded folks, the Alamar Community Life Team supports residents in the creation of new clubs, teams, events, and programs—ranging from yoga, hiking, cooking, painting, philanthropy, and religion.
Art has long been viewed as a way to bring people together, and Alamar is taking advantage of that fact throughout its outdoor public spaces. The WholeARTedly Alamar Public Art Program (a play off the community's "wholeheartedly home" slogan) eventually will span the development's entire 1,130 acres. The effort showcases custom work—some pieces doubling as interactive play spaces and others built into the natural landscapes—by local Arizona artists including John Nelson, Mary Shindell, Melissa Martinez, Fausto Fernandez, Neil Borowicz, and Roy Wasson Valle.
"This is the first program of this scale," according to Greg Esser, the program's curator. "It's an unprecedented investment to commission artworks that are holistically designed into the community. It sets a new bar for residential communities."
It's those kind of details that make a difference at each master plan, according to Carmichael: "The offerings at Alamar are bringing all life stages and cultures that are migrating in together."
Outdoor Connectivity

First impressions are lasting, and the pecan tree–lined street upon entering the Pecan Square community in Northlake, Texas, makes an immediate impact.
"The heart of this community is 'The Square' with a variety of amenities that celebrates the land's history as well as this community's future," Carmichael says. "The Square sits at the end of a long boulevard of trees framed by beautiful estate homes with a variety of diverse and interesting architecture."
More than 200 mature pecan trees were preserved as part of the neighborhood, and the developer designed Jackson Hall, the community's main recreational anchor, in homage to the barn that once occupied that space. But perhaps most popular with many homeowners and their families is The Arena, which offers 22,000 square feet of covered indoor-outdoor entertainment and event space.
"Really what everyone uses is the outdoor amphitheater, where they have all their events," Carmichael says, noting that many planned communities nationwide are opting for outdoor entertainment venues instead of the more traditional indoor club facilities because the outdoor venues are "less expensive to build, less expensive to maintain (i.e., cooling with a mister versus air conditioning), and people love it. COVID and concern for wellness is pushing everybody outdoors for entertainment, fitness, socializing, even for the holiday dinner or party. I don't think this goes away for a while."
When homeowners want or, rather, need to get out of the house, it's vital to have welcoming, accessible areas throughout the neighborhood for them to escape to for some alone time or to gather with family and friends. Many public plazas have a green space large enough to accommodate live performances, festivals, community markets, impromptu ball games, and other such activities. In fact, the community's website might sum it up best when it says "some of the community's best assets are not built, they're grown."
At planned communities throughout the country, social connectivity within various outdoor venues is booming—"particularly with COVID, but not just because of it," Carmichael says. "People are overstimulated with technology and just want to be outside."
Water Access

Even in areas of the country that are landlocked, access to water in some way, shape, or form is often desired by home buyers, and developers of planned communities have gotten creative with how to make that happen.
"Providing water elements throughout your community has compelling benefits," Carmichael says. "Water is not only highly preferred by consumers, according to our consumer insights research, but water also drives the highest premium when compared with golf course premiums, open space premiums, or park premiums."
In March 2019, BUILDER ran a cover story asking whether golf had run its course. At the time, the sport's declining popularity muddled the future of golf-centric communities, according to David Cobb, Zonda's south Florida regional director. He added that while some home builders in his market were still finding success with the sport, "many are shying away from including golf courses in their new communities."
Fast-forward to 2021, and a Jan. 29 headline in The Wall Street Journal states that "For Golf, Covid Is Even Better Than Tiger," going on to note that the "socially distant sport got a shot in the arm from the pandemic, and demographic trends could take it to new heights."
But even if golf is staging a comeback as a result of the pandemic, Carmichael points out that it remains difficult to finance and maintain for most new-home developments.
"Water is less expensive to build and maintain for any community," she says. "In fact, water is less expensive to maintain even over grass. Water features like a Crystal Lagoons amenity can benefit many uses of a master plan. Water will command a premium for homes, hotels, retail, and restaurants and add value to the overall lifestyle for the entire area."
At the Balmoral community in Humble, Texas, the 2-acre manmade amenity in 2018 was the first Crystal Lagoons project to open in Texas and the second to open in the nation. "These lagoons use 100 times fewer additives than traditional swimming pools and 50% less water than is required by a city park of the same size. The result is lower maintenance costs and minimal environmental impact," according to Land Tejas Development at the time.
"We realize water may not work for all locations given potential drought challenges," Carmichael says. "However, there are many regions where water elements are a 'natural' solution."
Florida, for example, is definitely a place that buyers associate with water.
"One thing that we've always found is that when you come to Florida, you expect the waterfront lifestyle," Smale says, noting that while The Isles of Collier Preserve isn't far from the coast and just 5 miles from downtown Naples, the development didn't have direct access to the beach. Over half of its 2,400 acres are dedicated to preserves and natural habitats, but developer Minto Communities played off the existing landscape and created kayaking routes along the Cypress Waterway.
Water access and amenities also provide planned communities with a "staycation" vibe, which was particularly popular during the height of the pandemic. Homeowners and their families were able to swim, venture out on kayak adventures, or eat a meal outdoors while overlooking the water, all without having to leave the development.
"In communities like The Isles of Collier Preserve, you get all of the features that go along with taking a vacation to Naples," Smale says, which is a huge draw.
Multigenerational Focus

On 5,000 acres in the heart of Charleston, South Carolina's I-26 growth corridor, Nexton by developer Newland and owner North America Sekisui House recently won best master-planned community from NAHB in addition to earning a Merit Award in the Urban or Community Planning category in the 2021 Builder's Choice Design Awards.
Given all of its accolades since opening, Nexton is clearly doing a lot of things right. Its offerings that span nearly every life stage and demographic seem to be one of them.
"They have 55-plus, they have apartments, it's every stage of life," Smale says about the low country community. "That is certainly working in order to gain sales. This is a trend that will continue within planned communities, especially in Sun Belt states."
As a result of the pandemic, a May 2021 article in The Washington Post noted the country has seen an uptick in the number of homes purchased for multigenerational households—between April and June 2020, the demand increased 15%, according to the National Association of Realtors.
While many master plans are home to a range of age groups, Nexton's proximal neighborhoods geared toward different life stages—referred to collectively as the Villages of Nexton—are a successful response to this multigenerational demand. "There's only one Nexton. But there are many ways to call it home," notes the development's website.
Del Webb Nexton, a 55-plus community, offers single-family, one-level floor plan options and state-of-the-art amenities for those looking to maintain an active lifestyle in retirement. For young families, Midtown, Nexton's newest neighborhood, and Brighton Park Village, centrally located and including Nexton Elementary, offer two- to five-bedroom single-family homes. North Creek Village is a smaller entry-level community. For young professionals and empty nesters who may prefer to rent instead of buy, the 282-unit Capstone Cottages development includes single-family rental homes with amenities and services typically found in more urban settings. Nexton also offers a variety of townhomes and apartment communities.
The development's blend of homes, schools, offices, and retail in addition to 2,000 acres of open space, woodlands, and wetlands are a draw for all buyer groups, along with its proximity to Charleston, voted the No. 1 city in the U.S. by Travel + Leisure readers for nine years in a row.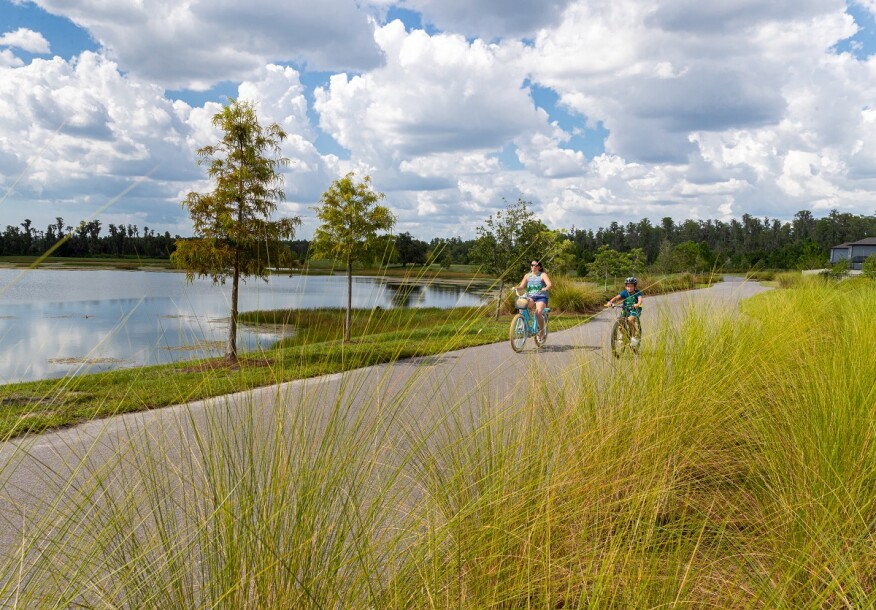 Living Well

While activities like walking, running, hiking, and cycling have always been popular, it's safe to say interest in the great outdoors has grown throughout the pandemic, particularly since health experts have made clear that certain outdoor recreation poses minimal risk for COVID-19 infection thanks to the constant movement of fresh air.
Just look at recent visitation numbers for national parks across the country. Yellowstone National Park—America's first national park and consistently one of the most popular—set a record in August with more than 920,000 visitors. That came on the heels of another record-setting month in July when the park received the most recreational visits of any month in Yellowstone's history—the first time visitation exceeded 1 million visits in a single month, according to the park.
With such large acreage, master-planned communities across the U.S. are well-versed in preserving and maintaining park space and trails. For example, Starkey Ranch, located just north of Tampa, Florida, is adjacent to the 18,000-acre Jay B. Starkey Wilderness Preserve; nearly half of The Isles of Collier Preserve's 2,400 acres are dedicated to natural habitat and preserve area in Naples, Florida; and Alamar near Phoenix is positioned where the Salt, Gila, and Agua Fria rivers converge and is close to scenic sites like the approximately 200-acre Base Meridian and Wildlife Area.
"Starkey Ranch benefits from its land with a wildlife preserve and beautiful trails throughout," Carmichael says, adding that residents' lifestyles are enhanced even more with several outdoor recreation spaces including multiple dog parks, outdoor sport venues, and outdoor yoga platforms.
On the heels of the pandemic, an even greater focus on wellness is surging nationwide. Not only is access to outdoor spaces beneficial physically, but also mentally as well. With about half of the acreage at Starkey Ranch devoted to lakes, ponds, wetlands, and parks, it's appropriate that the community's tagline is, "Where life takes root."
On its website, Starkey Ranch touts its "unrivaled trail system," which includes 20 miles of trails that soon will connect with the nature trails in the adjacent preserve as well as its 6.7-mile paved trail that connects to the 42-mile Suncoast Trail.
"Trails of all kinds are more important than ever," Carmichael says. "With gyms turning on and off [during the pandemic], people are realizing they don't need their gym membership after all and that the great outdoors are more fun. The more interesting the trails and the connection with nature, the better."
Answering the call for something interesting and connected to nature, Starkey Ranch will debut a bike park this fall that will offer trails and hills for off-road cycling adventures. According to the website, Natural Trailbuilding is creating the bike park using only hand tools, and all trails will be made with natural materials like lime rock and red clay.
The bike park will have three distinct areas for off-road cycling ranging from beginner to advanced. The first area, Snake Run, is designed for young children who are just starting out, with trails designed to resemble slithering snakes. The second trail area will allow children and adult riders on pedal bikes to learn the basics of off-road cycling such as pedaling, cornering, and braking. The third area is intended for advanced cyclists, who will be able to learn to jump on elevated trails and work on their technical skills in this area of the park.
"What are neighborhoods and communities doing to promote outdoor activity, especially for young kids?" Carmichael asks. "It's important to get outside and get away from the screens."