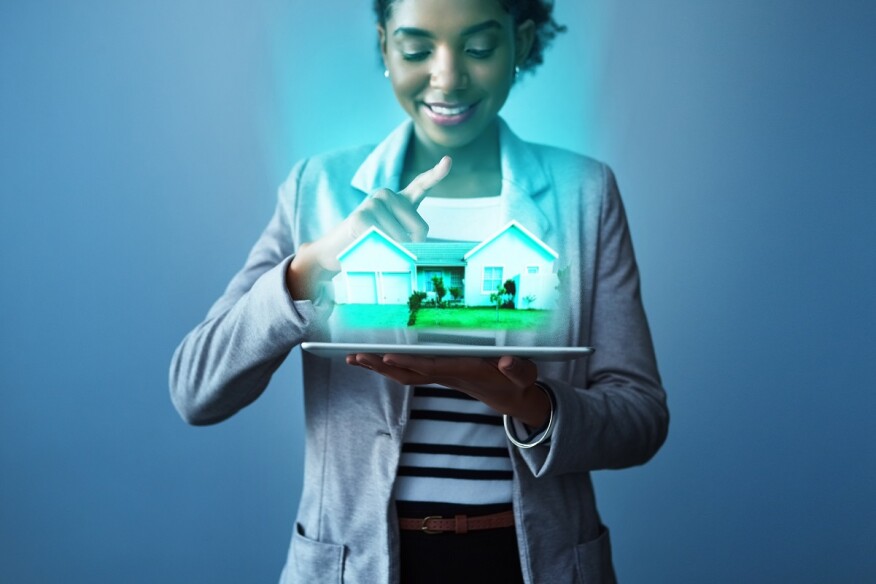 Between the global pandemic, supply chain challenges, and evolving buyer preferences, home builders have dealt with their share of uncertainty recently. To help adapt to these challenges, several internal technology experts and industry leaders have identified three areas where buyer behavior is changing so home builders can be ready to meet these new needs efficiently.
Selling a Home Online
The past few years have shown us how convenient shopping online can be. Consumers are getting more comfortable making major purchases online—it's not just clothes and groceries anymore.
Systems that allow customers to start their home purchase online, from viewing plans to signing digital contracts and placing home deposits, are a huge draw to the modern buyer. They're a convenient solution for customers who are far from model homes, nervous about in-person meetings, or just prefer to make a big decision privately. For builders, it can mean quicker sales to a wider pool of potential buyers, while reducing the burden on their model homes and staff.
"Almost all of the production builders we work with have some form of "buy online" function on their road map," says Bob Swainhart, vice president, enterprise solutions, at Constellation HomeBuilder Systems. "It may be an online tool to reserve a lot for 24 hours, the ability to completely execute a sales agreement, or something in between—but all of them agree it is going to be critical to their business moving forward."
2D and 3D Home Visualization
Recent advances in virtual reality have made it easier than ever to show buyers 2D and 3D visualizations of communities, their potential new homes, and interior renderings based on option selections. These lifelike visualizations help buyers feel more connected to their home, allowing them to see exactly how their choices will impact the finished product.
"Creating unique, immersive, and transparent experiences on the web and throughout other virtual environments has become a top priority for our company and many builders," explains Brandon Sharp, chief information officer at Brookfield Properties. "We believe home buyers and all related consumers will continue to expect these new and differentiated experiences from builders as part of their shopping and home buying journey."
Visualizations let builders easily show their customers the value of potential upgrades, making these models excellent sales and marketing tools both pre- and post-sale. This game-changing technology is on track to become a staple for home builders and buyers over the next few years.
The Homeowner Portal
Especially now, the construction process can be tough on buyers. In today's challenging environment it's essential that builders continue to offer support to their customers post-possession.
An effective homeowner portal can provide buyers with critical information on construction progress, warranties, product manuals, maintenance schedules, and more. It also can allow new owners to submit questions or warranty requests directly and get status updates on any follow-up required. Tools that provide this seamless support and peace of mind are becoming the expectation buyers have from their builders.
"Providing a homeowner portal for all of our developments ensures that we manage all of our homeowners' requests efficiently and accurately," says Cathy May, senior sales and customer relations manager for Infinity Properties. "Storing all of our homeowner communication, supporting documents, warranty items, and more in one place gives us and our homeowners peace of mind, too."
Preparing for the Future
As the home building industry moves forward, make sure you've considered implementing these technologies as part of your customer experience and modernization strategies.If they're in your plans, Brookfield's Sharp advises you to keep these three things in mind: Focus on your customers; follow your organizational vision; and align your systems, data, processes, and conviction.
Constellation HomeBuilder Systems is an industry leading developer of software solutions for home builders, developers, and trades. To nearly half of the top 200 builders in the United States, Constellation delivers core systems that optimize a builders' entire operation, as well as innovative technology that powers sales, marketing, design studio, warranty, and more. Visit the firm at www.constellationhb.com to learn more.