In this new series, we'll ask various designers and architects if certain trends have traction in the field, and then ask them to back it up with numbers.
Hypothesis: Buyers are increasingly favoring layouts with the master suite on the first floor.
Test: Does the sales data from Frank Betz Associates show an increase in main-level master plans sold from 2013 to 2014?
With the tide swell of baby boomers reaching retirement age, accessibility will only become more important in the home. That's why it just makes sense to have the master suite on the main floor of the home whenever possible. Of course, not all lots have enough room to accommodate this, and not all buyers want to be downstairs (young parents often wish to remain near their kids upstairs).
But master-on-main layouts are seemingly everywhere. Laura Segers, vice president of sales operations at Frank Betz Associates, took a look at the top 100 best-selling plans of the last two years and broke them down by layout type. Here's what she found:
The results? Although the top 100 plans showed a slight increase in the number of two story designs with the master suite upstairs in 2014 (15% versus 14% the year before), the number of one-story plans in the top 100 increased by two percentage points. Overall, the overwhelming majority of the top 100 best-selling plans (83%) feature accessible master suites, with steps not required to reach them.
"I seem to remember this type of design appearing in the mid to late 1980's and it has been continually growing in popularity ever since" says Russell "Rusty" Moody, president of Frank Betz Associates.
He broke it down even further, looking at the most popular plans.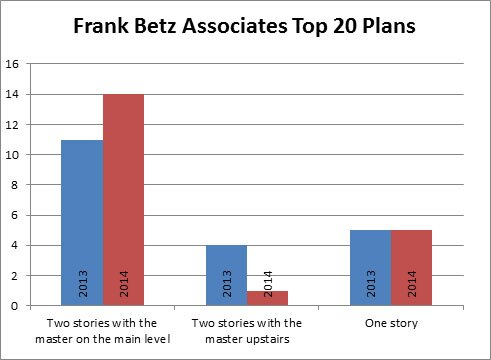 His conclusion: "Our in-house sales statistics prove the trend is real and here to stay- of the current top 20 best-selling designs at Frank Betz Associates, Inc. [from the last two years] 17 are one story or master-on the-main plans. The numbers do not vary either way much if any and it has been that way for quite some time."
Making sense of the data: What explains the dominance (at least for Frank Betz Associates) of this layout type?
Moody lists a perfect storm of demographic and layout trends that all point towards a first-level master suite.
1. An aging population needs accessibility
"More buyers/homeowners are getting older and are purchasing homes so that they will not have to negotiate stairs when the time comes that they are physically unable to do so."
2. Greater privacy
"Having the private spaces of your home separate from other occupants is very desirable whether the design is a one-story with bedrooms on opposite ends of the home or a two-story plan with the master bedroom on the first level and the secondary bedrooms on another level."
3. Multigen demand
"The multi-generational market segment is growing as well and becoming a housing type that we get requests for which follows the first two points- age and privacy."
4. Second home/resort home market
"Buyers in this segment like a main-level-master bedroom… they do not heat or cool the upper or lower levels until guests arrive on weekends and/ or holidays. There is efficiency along with the extra needed space when family and friends visit."
What if you're building on a small lot, though? No problem, according to Moody. The Frank Betz portfolio contains a number of compact plans with this layout. (One thing to consider if you're marketing these as starter homes: parents of young children may want a nursery close to the master suite for peace of mind.)
See more master-on-main layouts from Frank Betz Associates.