It's that time of year where design trends experts and paint manufacturers have begun predicting which colors and color families will make a statement in homes in the coming year. Recently, three more brands within the Sherwin-Williams Consumer Brands Group, including Minwax, HGTV Home, and Dutch Boy Paints, announced their selections.
While there has been some consensus with colors of the year in the past few years, each of these brands selected different hues for 2024. Minwax chose a captivating blue, HGTV Home highlighted a grounded earthy terra cotta, and Dutch Boy picked a deep olive shade with dark undertones.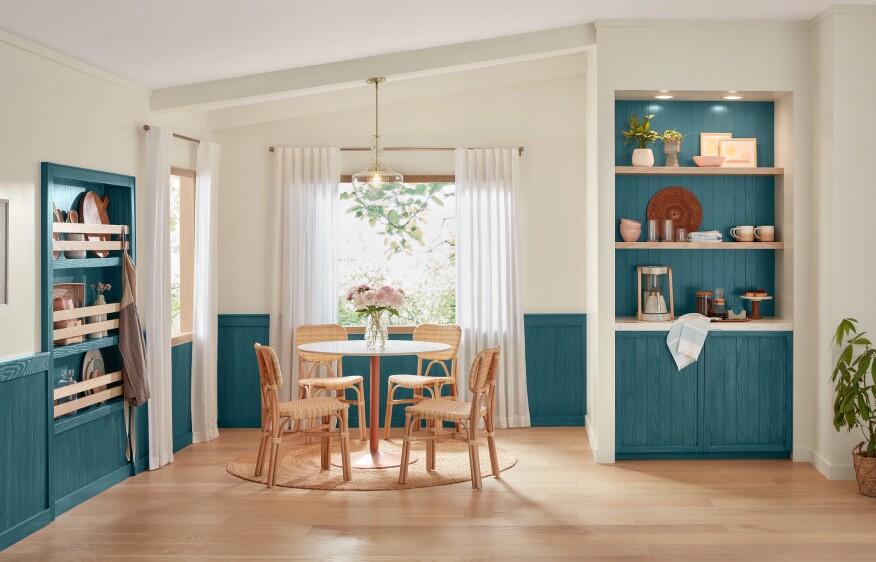 Minwax
Minwax revealed Bay Blue as its 2024 Color of the Year. The eye-catching wood stain, nestled between blue and green, creates memorable spaces by enriching and distinguishing wood's natural beauty. With its infusion of modern sensibilities, Bay Blue has the unique ability to transform traditional heirlooms into modern showpieces.
"Bay Blue is at the intersection of contemporary and classic," says Sue Kim, director of color marketing for Minwax. "The 2024 Color of the Year is a rich shade that elevates and enhances the natural wood within our homes."
HGTV Home
HGTV Home's 2024 Color of the Year selection is Persimmon, a grounded earthy terra cotta shade that feels energetic and refreshing. The hue's warm, earthy elements add an uplifting personal touch to the home.
"Persimmon balances the energy of tangerine with grounded neutral undertones, making it perfect for spaces like living rooms and kitchens as it promotes positive relationships and conversation," says Ashley Banbury, HGTV Home by Sherwin-Williams color marketing manager. "The beautiful shade helps rejuvenate a space while bringing unique design visions to life."
Dutch Boy Paints
Dutch Boy Paints unveiled Ironside as its 2024 One-Coat Color of the Year. The deep olive shade with dark undertones is rooted in comfort and creates a space that is elegant and charming. As dark shades become more appreciated in the home, this deep olive is versatile in wide-open spaces or enclosed comfy places, reflecting well-being from all angles.
"Creating a space for wellness should be a driving factor in everyday life," says Banbury. "That's why taking a natural approach to healthy living and safe spaces is a pivotal part of the current landscape. Dutch Boy Paints' 2024 One-Coat Color of the Year—the stunning, strong Ironside—incorporates all the above in one bold color and can be applied in one single coat."