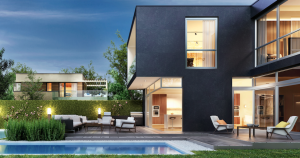 Black is back--in home design that is. Bold all black home exteriors are in style, according to Curbed's Laura Fenton.
Fenton reports that saves for black houses on Pinterest have grown 774 percent since spring 2014 and so far in 2018, Tricorn Black, a deep, saturated ebony that is perennially one of the company's most popular blacks, is the 12th most popular paint sold by Sherwin-Williams in the U.S., up from the 33rd spot in 2017.
In Europe, and particularly in Scandinavia, in the 19th century and early 20th century, wood was coated in a combination of tar and linseed oil, which acted as a natural sealant that just happened to be black. Andrea Magno, a color and design expert at Benjamin Moore, points out that homes were also traditionally painted dark colors in northern climates as a budget heating method. "A black home will absorb a considerable amount of heat from the sun," says Magno, who believes the black exterior trend is unlikely to last in warmer climates.
Black is still much less common than white or other soft, neutral tones on the exteriors of homes. But with the advent of Instagram, Houzz, and Pinterest, black houses can feel nearly ubiquitous—especially if you're seeking them out. Seeing all these black houses has given people the confidence to try it themselves, says Wadden. Benjamin Moore's Magno agrees. "While painting the exterior of a home black would have never been an option years ago, through exposure to so many images and having sources of inspiration right at our fingertips, homeowners can explore more nontraditional or daring options when choosing color for their exterior," she writes in an email.
Read More