MLK Plaza, located in the Mott Haven section of the Bronx, is one of the first developments to make use of New York City's Zoning for Quality and Affordability regulation, which accommodated the site's rezoning from manufacturing to residential. The building's exterior design reflects its industrial history—with dark gray brick and metal cut through by a strip of gold at the seventh story, designed to create a sense of scale with the surrounding properties.
The 13-story community offers 167 apartments affordable to very low-, low-, and moderate-income renters, including 25 studio, 57 one-bedroom, 60 two-bedroom, and 24 three-bedroom units, plus a super's unit. All living spaces feature warm hardwood flooring and large windows to pull in natural light.
Sharing the community's views, which include the East River and Manhattan skyline, was one of the cornerstones of the building's design.
The community's stairwell features double-height landings and viewing windows, conceived according to active design principles. The gym and outdoor terrace are located on the seventh floor, placed halfway between the top and bottom levels of the building to encourage residents to take the stairs.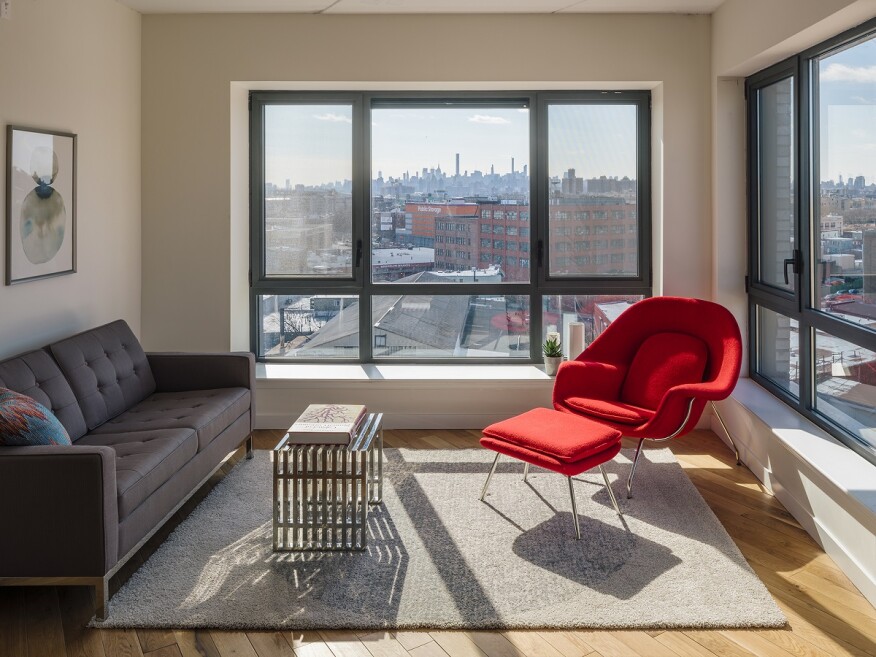 Beyond the gym, MLK Plaza's amenities include community rooms, recreation rooms, and a rear patio. The double-height lobby features a mural of Martin Luther King Jr., designed by local artists Tats Cru.
The community is LEED Platinum certified, operates at 36% higher efficiency than IECC 2015-rated projects in terms of cost savings, and is expected to perform even better as the grid becomes cleaner, according to the architect. The power system is all-electric, with the exception of domestic hot water production, and the envelope incorporates enhanced insulation, high-efficiency windows, and energy recovery ventilation in the corridors.