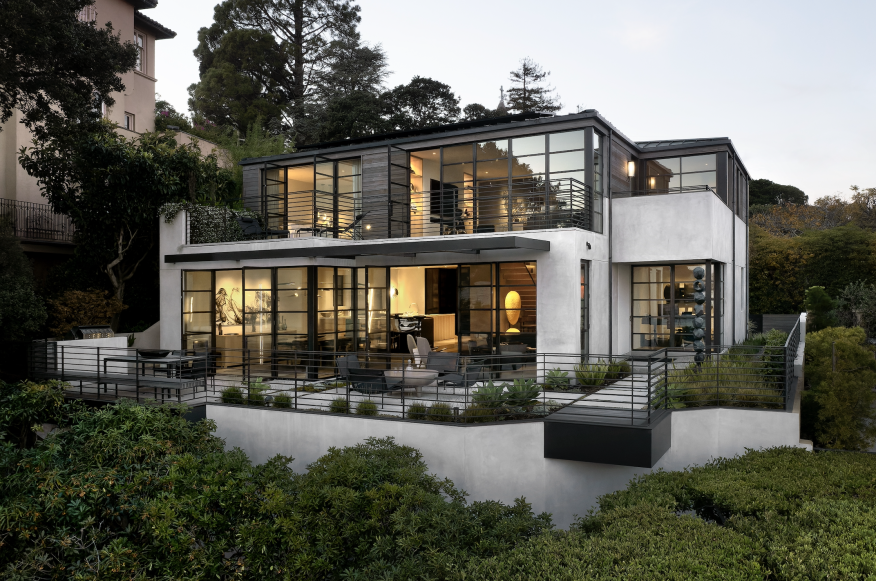 To help a spec-level Mediterranean home match its Sausalito bayside setting, John Lum Architecture stripped the existing 1940s structure down to its studs and rebuilt the house as a maritime-inspired modern residence. The home's vinyl windows were replaced with steel casement doors and windows, and the entire house was wrapped with a raised garden terrace with a living roof.
Approximately 80% of the original exterior structure was preserved, with steel-troweled cement plaster, Kebony wood cladding, and a copper standing-seam metal roof replacing the foam detailing and stucco. The back portion of the house was removed to help accentuate the sweeping views from the newly created great room.
The architect gutted the floor plan to create a great room for entertaining and flipped the kitchen placement so that the living, dining, and study areas capture views of the bay and downtown San Francisco. Oak flooring and cabinetry, plaster walls, and bald cypress with cold-rolled steel accents help achieve the maritime aesthetic throughout the interior.
The main staircase was moved to the center of the home in the new two-story entry hall, providing access to the family level and a den with the backdrop of city lights. The hall features an operable skylight that is tempered by a floating wood sunscreen and receives ample daylight and shadows, which provide natural cooling.
A smoked-glass catwalk carries over the entryway and continues outside, acting as a canopy that connects the main house with the guest quarters over the garage,