Pushing the boundaries of traditional home building methods, House Zero is a demonstration project that showcases the performance capabilities of 3D printing. Construction technology company ICON and Lake|Flato Architects collaborated to design and construct the home in Austin, Texas, that ultimately reveals new ways to create shelter by striving for more efficiency and fewer construction processes.
The 2,045-square-foot, midcentury modern ranch house, with three bedrooms and two-and-a-half baths, was printed by ICON's next-gen Vulcan construction system.
Layer by layer, walls—composed of proprietary cementitious-based material Lavacrete, insulation, and steel for reinforcement—were printed to form the home's envelope. The material delivers building forms with a unique stacked appearance and provides thermal mass that slows heat transfer into the home.
For this project, the design team added curved surfaces and rounded corners to not only create softer, more naturalistic circulation routes through the house but also to showcase the printer's capabilities.
"In our opinion, House Zero is a house that can only be realized through 3D-printed construction," explains Melodie Yashar, director of building performance and design at ICON. "That was really the goal of the project—to demonstrate a house that is uniquely using the vocabulary and vernacular of 3D printing in a way that other construction means and methods simply will not."
Overall, the house's wall system took less than two weeks to print and was finished using traditional methods of construction in roughly nine months, a much faster timeline than a home like this would take if built conventionally, reports ICON.
Although the house is constructed using a robotic printing process, biophilic principles were behind much of the design and are displayed through natural wood, plentiful daylighting, and views to nature. A variety of floor-to-ceiling windows and high clerestories wash different surfaces with light over the course of a day, while deep wood overhangs mitigate the harsh Texas sun and sideways-blowing rainfall.
"We really wanted to use the natural concrete and show that it can be super beautiful," says Ashley Heeren, associate at Lake|Flato Architects. "So we knew we'd have the gray, and then wood was an obvious choice because it's rapidly renewable, more sustainable, and can be locally sourced, but also the warmth of it is such a nice counterpoint."
The house is designed for extreme permanence and longevity but also to be adaptable over time to suit the evolving needs of a family over multiple generations. While the perimeter envelope of the building is printed permanently in concrete, the interior walls are deliberately kept as wood-framed partitions to allow for potential interior remodeling.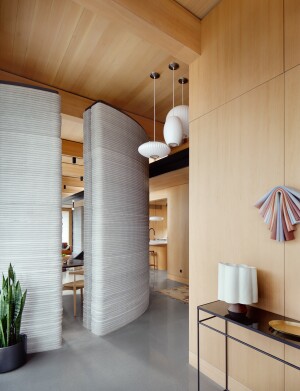 A 350-square-foot accessory dwelling unit with one bedroom and one bath also provides long-term flexibility through multiple potential uses over time, including a rental unit, a home office, a spare bedroom, or an apartment for aging parents.
"It's paired really well with traditional craft," says one design juror. "It's an excellent example of this blending of a very new emerging technology with tradition, and it actually elevates both in the process."
House Zero is the first in what ICON hopes will be an entirely new genre of homes that are specifically designed to utilize opportunities created by 3D printing. When the house was revealed in March, Jason Ballard, co-founder and CEO of ICON, said, "My hope is that this home will provoke architects, developers, builders, and homeowners to dream alongside ICON about the exciting and hopeful future that robotic construction, and specifically 3D printing, makes possible. The housing of our future must be different from the housing we have known."