HistoryMaker Homes CEO Nelson Mitchell has a servant heart that has been passed down through generations. From great-grandfather O.N. Mitchell Sr. and grandfather O.N. Mitchell Jr., who established the Texas company in 1949, to his father, Bryan Mitchell, who switched career paths to support the family-run business, the Mitchell family has considered charitable giving a core value—in both their personal lives and corporate ventures—for decades.
"I think my parents both have the gift of generosity, and they modeled that for me and my sister growing up," states Nelson. "We did family mission trips, and I really got a unique experience by going to really poor places in the world, like Africa and Jamaica, and saw poverty on a level you don't see in Dallas, Texas. Looking back, that changed the way I thought about how, when you're blessed with resources, you help other people."
Today, the fourth-generation home builder and his company have raised over $14.5 million within their work, benefiting children with disabilities, impoverished communities, veterans, and local homeless populations. For his devotion to giving back to his local communities and the greater globe, Nelson has been presented with the 2022 Hearthstone BUILDER Humanitarian Award.
"Hearthstone is proud to recognize Nelson Mitchell of HistoryMaker Homes as our winner of the 2022 Hearthstone BUILDER Humanitarian Award," says Mark Porath, CEO of Hearthstone. "In today's society, it is so important to highlight the accomplishments of leaders like Nelson Mitchell who give their time, attention, and resources to support those less fortunate in his community. Nelson's charitable giving demonstrates his lifetime commitment to philanthropy."
Two charities that have felt the direct impact of Nelson's giving are Homes for HOPE and The Miracle League.
The builder has constructed two houses for Homes for HOPE, an organization that aims to fight global poverty. Home builders, trade partners, and suppliers come together to construct a home at little to no charge, in order to maximize the profit of the sale. The resulting donation provides "underserved families around the world with access to discipleship, safe places to save, business training, and small loans, equipping them to start and grow a small business and empowering them to realize their true potential as providers and givers in their communities," states the organization's website.
"I really like their whole microfinance model and the way they give out these microloans to the entrepreneurs in these third-world countries," says Nelson. "It's fascinating to me what they're able to do with such a small loan."
Nelson's company also has helped the Dallas-Fort Worth chapter of The Miracle League. Its mission is to provide children and young adults the opportunity to play baseball regardless of their abilities. Games are played on a custom-designed rubberized turf field that accommodates wheelchairs and other mobility devices while helping to prevent injuries.
"I was a big baseball player growing up; my dad coached me in Little League, I played in high school, and so that particular sport kind of strikes a chord with me," continues Nelson. "When we found out through some mutual friends about what they were doing, it was a natural fit."
HistoryMaker Homes has raised and donated in excess of $258,000 over the years for The Miracle League. In addition, the employees help organize and run annual golf tournaments, where the company will take a half day to a full day off to volunteer and raise money for the organization.
Internally, the home builder also started its Joy of Giving program in 2016 with a purpose to promote a sense of stewardship and share the joy of giving with teams across the business, including the salespeople, the construction staff, and the customer service warranty team.
Each year, teams in the company's new-home communities throughout the Dallas and Houston markets select a nonprofit organization, school, or ministry that makes an impact locally. Each team is given $2,500 to donate as they see fit.
"We want to teach people how much joy you get when you give, and give them an opportunity to practice that, go through that process, and then have that feeling they made a difference in someone's life," says Nelson.
In excess of $220,000 has been donated during the tenure of this program, from local schools, police and fire departments, and food banks to well-known nonprofit chapters of YMCA, The Salvation Army, and Habitat for Humanity.
For example, the Cloverleaf Crossing Townhomes team in Mesquite, Texas, chose to give back to the Mesquite ISD Education Foundation in 2021. This nonprofit is dedicated to enriching and enhancing the education of Mesquite's 40,000 students, providing funds for projects and programs outside the regular school district's budget. The donated $2,500 was used to purchase bikes for 20 exemplary students at Tosch Elementary School.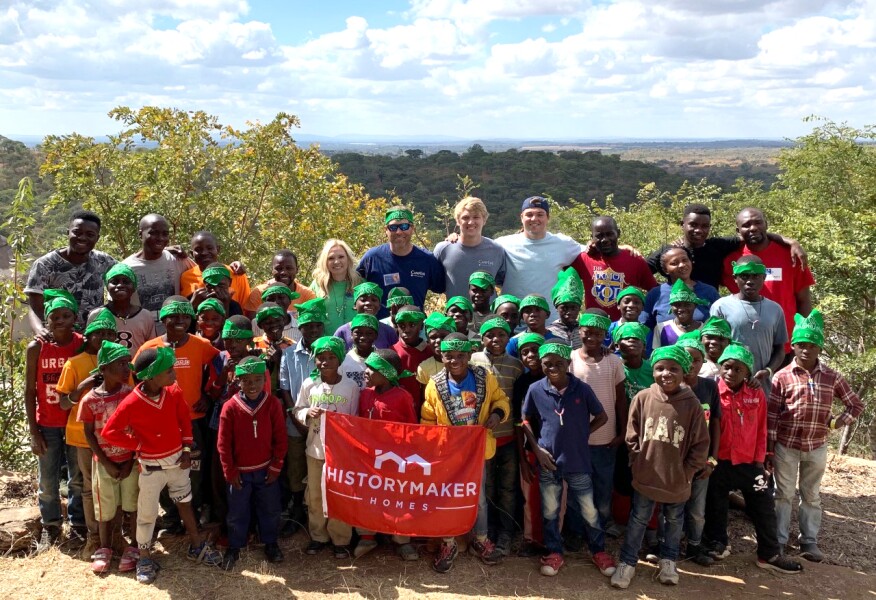 Still to this day, Nelson continues to support missions and causes outside of the U.S. as well. Through Family Legacy Missions International, Nelson and his family have helped make a difference in the lives of the children in Zambia. They have served at Camp Life where they worked directly with students and given roughly $260,000 to the charity over the years. By sponsoring a child, their basic needs are provided for, and they are then able to succeed in school and life.
With a lineage of Texas A&M graduates in the Mitchell family, the builder has also donated to the school's construction science department. HistoryMaker also supports the construction program by hiring interns, as many as four per semester, who go on to become full-time employees upon graduation.
"Within the first five minutes of meeting Nelson, you will quickly learn that he has a heart for service and for helping people," says Cindy Culpepper, director of culture at HistoryMaker Homes. "Nelson has created a culture within the company and communities that helps inspire others to change their own corner of the world for the better."