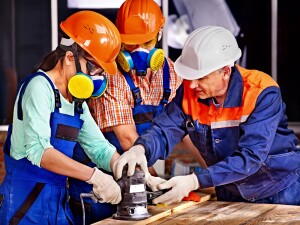 Data from the 2021 American Community Survey confirms anecdotal evidence that the construction industry is getting older and struggling to attract younger workers. While workers 25 and younger comprised 13.6% of the total U.S. labor force, the age group's share of the construction industry was only 10%, according to an NAHB analysis.
The share of older construction workers ages 55+ increased from less than 19.3% in 2015 to almost 22.3% in 2021.
The median age of the construction workforce is 42. Compared to the workforce in all industries, construction has a relatively smaller share of younger workers, but a larger proportion of workers in their prime-working age. Around 67.7% of the construction workforce were in the prime working years of 25-54, compared to 63.5% in overall workforce. The relative greater share of workers in construction in the 35-55 age group, mostly Gen X-ers, reveals the current challenge. Gen X is a smaller generational group than the baby boomers.The share of workers ages 55 and older was 22.3% in construction, implying that a substantial portion of the workforce would retire in the near future. Attracting more skilled labor remains the primary long-term goal for the construction industry.
Analysis of the age distribution of construction workers over time reveals that the construction workforce is aging, with the share of older workers ages 55+ rising from 19.3% in 2015 to 22.3% in 2021. At the same time, the proportion of workers ages 25 to 54 declined from 71.9% to 67.7%.
Read More