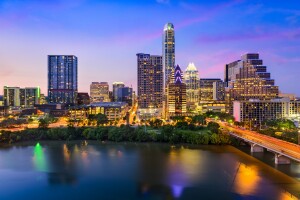 Domestic migration continues to follow pandemic trends, according to Bank of America (BofA) Institute's new analysis.
As of the first quarter, cities that saw an influx during the pandemic are still growing faster than other cities in recent quarters. This trend includes Austin, Texas, which saw the largest inflow of residents at +5% during 2020 to 2021 and +1.5% over the past four quarters.
However, house prices are weakening even in cities with growing populations. In Austin, which skews toward millennials, according to BofA data, the lack of affordability is keeping younger prospective buyers on the sidelines. This could explain the weakness in home prices but relative strength in rent levels, the analysis suggests.
For baby boomers, Las Vegas; Phoenix; and Florida's Orlando and Tampa are among the most popular cities, according to BofA internal data. While the pace of migration slowed for Vegas and Phoenix over the past year, up just 0.2% and 0.3% year over year, respectively, it has relatively stayed the same for Tampa and Orlando both with a net increase of +0.8% between the first quarters of 2022 and 2023.
Both millennials and baby boomers are leaving larger cities like New York, San Francisco, and San Jose, California, the analysis notes. All three saw the biggest outflow of people during the early years of the pandemic, and the decline continues to be the highest among major metros in 2023.
"Domestic migration continues to be a key theme shaping the housing market," says Anna Zhou, economist for Bank of America Institute. "While rising interest rates are dampening home buying demand in the near term, the housing market in cities where millennial and baby boomers are moving could see strength in the longer term as the former enter prime home buying age and the latter downsize their houses."
While large population inflows usually boost home and rental prices, data from Freddie Mac finds that even in cities with growing populations, like Austin, home prices are slowing rapidly. However, rental prices remain strong in these cities with positive resident inflow.
For April, median rent payments for BofA customers in Austin, Orlando, and Tampa were up 11%, 14%, and 14% year over year, respectively, compared with the national average of 8% and just 3% for San Francisco.