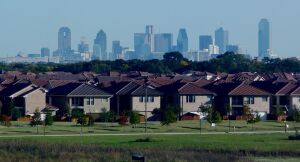 According to the Dallas Morning News, the financial company Charles Schwab is planning to double the size of its regional headquarters near the DFW International Airport in Westlake. The company has already kicked off phase one one of the $100 million, 70-acre office campus with plans to open the doors early next year. The second phase will add two more buildings and a parking garage to accommodate the wave of new workers. "With the addition of phase two, Schwab will have capacity for between 6,000 and 7,000 employees," said Ron Ruthven, Westlake's director of planning and development. "In contrast, the largest employer in the town currently is Fidelity Investments with about 6,000 employees."
When completed, the entire Schwab campus will have almost 1.2 million square feet of work space - about the same as a downtown Dallas skyscraper. The new Westlake business center is one of three new regional office developments — others are in Denver and Austin — the international financial services firm is building.
In May, Schwab opened a 469,000-square-foot campus in Austin for about 1,900 employees, with room to grow. And in 2014, Schwab opened a 650,000-square-foot office center in Denver with room for almost 4,000 workers.
Schwab, which has more than 345 offices that manage more than $3.31 trillion in client assets, has said that it wants to locate more employees out of the expensive California markets where it has its headquarters.
Read More