Can personalization scale?
Can a manufacturing business model tolerate, profit, and ultimately create 360-degree value with variation as a core part of its DNA?
Is mass-customization anything more than an academic notion seized upon by management consultants to describe the gap between where their client organizations currently are in their skill-sets and some pipe-dream "other" plain of capability? Industrial society era technology defined variation and scalability as opposing forces.
What if they aren't, though? What if replicability, and sameness with all its high efficiencies and rigorous disciplines--at least in some durable goods, like houses, for instance--begins to define one discrete part of the production home building world, rather than the whole arena.
A bold new experiment in production home building--one that teams a U.S.-based multiregional "semi-custom" home builder and a high-profile, globally-known, Italian kitchen design brand--is significant for its impetus into new turf on the scalability of personalization front.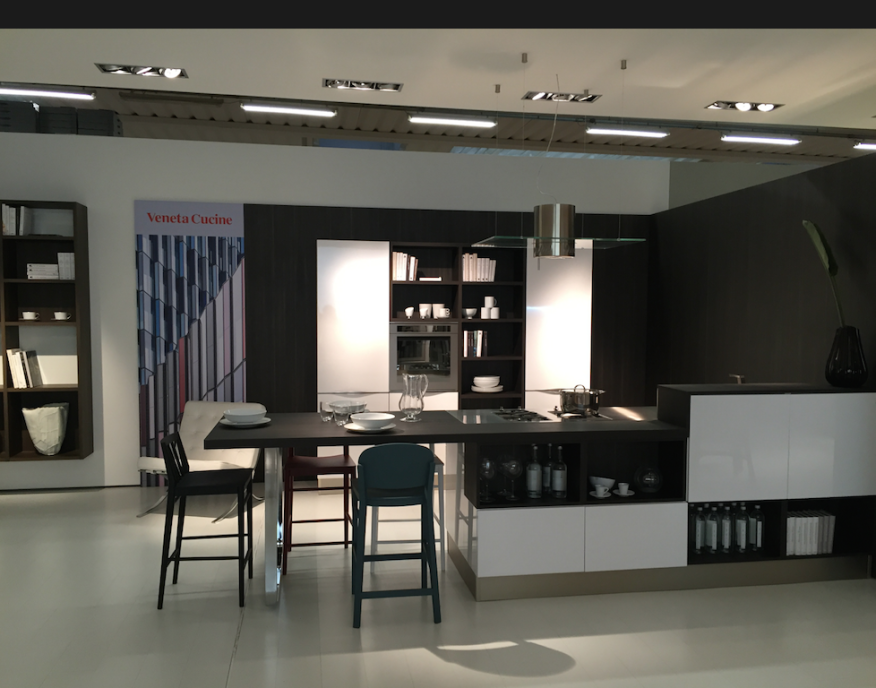 The deal--which pairs meteorically-growing private powerhouse Ashton Woods with Veneta Cucine, based in the Treviso region in northeast Italy--draws a bright-line moment for the two businesses, as well as for American Woodmark Corporation's Timberlake Cabinetry, a critical third-part of the partnership.
On its surface, Ashton Woods is sourcing kitchen cabinetry for its homes, and there's nothing unusual about that.
Reaching to a sourcing partner overseas is where it starts to get interesting. Now, builders have been sourcing materials and products from Europe, China, and other parts of the world for decades. The motivation for the most part has been other sources ability to produce and ship commodities more cheaply to U.S. job sites, allowing builders to build more efficiently.
In this case, however, Ashton Woods turned to Veneta Cucine for reasons entirely different than cost efficiency. On the contrary, Ashton Woods design director, northern Italy-born Valerio Muraro, vp of operations Ralph Farrell, and vp of architecture Jay Kallos sought out Veneta Cucine not for a price advantage but for a high-voltage personalization advantage.
In Veneta Cucine--with whom Ashton has agreed to a multi-year partnership as the exclusive top 100 volume builder in the United States--Ashton has forged a high-level strategic relationship with a five-decade, family run company whose worldwide brand power, credibility, and currency in kitchens can only be likened to venerable fashion-world icons like Prada, Gucci, and Fendi. In the U.S. Veneta had established a beachhead in South Florida as a custom home resource. Now, the brand is going big, and Ashton Woods and Timberlake as a newly-trained installation corps will very likely make Veneta a household name in the U.S. before long.
Here's the premise. For certain home buyers, a conversation may go this way.
"If we're going to spend $10,000 or so on our kitchen for starters, would we not consider it worth it to spend another $3,000 or so to get a kitchen that looks like this?
The world of Dwell, Houzz, Pinterest ideas and fantasies starts to become a reality and personalization--particularly in so important a living zone for people as the kitchen--becomes a differentiable advantage for a builder's offering. Which is what Ashton Woods wanted and has begun to put in place with its new Design Studio concept and its relationship with Veneta Cucine. At the same time, what Veneta gets is a coveted platform to introduce itself in a splashy, well-supported way to the United States marketplace, a market it has looked at warily for years, due to the risks, contrasts in taste, and timing.
The moment of truth has now come, and if all goes relatively as planned, Veneta Cucine kitchens will be in one of every for new homes Ashton Woods does in the next year or so, in its six states and 13 markets. That could amount to as many as 300 to 500 kitchens in the next 12 months at a minimum.
Behind it all, the impetus is around being able to scale personalization and variability in new ways thanks to the progress of technology, automations, materials science and engineering, and production process management.
Veneta Cucine, founded in 1967 by Charles James Archiutti, the company sums itself up as follows:
Veneta Cucine is the biggest Italian manufacturing platform of kitchen furniture, a leader in Italy and a reference brand for Those Throughout the world who choose "made in Italy". The Company covers a surface area of 90,000 sq m., Employs over 500 people who design, manufacture and distribute the 10 systems and 40 different models on 7 Carcases That generated 300 different color and texture variations. That allowed to introduce 60,000 kitchens onto the market every year. The products are distributed through a network, Which numbers over one thousand Specialised dealers in Europe, Asia, Africa, America.
Papa Archiutti's three children--two daughters Daniella and Denise, and son Dionisio--run daily operations, for a company whose name, reputation, relationships, and attention to ongoing excellence and improvement focus on making personalization an iterative, scalable, quality-managed, and profitable process.
Parenthetically, during the recent holidays, my wife an I had the opportunity to visit in Treviso province's town of Biancade, where Veneta Cucine manufacturing and headquarters operations are based.
We got a first-hand look at a the operations, the millions of dollars invested in technology, robotics, and automation, that allows human beings to focus on quality, precision, variability, aesthetics, and innovation, while machines do all the cutting, the sealing, the assembly, the packaging, and the delivery to shipping docks in the manufacturing plant.
Here's how Dionisio Archiutti, who heads up business development, marketing, sales, and operations, speaks of what the Veneta Cucine brand should mean:
"In the living dimension, [we] observe current consumers with their feet firmly on the ground, looking for a better balance between design and function; Consumers who turn away from forms unnecessarily surprising and products which will interpret this new way of thinking about the kitchen space. The products become more and more transverse, able to talk to each other, offering the possibility to generate more and more personal projects , through a simplification of forms that transmit new values. In this context there arise new opportunities for consumption that, conscious company must be able to intercept through a grid products capable of interpreting, in a concrete way, the stresses that arrive from the new consumers. The luxury becomes excellent simplicity, where quality is discretion, associated with the idea of performance and interpretation of the aesthetic value; the "basic" traditional become "basic" advanced, where the ability to create and re-create, is linked to the variety of opportunities that the depth range can offer, to create personal solutions and extraordinary."
Ashton Woods' Muraro and vp of Operations Ralph Farrell spent a year or so cultivating the relationship with Veneta, checking the wood plants, the manufacturing processes, the showrooms in Bologna, Milano, and other parts of Europe, doing the due diligence on the costs around exporting, importing, shipping, and, importantly, damage control.
"We were particularly concerned with our ability to source the kitchens and get them to our job sites within acceptable tolerance levels for damage. It takes two months from order to delivery to get Veneta kitchens for installation--so, it was important to our cycles that we ensure a highly damage-free process so that we could finish out the installations and deliver our homes on time," Farrell told me of one of the more rigorous phases of the pre-deal analysis. "They wrap all the cabinets as part of their automated process, and the wrapping stays on right through installation to protect surfaces from scratching and dings."
As a matter of fact, Veneta invested in excess of $4 million in a Cassioli-developed logistics and assembly system--the Brazilian company who's developed Amazon.com's European logistics facility--to robotically assemble and ready kitchens in their protective packaging for shipping from the Veneta docking areas, specifically for the purposes of quality and damage control.
The rail system cabinets, the materials variation, the dimensional adjustments from metric measures to inches, right down to the Americanized toe-kicks are Veneta Cucine's approach to blending its artisanal quality and design level with the capabilities of technology-accelerated manufacturing, production, and shipping for the Ashton Woods venture.
The combination is kicking off as we speak, with Veneta kitchens available in the Atlanta, Naples, and now, the Houston markets, with a continued roll-out in all of Ashton's markets in the months ahead.
This time next year, the Veneta name will not be a new and different one in the United States, but an established brand that suggests personalization is not just a management consulting concept, but a business model.
And Ashton Woods can deliver on its promise to consumers that "the power of possibilities is in your hands." This makes personalization personal as part of the Ashton Woods mission.