All said and done, residential construction wrapped up a tumultuous but active 2021 building year at approximately 1.68 million new housing starts. As the industry moves into a promising but uncertain 2022, builders remain wary of supply chain bottlenecks, rising labor costs, and inflation of building material prices, especially as interest rates poke upward and begin to threaten the affordability that has powered home sales.
Still, pricing remains strong, with most markets across the country showing 19% year-over-year increases in 2021. With the 30-year mortgage rate hovering around 3.1% to close out the year, money is still relatively cheap for motivated buyers.
To tap into demand while navigating market challenges and preparing for what's next, the progressive builders of 2022 are seeking to focus on their singular talents and reap the rewards of specialization as they explore new ideas in construction and anticipate the needs of tomorrow's buyer. Here's a look at how six opportunists plan to harvest value from the next 12 months in residential construction.
The Franchise Player: Epcon Communities
Paul Hanson loves teaching custom home builders how to be production builders, and that's exactly what he gets to do as president of franchising for Epcon Communities. Launched in 1986 to serve the growing 55-plus market, Columbus, Ohio–based Epcon Communities has since adopted a franchise model to regularly power the firm onto the Builder 100 list of top builders, offering franchisees access to best practices and economies of scale even as they stay small and nimble at the local level. Since the onset of the pandemic, the model has been a hit with builders too small to navigate market challenges but too good to give up the vocation.
"The last two years have seen incredible growth, and where we were averaging five to 10 new builders a year we had 23 new franchisees in 2020 and another 21 in 2021," Hanson says. "The supply chain, in particular, has accelerated that growth as smaller builders try to get away from customization and gravitate toward standardization and its reliability."
With franchisees in 26 states and an average community size from 70 to 90 lots, Epcon gets access to smaller, 30-acre land parcels often overlooked by the public builders, but it can still take advantage of product and process innovations as they prove out on jobsites. "We are experimenting with open panels, pre-cut lumber, full closed panels, off-site modular, you name it," Hanson says. Key for most Epcon builders in 2022 though will be watching interest rates and adjusting product offerings to meet the value expectations of more affordably minded buyers.
"Interest rates are the headwind, and as we trend toward 4.5% we need to get the same product on a smaller footprint with all of the same features," Hanson says. "For our buyer and our product, that likely means a focus on outdoor courtyards. No lawns, just access to the outdoors year-round, so you can sacrifice on the lot and not the experience."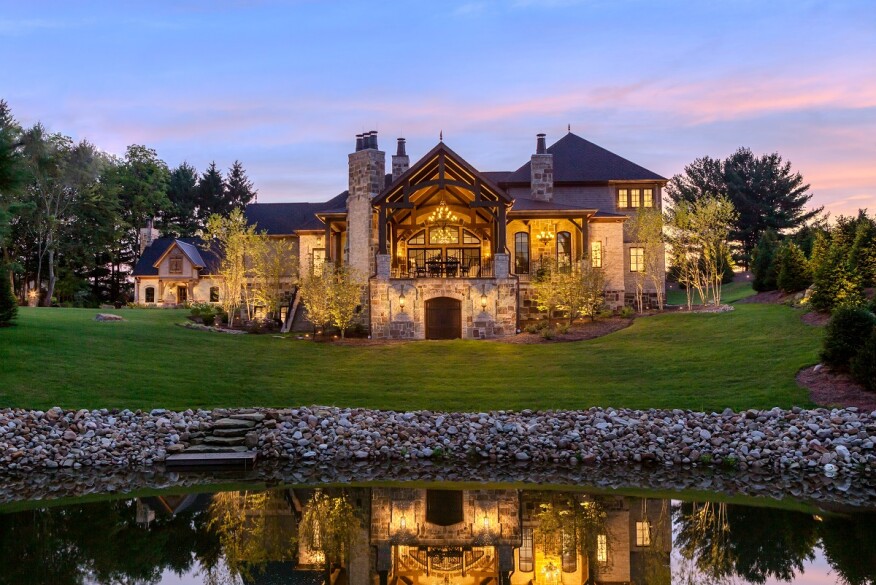 Big Wood: Oakbridge Timber Framing
No builder is keenly more aware of the continued importance of the outdoor experience than Johnny Miller, owner of Howard, Ohio–based OakBridge Timber Framing. The family-­run Amish business has seen a significant shift in business from stand-alone primary residences to secondary outdoor spaces, guest homes, and wineries.
"We used to have more residences than anything, and perhaps just three years ago it was 95% of our business, but the call for outdoor living spaces and wedding barns and wineries now makes up about half of our business," says Miller.
Working with big timber has also provided some material cost insulation to OakBridge, even if the OSB cost impacts to the structural insulated panels the builder uses has cut into margin. "Wood got a little bit scary for us, but the beams and timbers were never affected to the extent of conventional lumber, and heavy timber price increases stayed in the range of 20% to 40% versus the 300% increases we all saw for conventional lumber," Miller says, adding that SIPs and tongue and groove increased about 50% percent as well.
More important to OakBridge in 2022 are supply chain inconsistencies, which can stretch lead times from six weeks to 12 weeks. Demand, though, provides lead time protection, too. OakBridge will carry a full backlog into 2022 and is already signing proposals for 2023.
"Part of the beauty of timber framing is the flexibility to go way to the modern side and way to the rustic side, and we're excited about the unique part of outdoor living that is pushing projects to 2,000 square feet and beyond," Miller says. "Whatever is happening, it has not marred the inspiration of the people wanting to do something in the backyard, and it doesn't always have to be a big space. We do small spaces, too, and they're just as unique."
The Beach House: Marnie Custom Homes
Keeping the pace was a tall order for Bethany Bay, Delaware–­based Marnie Custom Homes last year. In 2020, the high-end luxury beach house builder was a finalist for NAHB's Custom Home Builder of the Year, and company founder and president Marnie Oursler was an NAHB Professional Women in Building Woman of the Year finalist as well.
"2021 was, well, it was something else, wasn't it?" says Oursler, who credits her team's passion, determination, and drive for closing out the year with a dozen completed projects (the firm built 10 homes in 2020). Supply chain challenges continue to be less of a concern for the niche builder. Deeply established, localized partnerships, as well as the flexibility of being a small and agile builder, is greasing projects through the pipeline. The builder also continues to focus on locally sourced materials and has even built a home where 95% of the products were made in the United States.
"My dad's company [Marvin Oursler's Marrick Homes in Prince Frederick, Maryland] is doing 100 to 150 homes a year, and they are much more challenged when it comes to supply chain and labor issues," Oursler explains. "Still, they're seeing great performance, too. You just need to stay focused on the talents and expertise of your company, your culture, and your team, and we've been incredibly lucky in that regard."
Energy efficiency, too, will continue to drive the design of luxury coastal homes from the firm, which built the first LEED-certified home in Delaware, but resiliency is often a larger concern for homeowners opting to build at the edge of the ocean, even if it's not a deal-breaker.
"All of our buyers continue to be sustainability-minded, but I don't know that sea-level rise due to climate change is impacting their purchase decision," Oursler says, adding that the majority of her projects are on higher ground elevations and not in bayside flood zones. "When you're looking for a luxury coastal home, you've already vetted those possibilities, and by the time our clients have engaged with us on a project, that's no longer a concern."
Likely no longer a concern for the builder is continuing to keep pace. Marnie Custom Homes carries a full backlog of a dozen custom projects into 2022 and is already booking out jobs into 2023. Oh, and the firm was again nominated for NAHB's Custom Home Builder of the Year in 2021.
The Futurist: Deltec Homes
Also in the coastal custom game, but taking a decidedly longer-term view on both climate change and industry resiliency, is Asheville, North Carolina–based Deltec Homes, where president Steve Linton regularly questions what it will take for a building to survive in Florida for the next 100 years.
"To stay in fine form, we're talking about a structure that is designed to regularly resist hurricanes with 200 mph winds," says Linton. And while engineering so-called legacy homes is within reach, communicating true life value versus upfront cost of resilient construction ebbs and flows with overall affordability. "Ten years ago, sustainability was all about energy efficiency and solar panels, but people are broadening that vision with the warning signs of climate change. It's the emotional side of the equation: How do we prepare for future generations of our family and build something that stands the test of time?"
To reach what he calls a 99.99% survivability rate against both high-wind and seismic forces, Linton and the Deltec team prefabricate all homes for assembly on-site based on mathematical finite element analysis of the building envelope to build more aerodynamic homes that are panoramic rather than boxy in shape.
While the manufactured home model has its quality control upshot, it's not immune to supply side constraints facing all builders. Linton hopes those issues resolve in 2022, even as the industry removes redundancies to meet housing demand without sacrificing on caliber of product.
"Our vision is to change the way the world builds," Linton says. "We believe the focus should be on building a legacy home at an exceptional value, that offers resilience to natural disasters, plus connectivity to the natural surroundings around us. At the end of the day, that still remains a niche market."
The Nationalist: Taylor Morrison Homes
Not so niche are the national public builders, who have largely locked in long-term vendor agreements to ride out supply constraints and finally have access to the large parcels of land suitable for production building.
"We probably called the ball in 2021 at 14,500 new homes," says Erik Hauser, executive vice president and chief corporate operations officer for Scottsdale, Arizona–based Taylor Morrison Homes. "As we head into 2022, pricing is up, margins are up, and from a supply perspective the big builders have an advantage. The 19 publics have a 39% market share so we are able to carry a pretty big hammer into the land market, too."
Market conditions are ripe for production builders to begin to backfill supply, particularly as interest rates remain low enough to catalyze demand on the buyer side. Taylor Morrison carries a healthy backlog of approximately 10,000 units into 2022, and Hauser expects a variety of buyer demographics to power robust sales across the year. "A lot of the boomers will downsize over time, but there are 82 to 83 million millennials who will continue to plug more into home buying," he says. "So household formation will be the key indicator of housing health."
Like many larger builders, Taylor Morrison is dedicating a portion of its housing stock to single-family rentals, offering a hedge against rising interest rates that could put affordability out of reach for a segment of purchasers.
"The demand and the appetite is extreme for buying our homes to put in portfolios for yield-based operation," says Hauser, who notes that Taylor Morrison's experiment in single-family rentals with Christopher Todd Homes has shown new possibilities in nurturing renters into first-time home buyers. "There's a renter who wants the white picket fence experience but not the mortgage yet. If we can get a customer at a rental stage and then move them all the way through to active-adult buyers it will be a significant expansion in the life cycle of the customer."
The Rental: McHugh Construction
When it comes to build-to-rent, no one is sitting more firmly in the driver's seat than multifamily general contractors. Chicago-based general contractor and construction management and structural engineering firm McHugh Construction is taking more mid-rise market share as apartment investors continue to pour money into the high-demand rental sector.
"In mid-2021 we were still trying to strategize on where the industry was going to go, and then along came a huge rush on apartments," says McHugh vice president Ray Cisco. "Everybody wants to be first out of the ground when it comes to multifamily rental housing, and we're seeing some for-sale condo projects coming on, too."
Top of mind for McHugh for the coming year is staying in front of inflation and communicating pricing changes on both materials and labor. "From the new side of construction, inflation cost has definitely increased to where we are seeing pricing up from 6% to 8% year over year," Cisco says. "We think material inflation may likely peak in 2022, but we do expect labor costs to continue to track upward, and if people aren't being honest with that, they are trying to fool you."
McHugh's largest residential project for the year is likely 1000M, the Helmut Jahn–designed residential tower in Chicago's South Loop that has converted from 506 condominiums to 738 rental apartments, but Cisco says the majority of multifamily action in 2022 looks to be in the mid-rise inner rings and the suburbs.
"Construction activity right now depends on where you are and what you're doing," Cisco says. "It's foolish to say we are not doing high-rise because we are doing 1000M, but we're seeing the big influx in more affordable, mid-rise projects between 10 and 18 stories. In the mid-suburbs we don't typically bid on the garden stuff, but we see a ton of it happening, too."