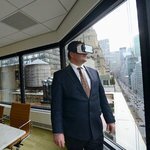 New York Times staffer Jennifer Miller reports that virtual reality technology is expected to transform the real estate industry, and, many say, make house-hunting more efficient.
Miller notes that already available to consumers and growing more popular is the 3D walk-through, an updated version of panoramic camera shots. But more is about to come. Miller writes:
In some cases, the excitement of providing virtual-reality technology to clients has created an outsize sense of the technology's importance. One company was keeping its VR prototype secret, lest a competitor try to steal it. But whether the technology is ready for widespread use — and whether consumers really want it — remains an open question.
Read more >